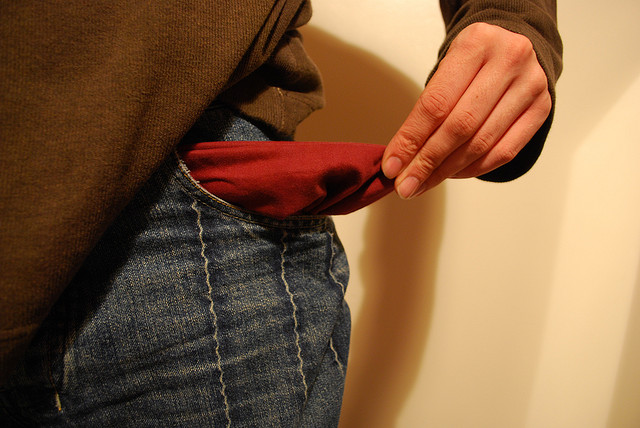 Many people have financial troubles, and while financial difficulty happens due to legitimate reasons such as job loss or medical expenses, many times the poor financial state is due to nothing more than bad habits. Here are a number of poor habits, or things people do that keeps them poor:
Inability to Save Money
There are a lot of people who claim to be poor or broke or without money because they cannot seem to save any money. An inability to save money is probably one of the biggest reasons why people find themselves in dire financial circumstances. Putting money aside in a bank account can help you out when you need to pay bills or an emergency happens.
Overdrawing Your Bank Account
Poor habits include bad money management. You might be surprised by the amount of people who just swipe their debit card without even knowing how much money they have in their bank account. Overdrawing your bank account can cost anywhere from $20 to $35. Many people are frequent offenders of overdrawing their account and can sometimes rack up a couple hundred dollars in a month because of overdraft fees. If you're oblivious to your bank account, make sure you know exactly how much you have in there before swiping your card. Keeping a checkbook register handy is a great way to keep track of your balance.
Spending Extra Money Immediately
Have you ever received an unexpected check for your birthday? Or maybe you love when your tax refund is deposited into your account. Or maybe you receive a yearly holiday bonus from work. If you're already in a bad financial situation and you rush out immediately to spend that money on a new computer or television, you're only contributing to your poor finances. Learn to save or invest your money wisely instead of letting it burn a hole in your pocket.
Impulse Spending
Impulse spending is also another bad habit that is probably keeping your finances in the red. Have you ever been so enticed by an item that you've been tempted to just hand over cash or your debit or credit card without a second thought? Impulse buying can be great every once in a while, but it's not something people with very little money should consider doing. When people succumb to impulse buying it's usually for something they want (and usually something they can't afford) not something they need.
Forgetting About Long Term
If you're short on finances, you've probably made a habit of only buying what you immediately need instead of thinking about future purchases. However, sometimes short-term purchases will cost you more money than long-term purchases. For instance, say the supermarket is having a deal on cereal that's 2 for $4. You might eat cereal every day for breakfast, but you don't want to pay $5 for two boxes. Instead, you just buy one box and then when you run out a couple of weeks later, you'll go back and buy a second box for $3.99. While $2 might not seem like a lot of money, it's money you could have saved if you planned ahead.
Not Having a Budget
Not having a budget is one of the easiest ways to overspend no matter how much money you make. Sometimes people with bad financial habits need a budget to help keep them in line. A budget will help your keep track of monthly expenses and bills and let you know how much you need to put aside and how much money you'll have leftover to spend on other items.
Relying On Your Credit Card
Relying too much on your credit card is another poor financial habit. It's very easy to just swipe your card and worry about the final amount when the bill comes in the mail. Of course, this causes some people to swipe their credit card for purchases they don't really need since they're under the assumption that they can just pay it later. But it's very easy to rack up credit card debt, so it's a smart idea to only use your credit card when you absolutely have to. After all, what happens if you buy an item expecting to be able to pay it off, but you somehow can't come up with the money?
Spending Money on Other People
Some people are just so generous that they're happy to spend money on other people. You may treat a friend to lunch every week or buy someone else's ticket to the game or the movies. Sometimes, however, you need to take a step back and take care of your own finances first. Spending money on other people isn't necessarily a bad thing, but it could be a habit that's keeping your bank account in the negative.
Hanging Out with "Big Spenders"
Do you have friends that make more money than you do? Maybe you always feel cheap when you hang out with them because you're never willing to spend as much money. Have you noticed that you've started shelling out the same amount of money just so you don't look like a cheapskate? Many people feel inferior when they're not able to match the high standards of friends and acquaintances, but that should never cause you to start spending money you don't have.
Quantity over Quality
Poor habits include buying quantity over quality can cause you not only to have a house full of products that aren't well made, but products that you also have to replace every week or month. For instance, you could buy one pair of dress pants for $20 or a nicer, better made pair for $60. The $60 pair might last you a few years. But what happens if you need to replace the $20 pair every couple of months?
For more on habits which are keeping you poor check out Tom Corley's Change Your Habits, Change Your Life: Strategies that Transformed 177 Average People into Self-Made Millionaires
. Corely made an exhaustive study of millionaires and looked at what factors made them wealth. If you want to get wealthy yourself pick up a copy.
Like Saving Advice? Subscribe!
Subscribe to get the latest Saving Advice content via email.