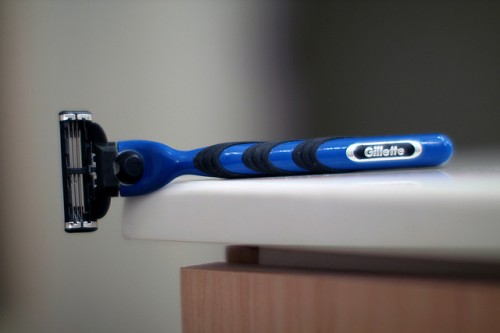 One of the risks which comes along with traveling from house to house to house is that sometimes I forget things. I have plenty of razors (TIP: I get them for free from drug stores — every time a razor company comes out with a new model razor, you can almost always get them for free. Since the company makes their money on the razor blades, they want to get as many people using the razor as possible, thus give them away at greatly discounted prices which end up being free when you add a coupon. Keep an eye open for a new razor launch and you can easily get enough to last you a year) and make an attempt to extend their life as much as possible, but I forgot to put in a new one in my bag and ended up coming on this house sitting job with an older razor that was getting dull. I had a few choices:
1. I could go out and buy a cheap disposable razor.
2. I could suffer through with the dull razor blade for a week.
3. I could go without shaving for a week.
4. I could find another solution to the problem.
Since it was a stupid mistake on my part, and even though the disposables are fairly cheap, I didn't want to waste money on buying one with this minimum wage challenge going on. I would rather not shave or shave with the dull blade since it's only a week. The problem was that the blade was dull enough that it was nicking me and not shaving very close and while I could go a week without shaving, I really don't look very good when not shaving (and I certainly wouldn't be able to get another date looking that way). I decided to opt for the fourth option.
I had heard that you could extend the life of disposable razor blades from week(s) to month(s) by simply running them across the your jeans when they started to get dull. I'm not sure why I have never given it a try up to this point (I think because I always had an abundance of razors, it was never an issue, but I really should know better than create more waste than needed and I'm ashamed of that). This gave me the perfect opportunity to try it out (here's a video on how to do it)
It worked surprisingly well, and now I'm even more ashamed that I hadn't gone ahead and tried it sooner. I think that if I hadn't let the blade get quite as dull as it had, it would have worked even better. Even so, I won't have any problem making it last the rest of the week now and this is something that I will turn into a habit. If you don't do this already, give it a try. I think you will be surprised and if you only have to replace blades monthly instead of weekly, you can save quite a bit of money if you do buy your razor blades.
Today I couldn't get outside because the owners had someone coming by to repair a table and I needed to let the worker in. Apparently, a glass lamp shade had fallen from the second story onto a beautiful dining room table scratching and denting it all up. It had already been taken to the shop to get repaired, but it needed to be buffed and polished. The worker ended up spending 4 hours doing it (I never knew how much time and effort it took to do that). I don't know how much it cost to get the table repaired, but it couldn't have been cheap. It made me realize that is another expense I avoid not having my own place (no need to repair or replace broken furniture).
Since I stayed in the entire day, I was able to get a decent amount of work and writing done. With finding a solution to the dull razor problem without buying a new one, I had another no spend day. The plan is to get out to do a little exploring tomorrow.
Today's Spending
Food: $0.00
Car: $0.00
Housing: $0.00
Travel: $0.00
Misc: $0.00
Total: $0.00
Total Spending
Food: $18.52
Car: $0.00
Housing: $0.00
Travel: $0.00
Misc: $19.00
Total: $37.52
Next article: Day 28: Not My Best Day
(Photo courtesy of Mr. T in DC)