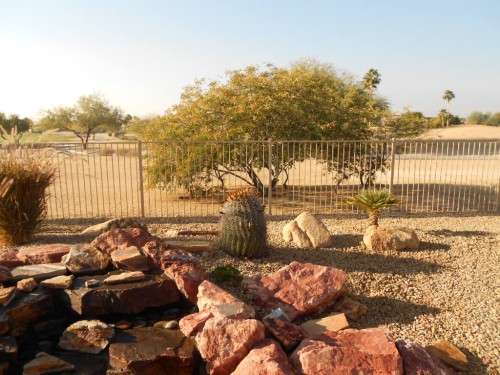 I know it's been a good week when I felt it was strange that I wasn't able to go and travel someplace today, although I did get to enjoy the backyard views of the house where I was house sitting (see above). As far as weeks go, I have a feeling that it's going to be quite difficult to beat this one during the rest of the minimum wage challenge in both the amount I was able to do and how little it cost to do it.
Today I spend most of the morning and early afternoon cleaning. I have a personal policy to try to always leave places I have been in better shape than when I go there (if you ever see me hiking, I'm the one with a garbage bag in my hand picking up random trash that has been left on the trail). That also extends to the houses where I house sit. I like to leave them in at least the same shape as when I arrived, and hopefully a bit better. No matter how neat I am, a dog (Gigi in this case) wandering around the house for a week leaves plenty to be cleaned up.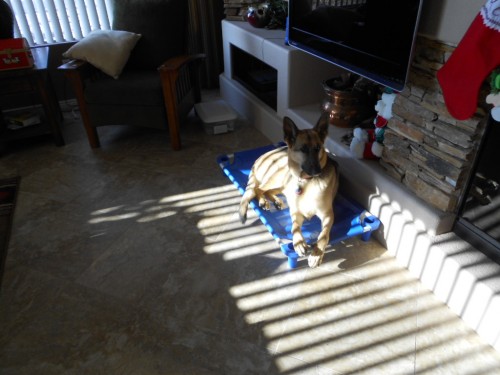 In addition to doing basic cleaning around the house, I also washed all the sheets and towels that I used while I was there. Nobody wants to come home from traveling and wash someone else's laundry since they have plenty of their own. I also realized that this is yet another area where I save money by being purposely homeless rather than having my own place — no need for a washer/dryer, detergent, etc. or to go to coin laundries to get my wash done.
The last big cleaning project was washing the car and cleaning out the inside. Since the owners were kind enough to let me to use their car while they were gone, I also wanted to make sure it was in tip-top shape when I gave it back to them. While these are all things that I could probably get away without doing, I think that doing so probably gets me a lot more recommendation references to others in need of a house sitter (and it's something that anyone who wants to house sit to make some extra money should consider).
The final thing that I did is I went to the store and bought some basics — milk, fresh fruit and eggs. Unfortunately, I wasn't in a position to use coupons and stacking to get them at greatly discounted prices, but again, I think it's just basic courtesy that the family has basics for breakfast when they return and don't have to immediately go to the store after returning from a trip. Those items put me back $6.27, but I came out far ahead with having virtually no food costs for the entire week. This may be an area of concern long term as I know if I had my own place, I could collect coupons on a regular basis and shop the deep discounts. I'm not sure if I will be able to do much of this at all while traveling.
After picking them up from the airport, they wanted to give me a $100 tip — since I won't be able to use that money as part of this challenge (Rule 4: I can't do other activities outside the 40 hours to raise more money so that I can spend more), I suggested (and we all agreed) that a donation to their local ASPCA in that amount would be a good compromise. While I don't get credit for making the donation as part of this challenge, knowing that I helped to get the donation made is good enough for me.
I made a big mistake heading to the airport without any prepared snacks with me which could have ended up being pretty costly with the prices of food at airports. Luckily I found an old granola bar (a bit stale, but edible) tucked into one of my hiking day-pack pockets which held me over until I got on the plane. Since I often forget to plan like that, I think I need to fill my day-pack with an assortment of snacks at the first opportunity so I do have an emergency stash I can count on when I don't plan well like today. Good lesson that fortunately didn't cost me anything.
The rest of the month of January looks like this:
I fly to visit my mom for 2 days (8, 9)
I have a house sitting job from the 10th – 18th
The 19th – 25th are currently open (possibly visit my sister or go to Oregon to visit friends)
I have a house sitting job from the 26th – Feb 2nd
That leaves me in pretty good shape for this month in regard to housing (only 1 week where I don't currently have confirmed housing of some type). February looks like it will be a lot tougher month with it basically an open slate at the money except for the first 2 days. These are the confirmed house sitting jobs I have thus far for this year (for those that might be interested)
January 10 – 18
January 26 – February 2
April 21 – May 8
September 1 – 17
November 6 – December 7
I will definitely need to find more of these opportunities as the year goes on if I am going to make this challenge successful. It's simply to early to tell if I will be able to fill in enough space to make it work and will probably need to evaluate at the end of February or March since I don't have anything set up at the moment for either of these two months.
Except for getting the basic food for the owner's return ($6.27), I managed to make it through the day with no other expenses. That means I made it through the first week spending $13.54, or just under $2 a day. Of course, this doesn't count the cost of insurance which will hit eventually, but I would mark it an extremely successful first week (just to make my sister steam a bit). I can only hope that I can continue to do as much for as little as I did in the weeks to come.
Today's Spending
Food: $6.27
Car: $0.00
Housing: $0.00
Travel: $0.00
Misc: $0.00
Total: $6.27
Total Spending
Food: $7.39
Car: $0.00
Housing: $0.00
Travel: $0.00
Misc: $6.15
Next article: Day Eight: Reevaluating Habits
Total: $13.54