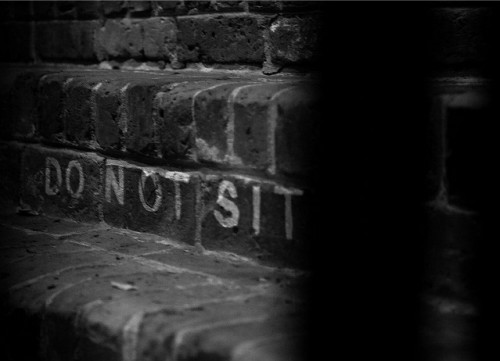 Sitting is the new smoking, it seems. While the medical establishment has long been trying to get people to become more active, various studies have been focusing on the negative effects of sitting too long rather than simply looking at the positives of exercise. A recent study showed that sitting less than three hours per day may add up to two years to your life expectancy. It's no longer enough to exercise thirty minutes a day. You have to keep moving all day long.
While it's definitely a benefit to your health to keep moving, I see it as a benefit to your wallet, as well. Many things that we spend money on either require us to be seated, or result in us sitting even more. Meals out? Seated. Movies? Seated. Cable TV? Seated. Video games? Seated (unless you're talking exer-games). Cars? Seated. Flat screen TV's? Seated. Tablets/computers? Seated. Even cell phones are a sedentary activity unless you make the effort to move while you're talking or texting. While some of this is inescapable (you probably have to drive at least some of the time, for example), there is an argument to be made that a lot of spending activities are also seated activities.
On the other hand, many of the things that we do to save money require us to be up and around. Cleaning your own house instead of hiring someone? Activity. Biking or walking to work/school? Activity. Doing your own yard work? Activity. Handling your own maintenance, repairs, and chores? Activity. Moving yourself instead of hiring movers? Major activity. Spending a day at the park with the kids instead of going to the movies? Activity. Cooking your own meals? Activity. Growing your own garden? Activity. Building or making something instead of going for the pre-made solution? Activity. Playing games with the family like Twister, Wii Sports, tag, or hide and seek instead of paying for cable? Activity. In most cases, the more steps you take to save money and cut expenses, the more active you are.
We've convenienced ourselves to death. We've tried so hard to make everything easy for ourselves and if we can't make it easy, we pay someone else to do it. We make it so that we don't have to get up to do anything. Email/IM means we don't even have to get up to go talk to someone three rooms away. Heck, some sofas even come with built in refrigerators now so we don't even have to get up to get a drink. Many money saving activities, however, harken back to a time when everything wasn't so easy, when some manual labor was required to get anything done and when there wasn't a service you could pay to do it for you.
If you're really against sitting and have some extra time on your hands, you can even make money by sitting less. You can take a part time job in a field like retail or construction where you don't sit much. You can deliver packages or pizzas. You can hire yourself out to those who choose to remain sedentary. You can clean their homes, mow their lawns, and handle their maintenance. You can move their furniture, walk their dogs, or scoop their dog's poop. Just as there are plenty of ways to save money by sitting less, there are plenty of ways to make money by being up and active.
It's not an easy adjustment to make and many people balk at the idea of doing things the "hard way." Mention to someone that they could bike those three miles to work instead of drive and you can practically see their hair curl. But the hard way is better for your physical health and your financial health. The more you do yourself, the fewer tasks you turn over to others, and the less you rely on conveniences, the better off you are. Think about what you might do with those extra two years of your life.
(Photo courtesy of mattzor)