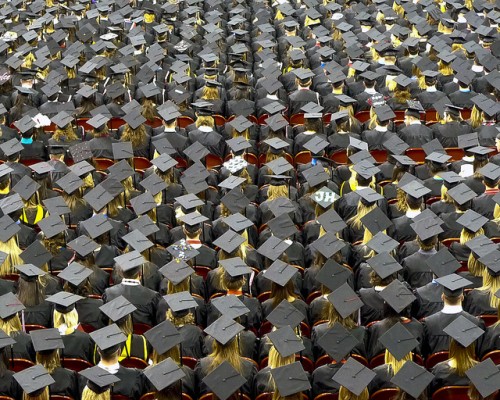 My neighbor's child, Lisa, just graduated from college. She could have gone to some prestigious private schools or out-of-state colleges, but she chose to go to a smaller in-state college to save big bucks on tuition. She also considered a degree program online that are much more affordable and would have given her the ability to be more flexible.
Her graduation was distinctive for two reasons. First, she graduated with honors. Second, she graduated with no debt, yet her parents didn't pay for school. Her mother brags about both, and rightly so. Lisa recently came by the house while I was visiting with her mother. Always nosy about financial matters, I asked her how she managed to get out of school with no debt when it seems that all I hear in the media is how student debt is skyrocketing.
"It wasn't easy," she said, "but I knew I didn't want to get out of school and owe thousands of dollars. I'm not going to make that much at [her new job], so I need my money so I can eat and pay rent. Let me tell you, though, it was a full time job to get out with no debt."
She shared her strategies with me and she's right. It was a lot of work. But I imagine it was worth it for the peace of mind she now has knowing that her pitiful starting salary isn't eaten up by debt payments. Here's how she was able to reduce college costs in a way that she graduated debt free.
Choice of School
Graduating with no debt started before she even entered college. This young woman is smart and gifted. She graduated second in her high school class. She could have gone to some prestigious private schools or out-of-state colleges, but she chose to go to a smaller in-state college to save big bucks on tuition. As she said, "I knew that in my field the degree was the important thing, not where it came from," so she chose an affordable school. Many courses are much more affordable online such as an online college algebra course.
Scholarships
She was able to put together a lot of scholarships. She applied for everything for which she might qualify, even if it was just a small amount. "I had some scholarships that were literally for just a hundred dollars, but it was money that wouldn't have to be paid back so I was happy to get it," she said. There are many scholarships out there, but some people refuse to apply for the small ones. The small ones can add up, though, and they often have less competition. You don't even have to be gifted or super-smart to get one. It may be as simple as connecting with a local business, or writing a winning essay. Any aid you don't have to pay back, no matter how small, is welcome. And don't stop applying once you've started school. There are many scholarships that are only for juniors or seniors, so always be on the lookout for aid.
Cut Corners Where Possible
"My roommates made fun of me because I cut coupons. They called me an old lady," she says. "But I needed to save every penny." There are plenty of ways to cut corners as a college student. Textbooks can be rented or bought used. Campus cafeteria food, while not great, is often less costly than grocery store food. If you have an apartment with a full kitchen, cooking inexpensive meals at home costs less than eating out. Colleges have a huge variety of free entertainment, so take advantage of it rather than going to first-run movies. Many of the frugal tips that we give adults apply to college kids, as well.
Take Longer to Graduate
Lisa graduated in five years. Taking that extra year gave her a chance to earn enough money to keep from taking loans. By not overloading herself on courses she was able to work longer hours and earn more money. Lisa admits that it wasn't ideal, especially as she watched her friends graduate in four years, but it was the only way to graduate without debt.
Work
Lisa worked a couple of different part-time jobs throughout college. In her senior year, she was chosen for a work-study program sponsored by one of her professors. During the summers, she worked full-time for a family friend who runs a business in her chosen field. If you want to graduate without debt, work is a necessity. The plus side is that you'll have some experience to put on your resume. Many schools offer "co-op" programs where you work in your chosen field one semester and go to classes the next. Along with the money, you gain experience and find out if you really enjoy the work.
Live on Campus
In her junior year, all of Lisa's friends moved into apartments off campus. Lisa chose to stay in the dorms because it was cheaper. "I would have liked an apartment, but I didn't like the rent payment," she says.
Pick and Stick with a Major
Lisa did a lot of research before entering college and she knew exactly what she wanted to major in when she got there. Changing majors often not only delays graduation, it is expensive as you end up wasting money on courses that end up having no use toward your degree. Know yourself and know what you want. "If you have to take a year off after high school to figure that out, it's not the end of the world," Lisa says.
Consider Alternatives
Lisa knew several people who began their college careers at the local community college. "It's much cheaper and you can work through your required courses there and then transfer them to the university where you'll finish your degree." Just make sure that whatever you take will transfer to the university of your choice. You don't want to waste the time and money on courses that won't transfer.
Live at Home
Or live at someone else's home. One of Lisa's friends lived at home for all four years of college. She saved a lot of money this way. Another friend became a live-in house sitter for an elderly woman. The woman gave her free room and board in exchange for help around the house, help with errands, and for taking her to appointments. If your parents are willing to let you stay or if you can find a house sitting arrangement, you can pocket the cost of room and board.
Graduating with no debt isn't easy. It requires commitment and focus. You have to say, "No," to some fun things that your friends are doing. You have to be willing to be, "The old lady who clips coupons on Saturday night." And you have to work your butt off. But that's not so different from what will be required of you once you graduate, really. It's not easy, but it's worth it. Lisa already sees how she is ahead of her friends who graduated with a lot of debt. "I don't worry about making my rent, or charge my utilities to credit cards. I don't have much, but it's mine."
(Photo courtesy of j.o.h.n. walker)