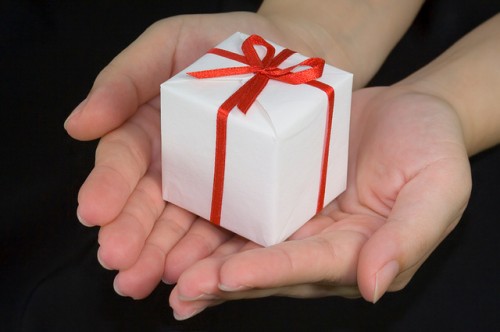 No matter how well we budget for the coming year, holidays always seem to sneak up on us. Think about how many special occasions require extra spending in just one year: birthdays, Valentine's Day, Thanksgiving, the winter holidays including New Years, religious celebrations, or any weekend where you get together with family and friends. All of those fun times amount to a lot of holiday spending on everything from food, to decor, and of course, gifts.
These are ten common mistakes people make when it comes to opening their wallets during any celebration or holiday:
Thinking Of Holidays Like Emergencies
Yes, you were probably taught that it's polite to bring a hostess gift and to always send birthday toys to all your nieces and nephews, but what feels like a polite gesture can also be a huge strain on your finances. This might lead you to think these customs are worth dipping into your emergency funds for. Even if you usually go all out with birthday gifts, and even if your friends are bringing expensive bottles of wine over to the holiday party, don't feel obligated to do the same. Treat holidays like all other aspects of your budget during a recession: scaled back.
Giving Expensive Gifts
On that note, some people are still tempted to go above-and-beyond for extra special holidays like Christmas or a child's birthday. But before busting your budget on the newest game console or treadmill, consider whether this exciting item is really worth it. Some gifts, like the game console, continue to cost big bucks when your kids want the hottest new $50 games to go with it. And while "healthy" gifts like treadmills sound like worthwhile investments, their huge price tags are hardly worth the extra hours you'll have to work to make the payments. A 20-minute jog a day is not worth that.
Using The Credit Card
Now you're thinking, Gifts and festive holiday expenditures are not that bad if I put them on a credit card, right? But this is yet another mistake consumers make during celebrations where they feel obligated to give and share with others. You might assume that adding just a couple hundred dollars to your credit card balance is worth providing the best Thanksgiving feast ever, or buying your loved one a surprise summer cruise; the reality is these purchases stack up and can leave you feeling overwhelmed with credit card debt that you are only making minimum payments on.
Making Excuses For One Last Bad Purchase
When consumers recognize that all-year holiday spending is pulling them under, they might feel so deep in trouble that they will excuse little splurges. What's a little more debt? they think, and this isn't the right attitude for struggling through a personal financial crisis. It's understandable why someone would want one last spending fling if they're feeling depressed about being in debt during December or right before their friends take off on a costly getaway. You can turn down excursions you can't afford, and you can keep your debt from getting worse by resisting the urge to splurge.
Trying To Act Like Everything Is Okay
Financial trouble is a private topic anyway, but being in debt can be even more embarrassing during the holidays when others are giving generously and holding expensive events. For this reason, some people try to act like nothing is wrong; they might even show up with an expensive gift or in expensive clothes anyway, in an attempt to cover up the problems. Don't be this person. Instead, rely on the support of your family and friends during hard times, and trust that they will not judge you for turning down an invite or having no gifts.
Acting Like Bad Things Only Happen To Other People
You are not immune to the problems a recession and personal crisis can bring. No one knows what tomorrow brings, and it could leave you wishing you'd paid rent before buying an unnecessary gift. If for no other reason, don't overdo holiday spending so that you'll have more money to stow in a savings account instead. Wouldn't you rather save for an emergency or an important family purchase than give away hundreds of dollars in gifts?
Trying Too Hard To Impress
Even those who aren't in serious debt can get themselves closer to it by spending on frivolous things like holiday decor. Yes, it's fine to budget for a Christmas tree or the haunted house you set up in your yard every Halloween, but the point is these enjoyable purchases are still accounted for in the budget. What you don't need is hundreds of dollars — unaccounted for — going towards making the neighbors ooh and ahh. Even if you're tasked with hosting a large holiday gathering, don't gulp down the thousand dollar grocery bill just to impress. Ask friends and family to bring dishes or pitch in with cash.
Budgeting Incorrectly For Travel
Many holidays also involve travel, whether it's back to Grandma's house for the holidays, or to a tropical destination during a long weekend. But in the frenzy to prepare for the holiday, it's possible to breeze-over some crucial travel expenses. First, you might not have considered that travel is generally more expensive during holidays, and now you're stuck with a hotel room you weren't expecting to overpay for. It's also easy to focus on the obvious expenses, like plane tickets, and forget the cost in gas it takes to get to the airport, or the cost of parking and a rental car. You also pay more for food and drink during vacation than you do at home. All these unnoticed little debit card swipes can add up to big problems.
Letting The Monthly Budget Grow Wild
At the start of the year, many resolve to keep stellar track of their budgets. Monitored budgets help heads-of-households keep a grip on their everyday expenditures, and also anticipate other types of spending like the kind you do during holidays. But as life gets in the way, people let their budgets go unchecked. When they lose track of how much they're spending versus how much they're bringing in, it's much easier to justify a holiday credit card purchase and then put it immediately out of mind. If you can see this happening to you, be sure to stay on top of your budget this year.
Waiting Until The Last Minute
The only thing worse than not being able to afford a gift or some other form of holiday cheer, is realizing this at the last minute. Now that you know the most common mistakes buyers make during holidays and celebrations, make a list of all the days worth celebrating in your life this year. Don't be shy about making a long list of fun days to look forward to, but also admit to yourself that you can't afford to spend extra money on all of these holidays. Be prepared for the most important (and most expensive) of these holidays by setting aside a savings fund for gifts, decor, food, and travel. Make 2012 the year that holidays are actually worth celebrating, not panicking over.
(Photo courtesy of asenat29)