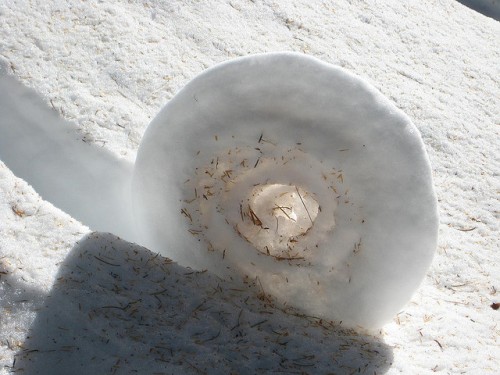 For anyone trying to get out of debt, the debt snowball method has become the choice of many to tackle their debt. This shouldn't be a surprise as it is a straightforward and easy to follow method that works. While the basics are the same, there are a variety of different debt snowball approaches that people follow.
The basics of the snowball debt plan are pretty easy to understand. Instead of looking at the long-term goal of trying to pay down all of the debts at once, the person in debt instead concentrate on individual short-term goals of a single debt at a time. They pay as much as they can on this particular debt while paying the minimum amount on the other debts so that they can pay off that particular debt as soon as possible. Once that debt has been paid off, the person "snowballs" all the money they were paying toward that first debt toward the second debt on their list. This continues until all the debts have been paid off.
The controversy comes with what is the best order to pay off these debts. There are a number of ways to go about this and each way has its own benefits and drawbacks depending on each person views personal finances. Just as all people don't learn the same way, what works best when it comes to personal finances will depend a lot on each person's particular situation and what will motivate them most because in the end, it's the motivation to keep going until the debts are gone which is most important. Here are five debt snowball methods that you may want to consider.
Highest Interest
Using the highest interest rate snowball method is the quickest way to pay down all your debt. In this scenario, the person takes all their debts and list them by interest rate from highest to lowest. The debt with the highest interest rate is the first debt tackled, then the debt with the next highest interest rate after that. It would look something like this:
Credit card 1: $2500 28%
Credit card 2: $1500 25%
Personal loan: $2000 14%
Car loan: $4000 11%
Student loan: $15,000 9%
Family Loan: $5000 5%
Smallest Balance
Often referred to as the Dave Ramsey debt snowball approach, this method takes into account that for many people money isn't all about numbers. dealing with money and debt often comes with strong emotions that play a leading role. In this scenario, the debts are arranged from smallest amount to largest amount with the notion that paying off a few debts quickly can provide the motivation one needs to follow through and eliminate all of the debt. In this case, the debts would look like this:
Credit card 2: $1500 25%
Credit card 1: $2500 28%
Personal loan: $2000 14%
Car loan: $4000 18%
Family Loan: $5000 5%
Student loan $15,000 9%
Despise The Most
Sometimes when you have debt, there are some debts that a person just despises more than any other. For example, even though the credit card interest rates are higher, they have a car loan that they just can't stand. Maybe it enrages them because the car ended up not being what they expected and each month they have to pay the bill, they seethe inside at having to make the payment. In this case, they would place that loan that they hate the most first and then choose either the Highest Interest or Smallest Balance method after that. In this case, the debt order might look something like this choosing Highest Interest after the despised loan:
Car loan: $4000 18%
Credit card 1: $2500 28%
Credit card 2: $1500 25%
Personal loan: $2000 14%
Student loan $15,000 9%
Family Loan: $5000 5%
Most Important
There are also times when a person has a debt that they feel is much more important to pay off than the other debts for whatever reason. For example, maybe they took a loan from a family member and it's important for them to pay off that loan as quickly as possible. In this case, the loans that were the most important to the individual to pay off would make their way to the top of the list with the person then choosing to use the Highest Interest or Smallest Balance for any remaining debts where there wasn't a preference. In this situation, the debt order might appear as follows choosing Smallest Balance after the most important:
Family Loan: $5000 5%
Credit card 2: $1500 25%
Personal loan: $2000 14%
Credit card 1: $2500 28%
Car loan: $4000 18%
Student loan $15,000 9%
Secured Debt
There are some people that have so much unsecured debt that they aren't sure that they are ever going to be able to pay it off. While the above scenarios don't give that impression, it might be a bit different if an extra zero was added to all the unsecured loans the person had. If the person feels that they might have to file for bankruptcy or at the very least, work with the credit card companies to possibly reduce and consolidate the debt, it doesn't make sense to be trying to pay that debt off until those matters have been settled. In this case, the person would want to concentrate on and pay off the secured debts or those debts that wouldn't be forgiven if they ultimately filed bankruptcy. In this scenario, the debt order could look something like this assuming that the personal loan was not received with any collateral:
Student loan $15,000 9%
Car loan: $4000 18%
Family Loan: $5000 5%
Credit card 1: $2500 28%
Credit card 2: $1500 25%
Personal loan: $2000 14%
In the end, there are a lot of individual circumstances that go into determining what is the best type of snowball method for you. The key is to know yourself well enough that you can choose the one that is likely to keep you motivated the longest so that you can see yourself through the entire debt reduction process. While it's sometimes easy to say go strictly by the numbers when trying to get out of debt, you need to also take into account your emotions with money and make sure that those are also addressed when you create your snowball debt reduction plan.
Finally, if you want to better understand the kind of advice Dave Ramsey is selling, consider buying a copy of The Total Money Makeover
. The book is designed as a self study course, so you can work through it at your own speed. The Total Money Makeover has sold something like 5 million copies. There are lots of used copies available on Amazon.com and for under fifteen dollars it is a great investment in your own education
.
(Photo courtesy of Velo Steve)
Like Saving Advice? Subscribe!
Subscribe to get the latest Saving Advice content via email.