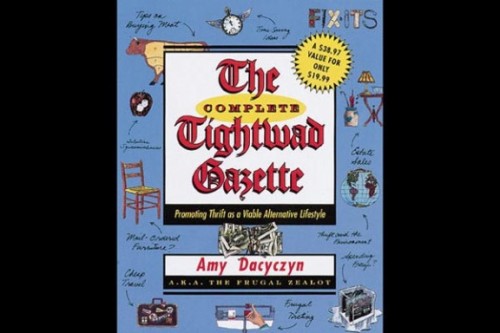 The Tightwad Gazette was a newsletter, published in the early 90's, by Amy Dacyczyn. It was published in the days before email and the Internet. If you wanted to subscribe, you received your copies through the Postal Service. Eventually those newsletters were compiled into three books and, finally, into The Complete Tightwad Gazette which contains all three books plus some extra material.
Over the years, The Gazette became the "bible" for the frugal movement. The author provided tips on everything from cooking to making your own envelopes. Some of her tips seemed pretty far out there while others were immediately practicable. The books are a bit dated now, especially since they were written before the advent of the Internet and all of the frugal resources that has created. However, I still haul my copy out once per year and give it a read through. It's not because I have nothing better to do, but because I continue to find value in this great frugal resource. Here's why I still read the Tightwad Gazette.
Circumstances Change
My life changes every year. Tips that were once irrelevant (for example, gardening tips when living in an apartment) become relevant as circumstances change. Now that I have a house I can do more things like gardening that I couldn't do years ago. As your life changes your frugal needs change, too. Every time I reread the Tightwad Gazette, it is with a new set of circumstances so I always find something that works now that didn't before.
I Always Find Something I Missed
The Complete Tightwad Gazette is a big book. No matter how many times I read it, I still find something that makes me say, "I don't remember seeing that tip before." The book is too big to take in on one read through. Multiple reads reveal all kinds of things you missed the first time (or second, third, etc.).
Inspiration / Keeping on Track
Sometimes my frugality needs a lift. Maybe I've gone through an expensive period where I've had to replace the heat pump and the washer and I feel like I need to tighten my belt a bit. Sometimes I just need something to give me a new idea or direction. Maybe something that used to work isn't working anymore and I need to know how to "step it up." When I feel like my frugality needs a kick start, I pull out the Gazette and I'm sure to find something new to try. Even if the tip doesn't pan out, it was probably still worth a try just to get me thinking in a different way.
Solutions To Specific Problems
The Gazette is a great resource when you have a frugal problem or question. You can look up almost anything and find an idea. However, many of the Gazette's ideas require some adaptation to make them work for your individual life. The author wrote about what worked for her, but sometimes it doesn't work for everyone. I tend to find great solutions for some problems but I know they won't work "out of the box." I use the guide when I have a frugal problem and it's great at setting me on the path to a solution. Sometimes, though, I just have to tweak her ideas a bit.
I find that it's not only the Tightwad Gazette that I benefit from rereading. Many personal finance books can be read more than once. As your life changes you find value in the sections you probably skipped the first time. For example, when I was younger I skipped or skimmed the sections on retirement planning and long term care insurance (it all seemed so far away) while I devoured the sections on buying a home and cutting the grocery bills. Now I read those retirement and insurance sections more closely since they are more applicable to my life (or will be sooner than I think). I recommend going back and rereading your favorites from time to time to see what else you can learn. If it was valuable to you the first time through, chances are you can find find something valuable when you reread it.
Since the Tightwad Gazette is an older title it is readily available used. I got my copy at a library book sale for $1.00. You can probably find a similar deal or you may even know someone with a copy to loan you. Most libraries carry it, too. If you already have a copy but haven't pulled it out in a while, I encourage you to peruse it again. You'll probably find something you didn't remember from the first read and you'll likely be inspired to get back to your frugal roots.