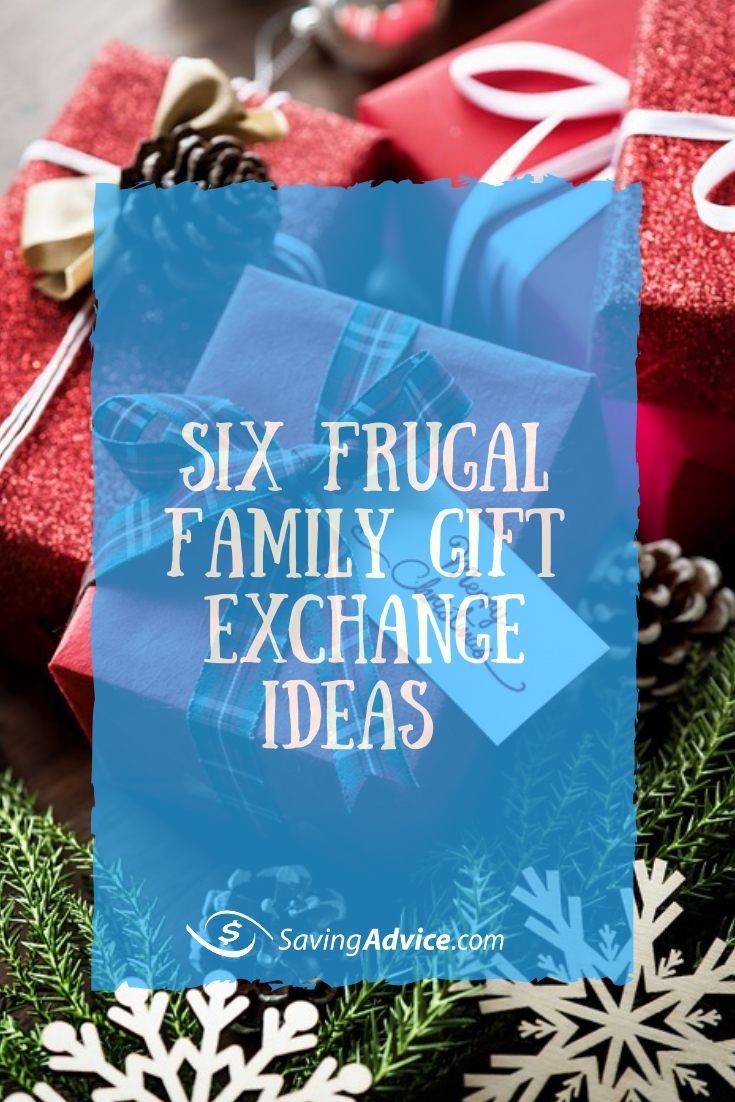 I used to love Christmas shopping. I truly enjoyed searching for just the perfect gift for each person on my list – something that fit each one's personality and interests, something that no one else would buy, and yet something still within my budget. But as the years wear on and the people on my list stay the same, I run out of ideas. The roll of bubble wrap for my mom (who loves to pop the bubbles) was creative and well received once, but it doesn't work year after year. Add to this challenge the fact that most of my family members already own everything they want, and Christmas shopping becomes a chore rather than a pleasure.
The rest of my family was tired of Christmas shopping long before I was. When I gave up my resistance to having anything but a traditional Christmas exchange, we began trying other types of exchanges. Some work better than others, and some might work better for your family than for mine. If you want to avoid the expense and hassle of Christmas shopping this year, consider discussing these frugal alternatives with your family.
My family first tried exchanging names. We made wish lists for ourselves and threw them into a hat. We each chose another's name and shopped from the list. My family loved this means of exchange, but I hated it. Exchanging names took away the joy of giving for me. Yes, everyone got something they really wanted, but I missed the thought behind finding just the right thing and the delight in being surprised by something I never even thought to ask for. Plus I could no longer buy something special for each person I loved. I found some great gifts for my mom and my niece but left them on the shelf because I had pulled my sister's name. Even though I had always been expected to buy for everyone in the family, having her name on paper made my purchase seem forced rather than voluntary. I would rather have bought gifts for no one in the family than just one.
The following year, I told my family that they could exchange names, but they should leave me out of the exchange. I would buy for everyone; I didn't expect gifts in return. After several conversations trying to persuade me not to be so stubborn (with reasoning along the lines of "If you don't participate, it spoils the plan"), my family agreed we would each buy gifts for everyone but set a price limit. We were to buy each other gifts for $5 or less that would fit in a stocking. That way, we would all have something to open, but we wouldn't be spending a lot on something the other person might not like. I once again enjoyed carefully choosing gifts for everyone, and the low price limit forced me to be even more creative. However, when we exchanged gifts, I found that the others had not enjoyed this challenge quite so much and had exceeded the price limit. I loved the gifts I received but felt a bit cheap about the gifts I had given.
Both exchanging names and setting a price limit allowed us to spend less than usual on shopping, so we chose also to give to charity as a family. We agreed on a good cause (which can be difficult, but not impossible, when a family holds diverse opinions on what constitutes "a good cause"), and each branch of the family wrote a check. We then mailed the checks all together as a gift from the Eckman-Sipe-Christman family. This type of "exchange" remains in the spirit of giving and puts our holiday budget to good use – no worrying about whether those expensive gifts will sit on a shelf. Each family could also choose how much to give, so the gifts stayed within individual budgets.
In addition to exchanging gifts with each other, my parents, sisters, and our families take part in an extended family exchange as part of an annual get-together we call "Crazy Cousins' Club." When I was growing up, we would exchange names for this event, but as finding a time to exchange even names became difficult, we decided each of us should bring a handmade gift. We play a game where we pass wrapped gifts back and forth before opening them. "Homemade" has been defined broadly, and while my father and I both hope for my aunt's and cousin's home-canned goods, everyone enjoys seeing who winds up with something unexpected. One year, one of my cousins gave gym shorts he had made in junior-high home-ec class, and a "Pickle Me Elmo" – a pickle with googly eyes in a jar of water – has been passed back and forth several times. Those who were not inclined to make their own gifts could buy something made by someone else. Over a decade or so, this exchange has also changed – some now bring homemade gifts, but others just buy a small gift to exchange. We still have fun playing the exchange game.
If your family enjoys receiving more practical gifts, consider buying each other necessities. My mother, in protest of giving too much sugar in Christmas stockings, has stuffed our stockings with deodorant, toothpaste, and toothbrushes for as long as I can remember. Though it might not be exciting to receive toiletries, we always appreciate these practical gifts, which save us money on our next trip to the drug store. My mother and aunt have also been known to wrap boxes of tissues to deliver to nursing homes at Christmastime. Nearly everyone can use tissues!
One frugal exchange I have yet to convince my family to try is a white elephant exchange. If you're anything like me, you have plenty of things around your house that you don't use, but that would be well loved in a friend or family member's possession. Making gifts of things we already own would be a great way to put these resources to good use. As with the ever-controversial practice of re-gifting, however, be sure that any white elephant gift you give is something the recipient would truly appreciate, not just something you want to get out of your house. (Pickle Me Elmo, anyone?)
Christmas shopping and Christmas bills don't have to be something you dread. If giving has become a chore, take some time to talk with your family – they may feel the same way. Sometimes trying something new for your Christmas celebration is just what you need to bring joy and wonder back to the holidays. And "something new" doesn't have to be "something more expensive."
A final note: I have talked about "Christmas" throughout this article because that's the holiday my family is about to celebrate. You can adapt these ideas to any gift-giving occasion, even birthdays.