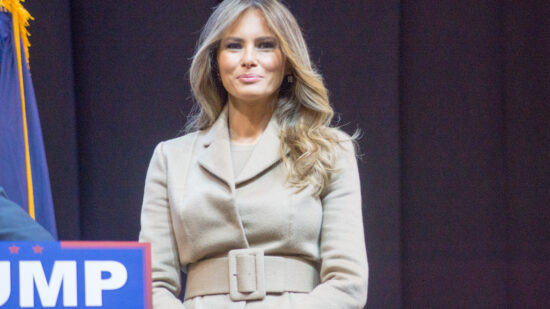 Melania Trump has been in the spotlight recently for her marriage to US President
Donald Trump
. She and Donald have been owning the political scene in recent months and the power couple have been grabbing headlines for the past several weeks.
During the presidential primaries, Donald Trump's net worth and how much money he actually has was under the microscope fairly often. However, no one ever spoke about Melania's net worth and where it comes from. The team from Saving Advice have looked at the available literature and provided you Melania Trump's profile by the numbers:

Net worth in 2016: $11 million personal net worth (not including joint wealth with her husband Donald)
Profession: Jewelry and watch designer, former model, wife to Donald Trump
Age: 46
Source Of Wealth: Marriage, jewelry/watch line, modeling
Residence: Manhattan, NY/Washington, DC
Citizenship: United States since 2006 (born in the former Yugoslavia)
Marital Status: Married to Donald Trump
Education: University of Ljubljana
Melania Trump's Career
Melania Trump was born Melanija Knavs on April 26, 1970. Later, her name was germanized to Melania Knauss. Melania was born in Slovenia which was a part of the Republic of Yugoslavia. Her father, Viktor Knavs, managed car and motorcycle dealerships for a vehicle manufacturer and was a part of the Slovenian Communist Party. Her mother, Amalija, was a patternmaker at a children's clothing manufacturer. Melania moved to the United States in 2001 and became a U.S. citizen in 2006 after she married American real estate tycoon Donald Trump in 2005. She is his third wife and has played a key role during his current presidential campaign.
Melania Trump does not get her net worth of $11 million solely from being the wife of the esteemed Donald Trump though. In fact, Melania is quite the self-made woman. Melania is a success jewelry and watch designer and former model. Prior to moving to the U.S. she worked for high-fashion modeling companies in Milan and Italy. She has also graced the cover of 13 top-tier fashion magazines during her lifetime, including publications like Vogue, InStyle, New York Magazine, Allure, Vanity Fair, Glamour, GQ, Elle and she was featured in the spread of the 2000 Sports Illustrated Swimsuit Edition.
Once she moved to America she used her knowledge of accessorizing from her time as a model to her advantage and created her own jewelry and watch line. Melania's jewelry and watches can be bought on QVC. The items that she creates (bracelets, earrings, necklaces, rings and watches) are sold on QVC and cost less than $200.
She has a college degree in design and architecture from University of Ljubljana in Slovenia and although she has not done anything with her architecture degree, she has certainly made a name for herself in design.
Melania Trump's Wealth
The largest source of Melania Trump's wealth comes from her marriage to Donald Trump. She presents a personal net worth of $11 million, however, joined with her husband, the couple presents an overall net worth of practically $5 billion. She and Donald met in 2004 and got married just one year later. Melania and Donald entered the marriage by signing a prenuptial agreement so technically none of Donald's $4.5 billion net worth can be claimed by Melania.
Melania's personal net worth is mainly from the sale of her jewelry on QVC. Because her jewelry is exclusively sold on the shopping network, she gets a significant cut from QVC. Any property that is claimed by Melania Trump is joint property between her and Donald. It is assumed by many that Melania's husband has helped her with investments during their marriage which is why her net worth has climbed during her time in the U.S.
Melania is involved with many different charitable causes as well. Some of the associations that she is involved with include the Breast Cancer Research Foundation, Martha Graham Dance Company, the Police Athletic League, The Boy's Club of New York, The American Red Cross and the Fifth Annual National Love Our Children Day.
Now, Melania Trump is supporting her husband through his presidential administration and finds herself standing next to Donald as the First Lady of the United States. "I encouraged him because I know what he will do and what he can do for America. He loves the American people and he wants to help them," she said. It will be interesting to see how the presidential administration affects Melania, her business and her overall net worth.
Photo: Flickr: Marc Nozell