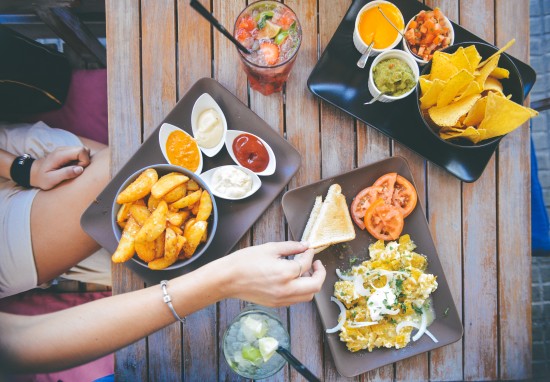 I, for one, love receiving free food! I am actually amazed at how many opportunities there are to find and receive free food. If you just enjoy the challenge of finding free food or need food to supplement a dip in income that affects your ability to buy as much food as you need, here are some places that you can look for free food.
• Urban foraging-it is amazing how much food is growing around us. From dandelion greens (don't eat if pesticide is on it!) to fresh apples, cherry trees, and even citrus fruit. Each region has food that is native to it. Take the time to figure out what foods commonly grow in your town. Take an urban foraging class and if you're wanting to forage for mushrooms take the time (basically years) to learn how to do it so you don't accidently eat a poisonous one.
• Many people grow too much food in their urban gardens. When that happens they need to give it away or it will go bad. If you have a friend with a garden or know of an urban garden program in your town speak up and ask if they want some of their bounty taken off of their hands. You won't believe how relieved they will be and you will find yourself going home with bags of the usual suspects: tomatoes! Cucumbers, and of course, zucchini and squash.
• Some farmer's market vendors would prefer to give out some of their awkward looking vegetables that other patrons might pass up-especially at the end of the market day. Ask if they would be open to giving away any of their awkward wares. Be discreet when asking this question in case they would prefer to say "no."
• Colleges are a plethora of
free food giveaways
. At the beginning of each year there are welcome parties thrown by universities. Normally students and staff have to show their ids in order to participate, but usually these events are so hectic that it's easy to slip in and get a plate. Don't be greedy!
• It's common to find promotions crews passing out large samples of different edible treats at festivals/races/or other outdoors events. Keep your eyes open for bubbly people trying to give you free food. Usually they have to give everything away before they can finish their day.
• Become a freegan-this one is a bit controversial and maybe even a little disgusting. However, it has been shown that millions of tons of good food are thrown out on a daily basis. People who have noticed this will dumpster dive weekly and retrieve this food. While this isn't an option for many of us, there are many people who feed their families on a weekly basis and do really well by embracing this philosophy.
• You can also get a lot of
free food on your birthday
by showing an id at different restaurants.
• Whole Foods/Costco/or Sam's Club-Typically will have people passing out samples to entice customers to buy whatever the foodstuff is they are sampling out.
It is amazing how much free food there is out there. With some basic strategies most people will come across free on a weekly basis. Bon Appetit!