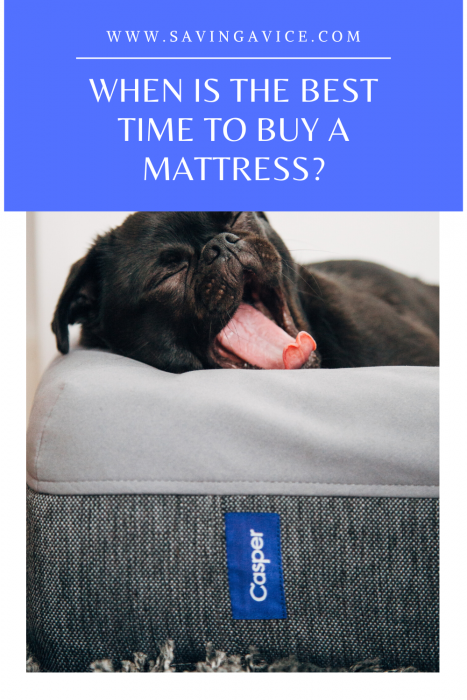 Most mattresses cost between $200 and $1,500. There are premium mattresses that can cost $5,000 or more, however, many people can find a quality one for around $1,000. A grand is still quite a bit of money to spend on a mattress, so you may want to wait until sales are happening. So, when is the best time to buy a mattress?
The Best Time to Buy a Mattress
If you are a savvy shopper, you've probably heard there are specific holidays and times during the year where you may be able to score a mattress on the cheap. That has changed slightly over the years with the increase in popularity of online shopping though.
Before setting out to purchase any big-ticket items it is a good idea for you to have a set budget in mind. Without a set budget and the money saved, you are more likely to overspend and possibly go into debt (and a mattress just isn't worth that). Once you've decided on that, you can move forward with finding the best time to buy a mattress for you. That being said, there are a few days throughout the year that may prove to be cheaper than others.
Late Winter/Early Spring
It can be a good idea to plan and save for your mattress to be bought in the early spring. May seems to be a month where many retailers put their merchandise on sale to make room for the next year's inventory. The biggest sales are typically seen around Memorial Day weekend. Discounts around this time on mattresses are typically up to 60% (a decent amount of savings).
Holiday Weekends
As mentioned above, Memorial Day weekend is a good time to go looking at mattresses. There are other holiday weekends that have proven to be good for sales too. You can discover discounts up to 60% on Presidents' Day weekend, 4th of July, Labor Day, and Thanksgiving as well. If you're in the market for a mattress, you may want to consider waiting for one of these holiday weekends to make a purchase.
Buy Online
Lastly, you can save even more money if you buy your mattress online. Many people still make their mattress purchases in person, but brick-and-mortar stores mark up the price in a huge way. Brands that typically sell for $2,000 to $3,000 in-store can be found for around $1,000 online.
This method of saving money on mattresses does have its downfalls though. You won't be able to see (or try) the mattress before buying it. You will have to rely on online reviews. But, you will have a plethora of products to choose from, not to mention you won't have any pressure from salespeople on the floor.
Mattress Coupons
As with anything else you buy, it is possible to find coupons, discounts, and promo codes for mattresses online. However, it is important that you verify the site and source of the coupon code if you are relying on it to be able to pay for the item. It is common for promo codes listed online and elsewhere to be expired.
If you are looking for a promo code, RetailMeNot, Coupons.com, and Groupon are the best, most reliable resources. Members of Costco and Sam's Club may also find they can get some spectacular deals on mattresses. In fact, according to the Krazy Koupon Lady, Costco has the lowest mattress prices of any retailer.
Most mattress manufacturers don't offer coupons, per se. Instead, they offer in-store deals and/or bundles. For instance, many mattress companies will give you a free boxspring with the purchase of a mattress or the deal you are getting is part of a larger sale. The Original Mattress Factory does offer printable internet coupons though, which you can access on their website.
Keep This in Mind…
As with all big-ticket purchases, it is important to remember you get what you pay for. Most mattresses under $500 will not come with warranties and may not use the best materials available to be constructed. Consider this before settling for cheaper models.
Readers, when was the last time you bought a mattress? How much did you spend? 
Read More