Comcast NBCUniversal will open a new theme park and resort in Central Florida named "Epic Universe." It is the fourth Universal theme park in Orlando. It joins Universal Studios Florida, Volcano Bay, and Islands of Adventure. Epic Universe will be the first new American theme park in almost twenty years. Universal opened Islands of Adventure in 1999 and Disney opened California Adventures in 2001.
Epic Concept
Universal Studios proudly announced that Epic Universe would change the way we view theme park entertainment. The design concept art features a large hotel overlooking what appears to be four pools or water features, several smaller buildings, fireworks, rides, and slides. Currently, the design of the resort is reminiscent of the Atlantis resort in the Bahamas, minus the distinctive pink color and beach access. However, this could very easily change by the time construction starts. Also, the announcement mentioned restaurants and shops to go along with the park and hotel. Universal will provide transportation between the locations.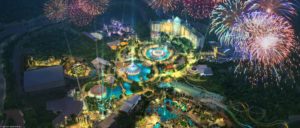 Themes and Rides
Epic Universe will sit on 750 acres in the Orlando area within a few miles of the existing parks. No specifics were given regarding rides or characters. The patent drawings suggested the use of virtual and augmented reality. Perhaps there will be rides related to Nintendo, "How to Train Your Dragon," and "Minions." They are all popular Universal properties not already represented at the theme park. The latest attractions have been the "Wizarding World of Harry Potter and "Fast & Furious" extensions. However, the company refused to divulge details due to the competition among the theme parks.
Doubling Park Size
Epic Universe is the largest theme park investment by Comcast to compete with Walt Disney World. Currently, Disney has four main theme parks, water parks, restaurants, and shopping in Orlando. It is about the size of San Francisco or roughly 43 square miles. Conversely, Universal is currently only about 840 acres. This new park nearly doubles the size. Hopefully, the bigger size increases the number of annual visitors. In the past year, Universal has seen a third of the visitors that Disney had.
The current size of the Universal theme parks is attractive for families that can't stay for a week exploring a vast location. Epic Universe hopes to change that. Boldly, as a professor at the local university stated, the goal is to extend those short trips, so customers never want to leave. Additionally, the existing hotels at Universal Studios Resorts are expanding and will reach 9,000 rooms by December 2020.
Good for the Neighborhood
Epic Universe estimates hiring 14,000 employees, starting at $15 per hour. Currently, Florida's minimum wage is $8.46. A $15 minimum wage is expected to be on the ballot in 2020. If this is true, it will stimulate the local economy and make it easier for Epic Universe to find talent.
Read More
Complete Price Ranking of the U.S.'s Most Popular Theme Parks
Spring Break Travel Trends That Might Save You Money at the Last Minute