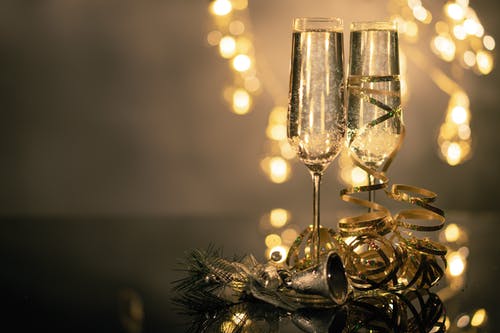 Ring in 2020 financially healthy with these New Year's deals and freebies.
Just when you thought the holidays could not get any more expensive, New Year's comes around. Many individuals will plan parties, and whether lavish or not, they can still be costly. From food to drinks or even just going out for your New Year's Eve plans, the holiday costs can really add up. The good news is you can still start 2020 off in a positive way without overspending.
Save money by taking advantage of these New Year's deals and freebies:

New Year's Freebies
Free transportation. Many areas, like London, will be making it possible to have free transportation from late night December 31, 2019 through the afternoon on New Year's Day. Check your own local transportation services to see what may be offered for free.
Free yoga classes. Free yoga classes can be found practically every where for the New Year. From New Year's Eve events or New Year's Day class, you can celebrate a new 365 days healthy and stress-free.
Greeting cards and scrapbooking tools. Are you resolving to be more creative? Want to send friends and family a goodbye to 2019? There are plenty of New Year's freebies online.
The United States Botanic Garden (USBG). Visit the holiday exhibit at the USBG in Washington D.C. through the New Year celebration at no charge. Other activities, such as the train exhibit and live seasonal music, can also be enjoyed.
Coffee. Enjoy free coffee from Sheetz and Cumberland Farms during the New Year celebrations.
Free Uber rides in select towns. Started a few years back in Michigan, law firms in certain towns are paying for Uber/Lyft rides Tuesday night. Look yours up to see if your town qualifies.
Free New Year's games. Hosting your own party? Free entertainment is always a plus to save money. Try these at yours.
New Year's Deals
Discounted Uber rides. Be safe this weekend with discounted uberPOOL rides with Uber's New Year's promotion. Simply check out this link and see what you can snag.
Amazon deals. Amazon's holiday deals continue with its "New Year, New You" sales on a variety of merchandise.
Hotel discounts. Last minute travel plans? Save $50 when you spend more than $300 in select hotel bookings through New Year's Eve when you use the code HOLIDAY19 at checkout. You can also save 10% on select hotels with the code OFRSDEC19 until January 1.
AirBnB promotion for new subscribers. Get a coupon code for up to $35 off from RetailMeNot for your first trip.
Best Buy sales. Best Buy has some great New Year's deals you won't want to miss. From TVs to phones, Best Buy is one of the stores to check out this weekend for technology sales.
Clothing discounts. Under Armor, Charlotte Russe, Maurices and more are all having great deals to ring in 2019. Check out their social media sites, subscribe to their emails lists or look at RetailMeNot.com for coupons.
These are just a few of the many deals happening to celebrate another year. With a little digging and patience, you can snag some awesome discounts and start the New Year with savings.
Do you have anything to add to the list?