Belgium is known as one of the toughest countries to get a working VISA from, but sometimes all it takes is having the right information at your disposal in order to make the right moves, and that's what we're here to help you with.
If you're a non-EU citizen looking for info on how to get a Belgian working VISA, you'll probably find the following guide both helpful and insightful.
How to Obtain a Belgium Working VISA
As you'll see below, your ability to obtain a working VISA in Belgium is largely predicated on your residence status in the country. A lot of the time you need to have secured work already before you can apply for the VISA in the first place.
Entrepreneurs who setup businesses in Belgium also qualify to apply for a Belgian working VISA under certain conditions. In any case, there are three types of work VISAs available in Belgium for non-EU citizens, namely:
A Permits:

A permits specifically apply to non-EU citizens that have been residing in Belgium for five consecutive years, as well as the non-EU spouses of EU citizens.
In order to apply for this permit, you need to have been staying in Belgium for a period of 10 years and working with a B Permit for a minimum of 4 years.
The completed application form for an 'A Permit' needs to be accompanied by your residence permit, your payslips and certified copies of your B Permit, which you will submit at your local immigration office.
It's important to note here that if you're a national of Bosnia, Kozovo, Algeria, Tunisia, Morocco, Macedonia, Serbia, Montenegro, Turkey and Herzegovina, then your residency requirement can be reduced to 3 years for an A Permit.
B Permits:

Belgian employers are usually required to apply for this permit on behalf of their employees. Reason being that the employer needs to prove that they were unable to find a suitably qualified local to perform the job, hence the necessity to hire a non-national. So if your employer is the one organizing your Belgian work permit then it probably falls under this legislation and will be valid for one year with the option to renew.
Your application for this permit will have to be accompanied by your latest medical certificate as well to prove that you're in good health. If you've been hired in a clerical position or as a manual worker, your application should also be accompanied by a prescribed contract of employment which will be signed by both you and your Belgian employer.
Just make sure to follow the rules and stay in your home country until your work permit has been issued, as staying in Belgium before that can jeopardize your chances of getting a B Permit.
C Permits:

Similar to B permits, C permits are valid for only one year with the difference being that they do not come with an option to renew. Also, C permits are exclusively meant for domestic helpers, au pairs, agricultural workers, students and anyone who's staying and/or working in Belgium for a temporary period of time.
Tips for Obtaining a Belgium Working Visa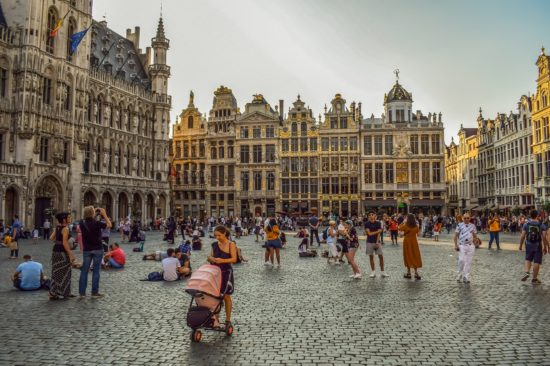 Here are some extra tips to help you obtain your Belgium working Visa.
Learn the Local Language:

Be sure to learn French before you start looking for work in Belgium as that will serve you in good stead with employers and officials alike.

Get an Internship:

Those in the know say that working as an intern or trainee in Belgium for 6 to 12 months will increase your chances of obtaining a B permit, as your experience in said company will give your employer stronger ground to argue that you're more suitable for the job even though you're a non-EU citizen.

Study at a Belgian University:

As a University student with a student VISA, you'll have a better chance of obtaining part-time work which you can then leverage to apply for an A permit later on.
If you're familiar with how a Belgium work visa works then it'll be easier for you to understand the process of obtaining a Belgium working VISA.
Nevertheless, unless you're a citizen of an EU or EEA country as well as Switzerland, you will need a working VISA in order to legally stay and work in Belgium. We hope this little guide has helped you to understand the requirements of getting a Belgium working VISA and that you will now be able to obtain the right working permit for your needs.