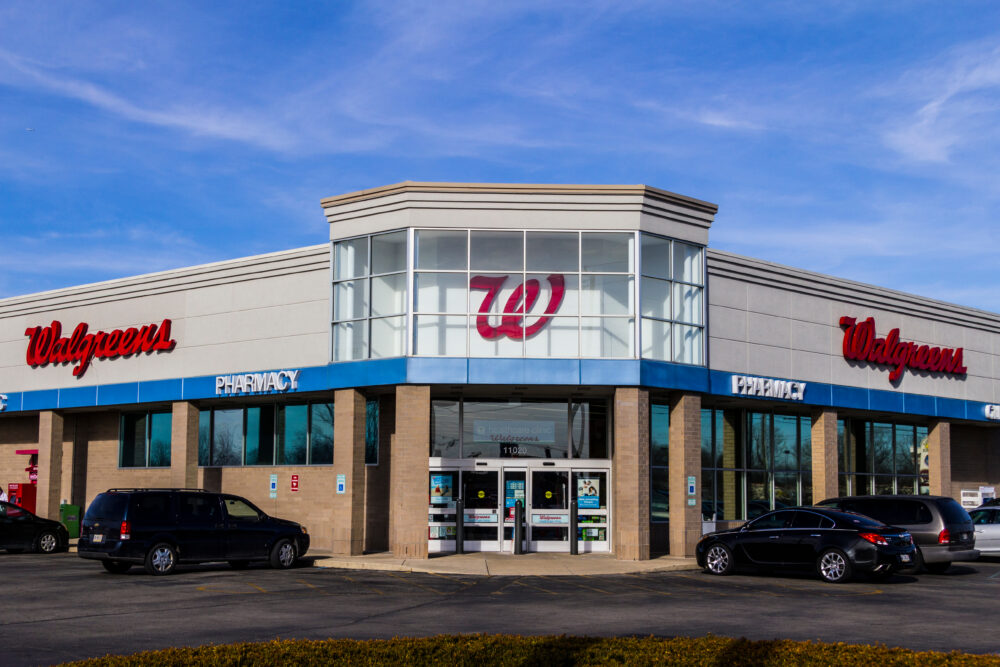 If you are a frugal person, you are probably looking for ways to get cash without paying a ton of ATM fees. Or you may be looking for ways to shave a few bucks off your drugstore bill. Well, you are in luck, many major supermarket and drugstore chains will let you get cash back. So, you may be wondering does Walgreens do cash back?
Does Walgreen Do Cash Back?
The short answer is: Yes, Walgreens does cash back.
Walgreens accepts credit cards, debit cards, personal checks, gift cards, and Apple pay. However, Walgreens will only give you cash back on a debit card purchase. Depending on the store, the maximum amount of cash back you can receive is $20 or $50, with most stores providing up to $50.
Walgreens will not provide cash back on purchases made using a personal check, a credit card, or Apple pay.
Does Duane Reade Do Cash Back?
Yes, Duane Reade does cash back.
Duane Reade, which is owned and operated by Walgreens, follows the same cash back policy.
The maximum amount of cash back you can get at Duane Reade is $50 using a debit card.
There Are Lots of Ways To Get Cash Back at Walgreens.com
If you are not looking to get some physical currency, and instead want to reduce online shopping bills at Walgreens, you are in luck. There are lots of ways to get cash back at Walgreens online. Here are three of the most common:
1) Use A Cash Back Site
The internet has an entire ecosystem of cash back sites devoted to getting cash back from online retailers. Most people don't know much about it, because the technology hasn't caught up with use of mobile phones all that well. However, cash back sites use tried and true technology, so there are several you should consider if you're serious about getting cash back at Walgreens.
Some good ones are:
Cash back websites work on a simple model. You create an account with the site and then shop as usual at your favorite online retailers. When you make a purchase, the retailer pays a commission to the cash back website. A portion of that commission is then paid back to you in the form of cash back. The amount of cash back varies depending on the retailer, but it typically ranges from 1% to 10%. Some cash back websites also offer additional benefits, such as sign-up bonuses and referral bonuses.
For example, here is the amount of cash back Dollardig will get you from Walgreens.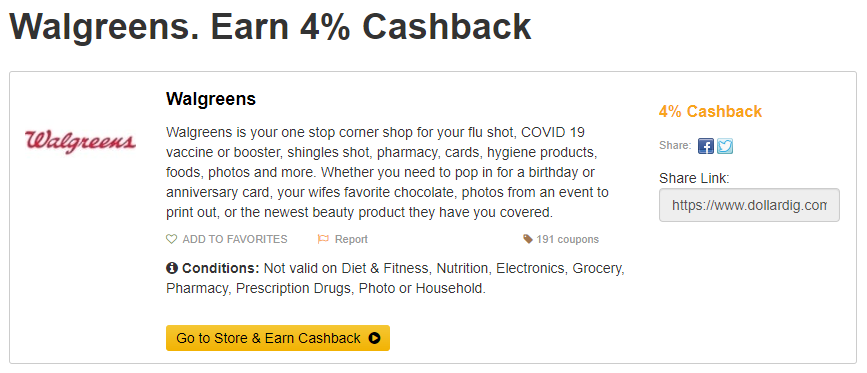 DollarDig's Walgreens page is here.
2) Use a Cash Back Credit Card
Essentially, cash back credit cards earn you a percentage of the money you spend back in the form of a statement credit or direct deposit. For example, if you have a card that offers 1% cash back on all purchases and you spend $100 in a month, you would receive $1 back. The trick here is to stack your cash back card with a cash back site. In this case, if you had a card that gave you 1% back, you could stack it with the 4% offer from Dollar Dig to get a total of 5% back.
Doing this consistently will add up.
Be sure you pay off your credit card every month. Carrying a balance on a credit card will erase any benefits of getting cash back.
3) myWalgreens Rewards
Walgreens has a branded credit card and in-house rewards program. Signing up for their card could get you between 1% and 10% back.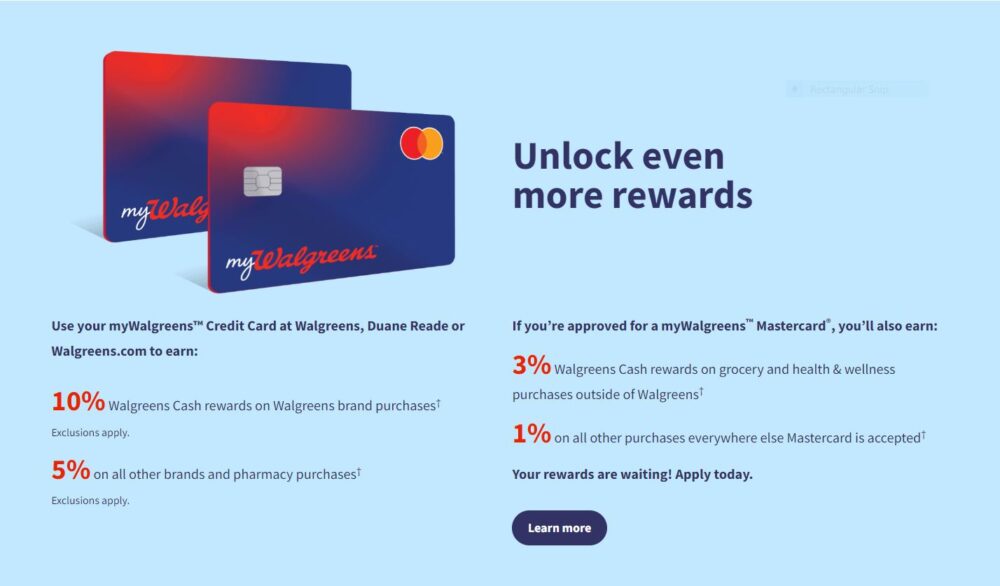 You don't have to sign up for the card, but you can still get point through their rewards program.
The myWalgreens program allows customers to earn points for every dollar they spend at Walgreens. These points can then be redeemed for Walgreens gift cards or used to purchase Walgreens merchandise. Basically, what you have to do is sign up with myWalgreens. When you buy something either in store or online, you enter in your phone number and zip code. You'll get points.
Ideally, you'd use all three methods in combination. First, go with a cash back site. Next, utilize a cash back card. Then, take advantage of myWalgreens. That would be the strongest way to get cash back.
The myWalgreens signup page is here.
Still Have Questions? Contact Walgreens.
If you need to contact Walgreens, its customer service number is 1-877-250-5823. Walgreens representatives are generally knowledgeable and kind.
Yes, Walgreens Does Cash Back!
For shoppers needing cash in person, Walgreens does indeed do cash back on debit card purchases with a maximum of $50 per transaction. If you're shopping at Walgreens.com, you have plenty of options for getting cash back — including cash back sites, cash back cards, and myWalgreens rewards.
Here are more excellent articles for Walgreens shoppers:
What Is The Price Match Guarantee At Walgreens?
Here Is The Walgreens Holiday Hours And Schedule
Here Is A Cashback Savings Strategy You Probably Don't Know
Come back to what you love! Dollardig.com is the most reliable cash back site on the web. Just sign up, click, shop, and get full cash back!
James Hendrickson is an internet entrepreneur, blogging junky, hunter and personal finance geek. When he's not lurking in coffee shops in Portland, Oregon, you'll find him in the Pacific Northwest's great outdoors. James has a masters degree in Sociology from the University of Maryland at College Park and a Bachelors degree on Sociology from Earlham College. He loves individual stocks, bonds and precious metals.