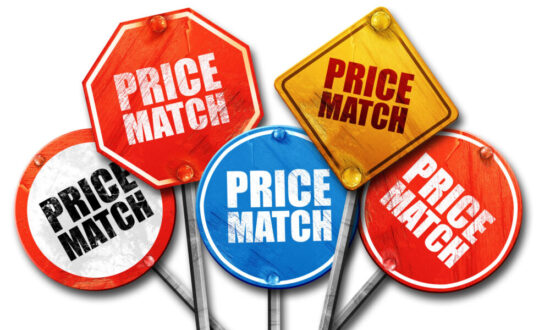 What is your favorite grocery store? If you live in New Mexico or Texas, then perhaps it is United Supermarkets. If so, then you want to do your shopping there, but you also want to make sure that you always get the right price for your groceries. Therefore, it might be wise to learn the United Supermarkets' price match guarantee.
What Is United Supermarkets?
I have to be honest. I'm from Arizona, and I live in California. Therefore, I had never heard about United Supermarkets before. However, once I started doing some research, I became really intrigued. The store seems like it has a great history, mission, and pricing. Therefore, I thought it was worth learning more about it, so that I could share it with you.

The United Family
According to their About Page, here's the short story of United Supermarkets:
In 1916, they opened the United Cash Store in Oklahoma.
A little over three decades later, they moved to Texas.
They opened the United Supermarkets headquarters in Lubbock, Texas in the 1950s.
Then they expanded to Wichita Falls and Amarillo over the next couple of decades.
In 2013, Albertsons Companies purchased The United Family. The United Family consists of United Supermarkets as well as four other store names:
Abertsons Market
Amigos
Market Street
United Express
Together, these five brands have nearly 100 stores in about 5o communities. The idea here is that each of the stores is set up to uniquely serve the needs and culture of the communities where they exist. So although United Supermarkets is part of a chain of stores, they're also higher personalized compared to nationwide big grocery chains.
United Supermarkets We Are West Texas
For example, if you check out United Supermarkets We Are West Texas, here are some of the things they promise:
"Hometown service, big-box selection." In other words, they emphasize service with souther charm but they offer global wines, craft beers, organic products, etc.
Ready-to-eat meals for people on the go. For example, get hot meals, fresh sushi or visit the "salad, soup, and wings" bar.
Savings. They have weekly deals. Moreover, they have a rewards program. Plus, they advertise "hundreds of price cuts on your favorite items across the store." And yes, there's a United Supermarkets' price match guarantee. We'll expand on that in a moment.
United Supermarkets Commitment to Service and Community
Before we get into savings, we have to note that they also strive to serve their customers and their communities. If you go back to that United Family page linked above, you'll see that it says they value:
Treating others as you would like to be treated.
Service first.
Lifting up the community.
Digging further, you can learn about how they accept donation requests from the community. They also have a commitment to sustainability. If you want to shop at an ethical grocery store, this seems like a good place to start.
United Supermarkets' Price Match Guarantee
Okay, but we're also here to talk about savings. After all, a community-oriented ethical grocery store is great, but if they're too expensive then shopping there might not be feasible. United Supermarkets has several savings options, some of which we've already discussed. Now let's talk about price matching.
Right on the We Are West Texas main page, they explicitly say that they have a United Supermarkets' price match guarantee. They call it a "guaranteed lowest price promise."
That said, I dug deep online to find out more information about the terms of the United Supermarkets' price match guarantee and I couldn't get any further specific information.
What Happened When I Called Customer Service
So, I decided to just call the store's customer service number and ask. And here's what I found out: the United Supermarkets' price match guarantee seems to vary from store to store. While this might feel overwhelming, it actually makes a bit of sense considering that they personalize their stores as much as possible to their communities.
So, what I was told was this: If you find a lower price on an exact same item at another store, bring proof of that lower price to your specific United Supermarkets store location. When you get there, ask to speak to a customer service manager. Explain the situation, and ask if they will honor the lower price. It often depends on the situation.
If you look at the price match guarantees of larger chains, this makes sense. Most of them have very specific rules about which competitor's coupons they will honor. Therefore, although it's a bit unusual for the guarantee to vary from store to store within a brand, it's not totally out of the realm of how price matching works.
United Supermarkets Has a Price Scan Guarantee
While on the phone, I learned that United Supermarkets does also have a price scan guarantee. In other words, if the store lists an item at a certain price, but it rings up wrong, you'll get a benefit. The benefits depends on the situation. For example, if you buy a BOGO item but both items ring up then you actually get both items for free.
Other Ways to Save Money at United Supermarkets
We covered some of this already, but we know that saving money on groceries is important to you. Therefore, we wanted to go into a little bit more depth about how to save money at United Supermarkets.
Download the app, set up a free profile, and start earning. You get one point for every dollar that you spend. Additionally, you get double points when you buy gift cards. Points are redeemable for free groceries as well as a discount off of groceries. They're also redeemable for gas.
That's right, some United Supermarkets also have gas stations. Additionally, they have pharmacies. And something unique they offer is dietitians who help provide nutritional information as well as recipes to assist you in making healthy choices at their grocery stores!
Clip Digital Coupons
Once you're a member who has the United Supermarkets app, you gain access to digital coupons.
Weekly Store-Specific Deals
Sign up for an email that arrives every Wednesday. It has the deals of the week that are specific to your store location.
Plus, of course, use your usual savvy grocery shopping skills to save money. Shop with a list. Stick to a budget. Buy in bulk when appropriate. Take advantage of deals but avoid impulse shopping. You know the drill!
Read More:
If you enjoy reading our blog posts and would like to try your hand at blogging, we have good news for you; you can do exactly that on Saving Advice. Just click here to get started.
Check out these helpful tools to help you save more. For investing advice, visit The Motley Fool.
Kathryn Vercillo is a professional writer who loves to live a balanced life. She appreciates a good work-life balance. She enjoys balance in her relationships and has worked hard to learn how to balance her finances to allow for a balanced life overall. Although she's only blonde some of the time, she's always striving for total balance. She's excited to share what she's learned with you and to discover more together along the way.