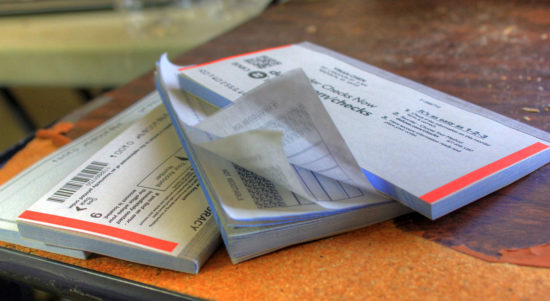 How many people use checks these days? How many people use fax machines? Despite the numbers going down dramatically, thanks to email and mobile banking options, there are still plenty of people out there who use both of these tools. Therefore, you might find yourself wondering, "can you fax a check?" The short answer: yes. However, it's not as simple as sticking a check in the fax machine.
Why You Might Want to Fax a Check
The number one reason that someone usually wants to fax a check is that they want to make a payment by check immediately. In other words, even though they are writing out a check, they don't want to have to wait for mail delivery before the recipient sees that check. For example, if you owe a company a check by a certain date, and it's the last day of payment before you incur a fee, then you might want to fax a check.
The Business Has to Accept Faxed Checks
To fax a check, you have to make sure that the person or business receiving the check has the capability to receive it. Sending a check through a fax machine doesn't automatically mean that the company receives a check that they can use. They have to have software or other tools that allow them to accept this form of payment.
Therefore, if you want to fax a check, you should first ask the business. Confirm that you have its correct fax number. Then, before you send the check, make sure that they don't have any specific rules, guidelines, or formatting.
Some businesses require you to first submit your banking information to them through a specific form that they keep on file. Other businesses require that you put specific information in your cover letter when you fax a check.
Tips for Preparing to Fax a Check
Always follow all of the rules that the business you're faxing lays out for you. With that in mind, here are some general tips to consider when you fax a check:
Include a cover letter that clearly explains what you're sending, including the amount, and what the check is for
Also write "Faxed Check: (reason)" in the memo line of the check itself. Example: "Faxed Check: September electric bill"
Photocopy your check so that you have an 8.5″ x 11″ piece of white paper with the check centered in the middle. Then fax that paper, rather than trying to stick a small check through a fax machine
Make sure that you can read all details of the check on the photocopy, including routing number and account number
Contact the company to follow up, confirming that they received the fax check and have all of the information that they need in order to process it
Send Check Via Fax For Authorization
In some cases, you might fax check authorization to a business, rather than faxing a specific check for payment. Let's say that you want your landlord to regularly pull your specific rent amount out of your checking account every first of the month. To do that, it needs your banking details. Sending a check to them so that they have the details is an easy way to do that.
In fact, many landlords and other businesses have tools that allow them to accept your faxed check as authorization for future payments. Typically, you will send a voided check to them via fax, using the same tips as shown above. Of course, follow any specific rules they require, which may include a form with details about what you're authorizing them to do with your account.
In other words, you're sending them your banking information by sending them a check. Doing so, you authorize them to print checks on their end using your information to obtain a specific set of money that you've agreed upon in advance.
How to Accept a Faxed Check
Maybe you are on the other end of the deal and would like to receive a check by fax. If you operate a business that will use this service regularly, then you'll want to purchase software expressly designed for this purpose. Examples of popular check faxing software include:
CHAX
CheckComposer.com
CheckWriter.net
echeckdirect
ezCheckDraft software
OnlineCheckWriter.com
Vcheck
These check faxing programs allow you to integrate the service with other aspects of your business. You can integrate some of them with Quickbooks. You can easily set up automatic recurring check deposits. You can retain copies of faxed checks, which can assist in easily settling any billing disputes with customers.
Note that you will print the check on your end. In some cases, your bank may require you to use a special type of paper for check printing. You do not need special ink for printing out faxed checks. However, because the check doesn't have some of the built-in security features of regular checks, you may have to go to a teller to deposit your faxed check rather than putting it through an ATM or mobile deposit.
If you choose to accept faxed checks, make sure that you pay attention to all fees. Find out if there are transaction, processing, or setup fees before you make a decision on which software you want to use.
Read More: