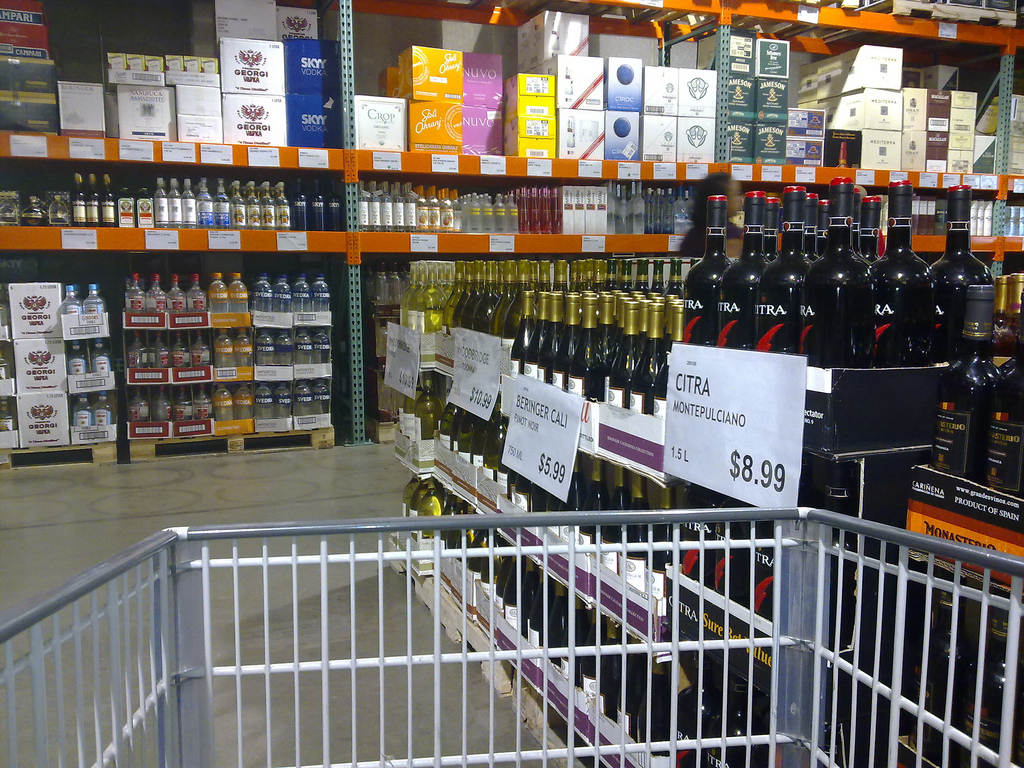 Kirkland Signature is the Costco liquor store brand. In other words, if you want to buy spirits at Costco, then you need to head to the alcohol aisle and look for that brand. But, is it worth it, or would it be more cost effective to buy your alcohol somewhere else? More than that, should you even bother with other brand names of liquor at Costco? We have the scoop.
Types of Costco Liquor
Kirkland Signature alcohol was introduced into Costco stores about ten years ago. Their selection has grown steadily. Some of the options include:
Small Batch Bourbon
Anejo Tequila
American Vodka
French Vodka
London Dry Gin
Spiced Rum
Whiskey
Aged 12-Year Whiskey
XO Cognac
Almost all of these are sold as 1.75-liter bottles. However, the tequila is a 1-liter bottle, and the cognac is 750 ml.
How Much Does Costco Liquor Cost?
The price that you will pay for Costco liquor depends on what you like. On the cheaper end, you can get the rumor American vodka for less than $20 per bottle. On the pricey side, the cognac and aged whiskey cost more than $50 per bottle. The other options all range between $20 and $30 per bottle. When you think about the amount of alcohol you're getting – nearly two liters – you can see that this is a good price.
What About Flavor?
If you buy alcohol but don't drink it because it tastes terrible, you aren't saving money. So how does Kirkland Signature brand alcohol stack up? If you're a spirit snob, you might want to be more selective. However, many people say that Costco beverages are comparable to major brand names.
In fact, there are some big names behind this brand. For example, Jim Beam produces the Costco bourbon and rum. Moreover, the tequila is made at the same distillery as Ciela tequila. Plus, multiple sources have said that Kirkland vodka is comparable to Grey Goose, which is one of the most popular top shelf vodkas.
Kirkland Signature Isn't the Only Option
You will get the most savings if you purchase the store brand from Costco. However, it's not the only option. Costco does offer other brands of liquor as well. For example, they typically sell Bacardi Superior rum and Bulleit bourbon.
Costco reportedly only marks up their liquor by 10-15%. Therefore, the more expensive a bottle would be at another store, the better the savings at Costco. In other words, if you like high-end alcohol, and you're able to find what you like at Costco, then you'll get a really good deal. However, they don't have a big selection, so it can be hit or miss in terms of whether or not you'll get the drink you want.
You Might Not Need a Costco Membership
One of the most interesting things about Costco liquor is that you don't necessarily need a Costco membership to purchase it. In other words, you can take advantage of the reduced rate without having to pay the annual membership fee. This varies from state to state, so check with your local store. Reports indicate that Arizona, California, Hawaii, New York, and Texas are some of the states that sell Costco liquor without a store membership.
The Verdict: Can You Save Money With Costco Liquor?
So, what's the verdict? Is Costco liquor a real savings? Yes. You'll save the most money by purchasing the store brand. You can also save a lot if you purchase very high-end drinks that would be expensive elsewhere. However, you should always do your own cost comparison to make sure you get the best deal in your area.
Have you tried Costco liquor? Share your thoughts with us in the comments below!
Read More
Costco Comparison: How Does It Rank Among Competitors?
Is the Costco Membership Fee Worth It?
2018 Costco Holiday Schedule
(Photo Credit: Mark Guim)