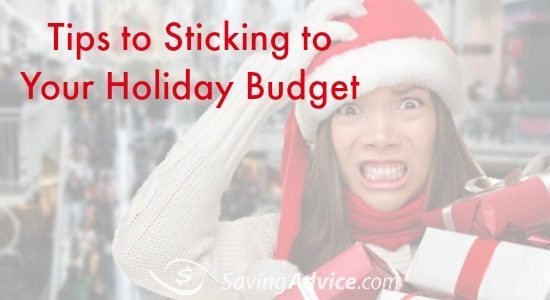 The holidays are just around the corner. Times of enjoyment and togetherness. Though this is a wonderful time of year for most, it can also be very expensive. If you keep a budget throughout the year (I sure hope you do), this time of year can wreak havoc on it. The holidays, however, can be economical. Here are some tips to save some money this holiday season, and stick to your budget.
Save Throughout the Year
This doesn't do anyone much good, now that it's November, but you should be saving for the holidays, starting on January 1. If you begin saving right away, you have the entire year to stash money a little at a time. Once you hit October or November, you will have a large sum stashed away for gifts, food, and travel.
I personally started saving $20 from each paycheck and put it into our holiday fund. By September, we had over $500 in savings for the holidays.
Set a Spending Limit
An easy way to reduce the amount you spend during this time of year is to limit the amount you spend on gifts. If you have family and friends you buy gifts for, set the limit at $30. If you and your significant other normally overspend on each other, set a limit for yourselves.
An easy way to accomplish this is to use cash. Say you have 10 people you want to buy gifts for. At $30 per person, that's $300. Add in $100 for your significant other and you get $400. Take the money out of your bank or credit union, put it in an envelope, and use it to buy gifts.
Another plus behind spending limits is it makes you really think about the gifts you buy, which, in my opinion, makes them more meaningful.
Gift Exchange
If you have a large group of people you buy for, set up a gift exchange. Throw all of your names in a hat and pick from it. Once everyone has a name, establish a spending limit. This way, everyone will get a gift they like, and it decreases the amount of money spent for everybody.
Shop Early
If you start your holiday shopping early, you give yourself time to shop for deals. Obviously, buying something on sale is way better than paying full price.
Make it a Pot-Luck
If you are hosting a Thanksgiving or Holiday dinner, have your guests bring something with them. This helps in two ways. One, it reduces the amount of time and money you spend preparing for the meal. Two, when the attendee brings a dish for people to share, it makes them feel good knowing they contributed.
Use Credit Cards
As you make purchases throughout the year, use a credit card with rewards. Pay that balance in full every month to avoid unwanted interest charges. Some credit cards give you cash back that you could then turn and use on gifts.
There are also credit cards that give you miles for travel. If you plan on flying this holiday season, rack up the miles with your credit card to get a cheap or free flight.
Conclusion
The holidays are full of good times. Gathering together with people you love, there's nothing better than that. Unfortunately, this time of year comes at a cost. Sometimes it can be a budget killer. By using these tips, you should reduce some of the costs associated with the holidays.
Like Saving Advice? Subscribe!
Subscribe to get the latest Saving Advice content via email.