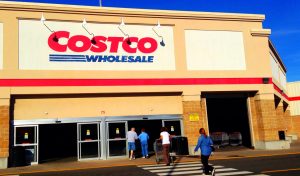 According to is website, Costco began with the goal to "keep costs down and pass the savings on to [their] members." The membership warehouse club offers a wide variety of merchandise, from groceries to home improvement. There is no denying that shopping at
Costco can save you money
, but some items may not be worth getting at the chain. Is milk, one of the more popular grocery item lists, one of those things? How much is a gallon of milk at Costco?
What is the average cost of milk?
Pricing for items does depend upon location, but of course we are all wanting to save when and where we can. According to the Bureau of Labor Statistics, the average cost of milk in November of 2016 was $3.28, which is actually a decrease from the start of 2016, which was $0.03 higher.
When it comes to organic milk, the National Retail Report for dairy by the USDA states that the average advertised price for a half gallon of organic milk at the start of the year is $3.86. This is compared to a conventional half gallon advertised price of $1.23. However, Consumer Reports says buying organic may be worth it to avoid exposure to chemical pesticide residues.
Whether you decide to purchase organic or conventional milk will depend on your budget and personal thoughts, but it is, of course, still worth price checking. So, let's see how Costco stacks up against the average milk prices.
How much is a gallon of milk at Costco?
As you may have guessed, Costco even provides a variety of milk options for shoppers. Below, are just a few for those with different needs or price points. (Note: Prices may vary by location and may have since been updated.)
Whole Milk: $4.99 for two one-gallon jugs (Comes to $2.49 per gallon)
Organic Milk 1%: $10.99 for three half-gallons (Comes to $7.33 per gallon)
Organic (Plain or Vanilla) Soy Milk: $22.99 for a 12-pack of 32 ounce containers (Comes to $1.92 per container, 3 gallons per pack)
Organic Rice Milk: $24.99 for a 12-pack of 32 ounce containers (Comes to $1.92 per container, 3 gallons per pack)
Whole Chocolate Milk: $2.89 for 64 ounces (Comes to $0.45 per ounce, $5.78 per gallon)
Half and Half Ultra Pasteurized: $3.49 for one half-gallon (Comes to $.047 per pounce, $6.98 per gallon)
Organic Chocolate Milk: $25.89 for a 24-pack of 8.25 ounce containers (Comes to $1.08 per container, roughly one and a half gallons per container)
Non-fat Instant 100% Milk Emergency Food Bucket: $99.99 per 400-serving bucket (Comes to $3.99 per gallon)
Those living in Hawaii might find some of the non-dairy or the instant milk options lucrative to their grocery bill, since the average cost of milk on the island is about $6-8 due to supply and demand.
Although Costco does not typically have sales, they still have coupons that can be used. Sales are nonexistent not because they hate their members but because they value their customers. Items in their store are already negotiated at lower prices so your best bet to save even more is by using coupons.
For more info on Costco check out these articles.
Is the Costco Membership Fee Worth it?
Is a Costco Executive Membership Worth the Price?
Costco Gas Calculator: Will I Save Money Buying a Membership if All I Buy is Fuel?
You can check out our articles for Target as well.
Target Holiday Schedule and Store Hours
Do you shop regularly at Costco? Do you find you save more when shopping there? Weigh in the comments below or feel free to start a conversation in our forums.
Photo Credit: Mike Mozart