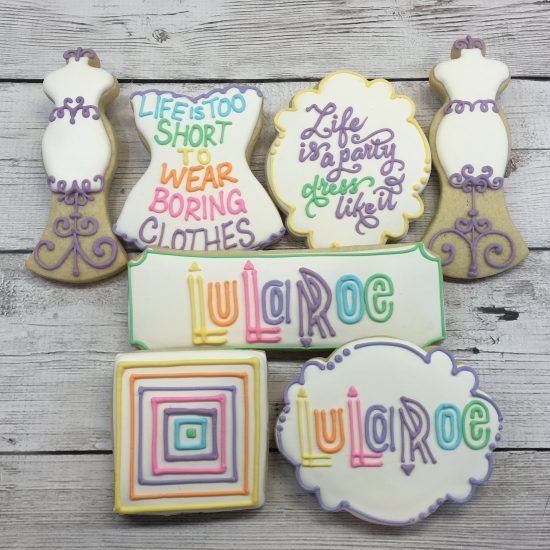 So, you've decided to sign up to sell LuLaroe clothing. Many women across the country have found the company to be a lucrative addition to their household income. But, what does it take to be a successful
LuLaroe
consultant?
Raising children is no easy task and financial struggles make it even more difficult. Sometimes, a supplementary income is needed to help you get ahead. This is especially true for single parents, and
80.6% of single parents in the United States
are mothers. These mothers who need to raise their children alone may have an even more difficult time staying afloat due to everyday expenses or other life challenges. It's no secret that higher education often yields better paying jobs, but with higher education comes debt. And unfortunately, the average college graduate is likely to have started a family before his or her student loans are even paid off.
Of course, regardless of being a single mom or married, dual income homes are on the rise, and childcare costs can add up. Moreover, many women would prefer to generate revenue while staying home to raise their children. For those that do, LuLaroe may be a viable option for you.
How does LuLaroe work?
The multi-level marketing company (MLM) LuLaroe became popular for selling leggings with bold prints and patterns that are also known for their comfort. As the company quickly evolved, it began producing many styles of clothing for women and children, including tops, shawls, dresses and skirts. When you sign on to be a seller, you invest roughly $4,900 to $6,000 for your initial inventory. Once you receive your start-up kit, as it is called, you can immediately begin selling. For each item, a 35-60% profit can be expected. Included with your sign-on is access to private groups with other consultants as well as a coach to assist you in increasing sales, give you advice and more.
Unlike many other MLMs, LuLaroe welcomes competition among sellers.
"There may be multiple consultants in one area, but each distributor receives different (and limited) inventory," Leslie*, a LLR consultant since August, said. "As consumers are introduced to different patterns or styles of clothing, they begin to seek out these limited editions in their size. Because each consultant carries different patterns, they can refer to another either in their network or in their area. This encourages referrals to one another, which helps drive more business."
That sounds great, but can it really bring home the bacon?
Let's talk money
So, with a $6,000 estimated investment for inventory and roughly another $500 (give or take) for miscellaneous business supplies, like hangers, clothing bins
, clothing racks
and business cards.
Leslie had to set up a room in her home for her stock, and spent an estimated additional $1,000 to her $5,000 buy-in – this included all the equipment (like the rack below) and acessories she needed to buy.

Rachel*, another LLR consultant who began in July and is a stay-at-home mom, did not have as much in additional expenses though. She was lucky enough to have the additional space in her home and simply turned her guest room into her "LuLaroe room."
"I just cleaned out a few of my closets and needed to invest in some space saving hangers." She added, "Other than my inventory, I don't really have too many other expenses [for the business]. Apart from shopping bags and business cards, I do some advertising on Facebook, but it is very minimal."
After set-up costs, when can you expect to make money?
Everyone's results differ from one another, but it seems those who are hosting parties regularly begin to actually make money after about four months, if not sooner.
Consultants Ashley Adams and Kerrie Butler from Florida replaced their full-time jobs and salaries with their direct sales within roughly four months of starting their LLR journey.
Rachel's initial inventory costs came to $6,000 but made her money back in about 20 days.
"I probably started seeing a true profit about a month in," Rachel said. "But after I paid off my investment, I would buy more inventory with much of what I made. I think the key is keeping your inventory fresh."
Currently, Rachel does roughly $10,000 worth of sales a month on average, and makes about $5,000.
Leslie, also a stay-at-home mom, puts what she makes back into inventory as well. While she has yet to see a profit, she has been able to pay bills and resupply her LLR stock regularly.
"It's a challenge," she said, "because you need inventory to sell, which, of course, costs money."
However, Leslie has no plans of stopping any time soon. She mentioned she is always arranging sales and so she is hopeful that her profit will come soon.
"My goal is to make enough that my husband won't have to work," she said of her spouse who is employed at a company that calls for time away from home.
Once you are able to reach a certain point, you do have the option of working your way up to be a sponsor to a LuLaroe distributor under the company's Leadership Bonus Plan. This plan gives you the opportunity to earn even more with sales by profiting off of your sponsored seller. Of course, they need to also do well in order for it to be beneficial to you.
Related Articles:
Is LuLaRoe a scam?
What is the LuLaRoe Business Model?
What Does it Take to be a Successful LuLaRoe Consultant?
Commonly Asked Questions About Being a LuLaRoe Consultant
Is LuLaRoe Worth The Price?
Is LuLaRoe a Mormon Company?
LuLaRoe Startup Costs
Is LuLaRoe a Pyramid Scheme
So, what does it take to be a successful LuLaroe consultant?
As with any business, many factors must be considered to be successful. Many women choose this particular direct sales company because they want more time with their families, financial freedom (or an additional stream of revenue), and to tap into their creative sides. Nevertheless, not everyone is able to follow through. So, what does it take to be a successful LuLaroe consultant then? Here is what we've found:
Excellent customer service skills. "Make sure you are willing and able to provide excellent customer service," Rachel advised. This will play a major role in returning customers and referrals, which will ultimately drive more sales.
Being willing to work. It was not easy for Kerrie and Ashley to work a full-time day job then come home and work their LLR business. But, they mentioned the work was certainly worth the return, and it is what allowed them to quit their day jobs to be stay-at-home moms. Leslie agrees that you must be willing to put in longer hours on some days in order to make sales.
Being a walking billboard for LuLaroe. The old saying "practice what you preach" rings true if you want to be a successful LuLaroe fashion consultant. Wear the product that you sell. Whether you are out running errands or attending a social event, receiving compliments on your outfit initiates conversations that may lead to sales.
Being active online. The power of social media should not be ignored. Many consultants build excitement to their followers prior to receiving a shipment. Start a group page and invite friends and family you feel may be supportive or interested in the clothes. It is recommended to share images of yourself in LLR gear as well as doing live videos revealing your shipments and hosting parties regularly.
Relaxing and having fun. Rachel says to "have fun and learn as much as you can." The more you learn about the company and how you can improve, the better. Coaches are there for a reason: to help you succeed. Sure, they benefit from your success, but that is also the point. Everyone makes money, and everyone wins.
Following through. The ladies that do the best follow through with leads regularly. When someone expresses interest in either the clothes or hosting their own party, stay in touch and follow up with the individual.
It's all in the details. Displays are a big deal in retail, and it is no different with LuLaroe. When showing your inventory to potential consumers, the consultants who maintain a strong following creatively lay out their outfits and items, which helps draw the audience's attention. A good visual can go farther than you think.
Seeking opportunities for more sales. Hosting parties seems to be one of the biggest money makers as a LuLaroe consultant. Finding more outlets than just Facebook to host parties will be helpful in taking your revenue stream one step further. Hosting pop-up events at local businesses or offices is one example of where consultants have found success.
Conclusion
Although LuLaroe grants women the freedom to be stay-at-home working moms, it still takes dedication and hard work to achieve success. Direct sales efforts will only work as hard as you do.
Do you have any experience with LuLaroe? What are your thoughts?
*Names have been changed due to a request to remain anonymous.
Photo: Sonia Eckley