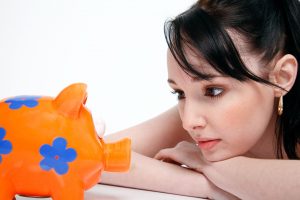 Frugality seems to be of increasing interest among Americans. However, whether or not we are actually following through is up for debate.
It is not surprising that articles about frugality draw so much attention; after all, who doesn't want to have financial freedom? It is motivating to hear that even celebrities like Hilary Swank clip coupons. And we are sure that many aspiring millionaires look up to Warren Buffet and his modest lifestyle and financial decisions. But the problem that appears to be present is that, despite reading all these great stories of individuals living well below their means, we still have a hard time taking action. Why is this? Let's weigh in on the issue.

The Statistics
Although it seems things are looking up following the financial crisis of 2008, the average savings rate in the U.S. is still low. In 2005, we had a low savings rate of 1.9 percent but moved up to roughly five percent in recent years. While the jump appears positive, it is, in fact, still terribly low. The recommended average amount one should save from their income is 20 percent, and at this rate, five percent is not nearly enough for a nice and comfortable retirement. Sadly, 69 percent of Americans say they have less than $1,000 in their savings account and 34 percent say they have $0, according to this GoBankingRates 2016 survey. These numbers exist despite the fact that there has even been an increase in personal income and decrease in spending for durable goods, as shown here by the Bureau of Economic Analysis. So, what's happening?
Possible Reasons
It is no secret that the recession put a dent in our economy, but you would think such an event would prompt Americans to always be thinking ahead. The 2014 Consumer Sentiment Survey from McKinsey&Company states that 40 percent of consumers surveyed were challenged with living paycheck to paycheck, which was up from 31 percent in 2012. Those making $75,000 and less annually seem to struggle the most with saving and have a hard time thinking about anything else other than day-to-day needs.
Additionally, regardless of whether low-income or upper middle class, online shopping makes it easier to spend more than ever, adding to the problem of living outside of our means as a society. We are in an age of instant gratification. Not just that, but investing changed with the financial crisis. Individuals not only lost trust in the stock market, preventing them from making their money go further, but also are waiting to invest until later in life. This can be seen primarily in millennials.
The Other Side
The other side of the argument says that we are actually spending less and saving more, adding that this is a problem for the economy. Despite that our savings rate is still low, the spending is too. This side of the conversation also points out the fact that regardless of this low savings rate, we are, in fact, starting to save more due to worrying about the economy. In that same Consumer Sentiment Survey, the results showed that only 23 percent were optimistic about the economy while 31 percent were not making purchases due to uncertainty about the nation's resources and 39% were "somewhat or very worried about losing their job." Because of this, consumers have been buying less name brand items, thrift shopping more and looking for even more ways to save.
Of course, opinions do vary, but concern still lies in that average five percent savings rate, which is a bit of a decline from the 1970's as shown in this graph. One might say the availability and easy accessibility of credit from the in the following decades is mostly to blame, but that is a conversation for another day.
So, what do you think? Do we actually love frugality, or do we only enjoy the thought of it? Do you believe we are starting to save more?