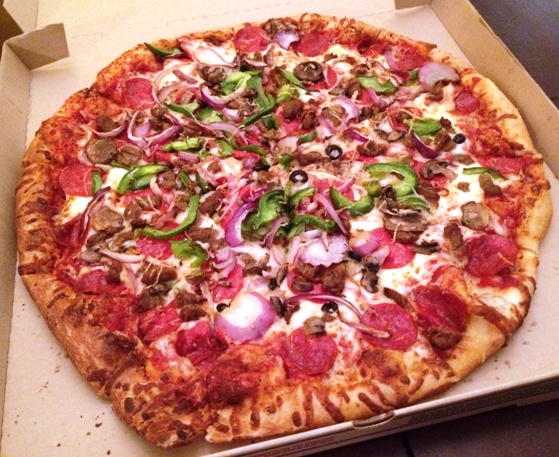 Costco is known for good deals on electronics, clothing, shoes and more, but did you know that Costco is also known for their delicious food; most notably their pizza! In fact, Costco sells enough pizza to be considered the world's 14th largest pizza chain – rivaling competitors like Round Table Pizza and the California Pizza Kitchen.
So you may be wondering, does Costco deliver pizza?
The answer is: No.
Costco does NOT deliver. You'll need to call the Costco pizza number and pick up your pie at the warehouse. So, what is the Costco pizza number? The Costco pizza number is the number of your local Costco food court. Find it by going to Costco.com, then find your local warehouse using the search bar at the top of the website. Once you have located the Costco closest to you, the number of the food court should be on the page for that warehouse store. There isn't a central "hotline" you can call, you'll need to go through costco.com.
How Long Does it Take Costco To Make Your Pizza?
Depending on how busy the food court is, it takes between 15 to 30 minutes for the kitchen crew to bake your pie. Costco warehouse locations are the least busy between 3 and 5 PM in the afternoon.
What is the Costco Pizza Price?
Costco pizza sells for just $9.99 and single slices retail for $1.99. The low price is because Costco makes pizzas like a finely oiled machine. The company is able sell their pies for such a low price because they control costs by limiting their menu, buying ingredients in bulk, hedging the price of cheese, applying ruthless quality control, as well as partially automating the baking process. As result the quality is consistent, if not great. Costco pizza is also highly filling with 700 calories per slice. If you're interested here is a fun gif which shows how the sauce gets applied to the dough.
Can You Save Money on Costco Pizza?
Costco doesn't appear to offer a reliable way to save money on Costco pizza. For example, there aren't any official Costco coupons which can be applied directly to food court menu items.
This leaves you with pretty much two options. Your first option is to hunt down a one time deal by going with someone like the crazy coupon lady or by calling the warehouse to see if there are any warehouse or manager specific discounts. Your other option is to use a cash back credit card and take the 2% rebate Costco offers. Food court purchases do count as in-store purchases for Costco credit cards.
When Is The Costco Food Court Open?
Ordering Costco pizza is fine. You will need to be sure that the warehouse will be open when you get there. Here is when the Costco warehouse is open.
Monday through Friday – 10:00AM – 8:30PM
Saturday – 9:30AM – 7:00PM
Sunday – 10:00AM – 6:00PM
Christmas Eve – 9:00AM – 5:00PM
New Years Eve – 10:00AM – 6:00PM
The times listed above conform to Costco' holiday scheduling, which begins November 7th and ends December 19th.
Costco is closed on the following holidays:
New Years Day
Easter
Memorial Day
Independence Day
Labor Day
Thanksgiving
Christmas Day
So Costco pizza may not be a fancy wood fired Neapolitan pie hand tossed by a native Italian chef using extra virgin olive oil. However, for under two bucks its a great slice of pizza, and an even better deal if you get the whole pie for $9.99. And thankfully, unlike most of the rest of the good in the store, you don't need to buy a dozen of them at the same time.
For more info on Costco check out these articles.
Is the Costco Membership Fee Worth it?
Is a Costco Executive Membership Worth the Price?
Costco Gas Calculator: Will I Save Money Buying a Membership if All I Buy is Fuel?
You can check out our articles for Target as well.