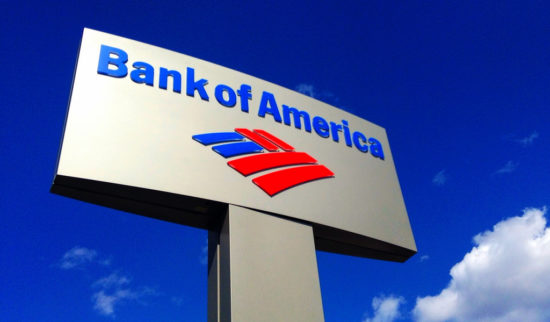 Halloween is a strange holiday – for reasons beyond black cats and vampires. Some businesses are closed. Some remain open as if nothing is happening. Others close early. And furthermore, some stores only open for the Halloween season. These are mostly popup stores in shopping malls, pumpkin patches and haunted houses. Halloween falls on a Saturday this year, making predicting hours of operation to be even
trickier
than for most years.
Bank of America is like every other bank in America in the sense that it makes most of its money via overdraft fees and loans. Banks most often distribute business loans and mortgages. Either of these loan types require businesses to be open. Paying a staff to hand over cash to people using savings and checking accounts just doesn't make financial sense for any financial institution. After all, most checking and savings accounts are free. This means the bank is actually losing money servicing these clients. Banks need fees and loans. Fees get applied automatically, loans require businesses to be open. Since October 31st is a Saturday and it's a holiday, most banks are either keeping the same hours or closing early.
Bank of America has regular hours on Halloween
– for most locations, it's 1 PM.
However, BoA does observe many other US holidays. This is Bank of America's full list of holidays which all locations will be closed (2015):
Jan 1 New Year's Day Thursday
Jan 19 Martin Luther King Day Monday
Feb 16 Presidents' Day Monday
April 5 Easter Sunday
May 25 Memorial Day Monday
Jul 4 Independence Day Saturday
Sep 7 Labor Day Monday
Oct 12 Columbus Day Monday
Nov 11 Veterans' Day Wednesday
Nov 26 Thanksgiving Thursday
YES, Bank of America will be open and ready for Black Friday
Dec 24 Christmas Eve (close early) Thursday
Dec 25 Christmas Day Friday
Dec 31 New Year's Eve (varies by branch) Thursday
However, for getting last minute Halloween candy (we recommend you go to Sam's Club) you can still visit the thousands of Bank of America ATMs which dot the United States. Visit the Bank of America location locator to find ATMs. It can also locate services such as notary services, stamp sales and foreign currency exchange. All Bank of America services are accessible in other means than by going into the actual bank. Except going into the bank is necessary when taking out a loan or opening a certificate of deposit. If you wanted to go into a branch to get cash, look at Halloween as an opportunity to embrace the 21st century. You'll find that getting cash electronically is far easier than walking into a branch. Plus, money is dirty. Use electronic funds when possible.
Most banks run similar hours to Bank of America. After all, Bank of America is the second largest bank in the United States. Other banks follow suit. Wells Fargo has similar hours.
Bank of America will be running its typical Halloween hours. It makes sense as most branches close at 1 anyway. Halloween festivities usually don't kick off until much later. And remember, Halloween is on a Saturday this year. Don't get caught up in the excitement and spend too much money!