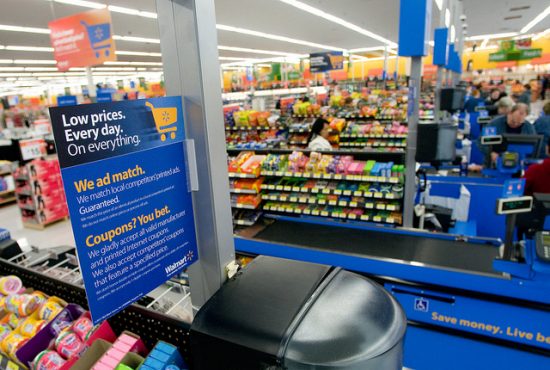 Walmart and Costco are both known for deals. Walmart has everyday low prices, and Costco's prices are low when you factor in that you are buying in bulk, and therefore are getting a lower unit price. Which place will give you the most bang for your buck, though?

Costco and Walmart have both received press lately on how they treat their employees. Walmart has been criticized for poor treatment of employees, while Costco is praised for nurturing its workers. Does the way the retail giants treat their employees make a difference to the customers who shop there? Is this something the average consumer even considers? Which store really offers the best deal?
Costco: Higher Quality, Higher Price
Costco specializes in bulk items. They tend to offer more organic food items, and the majority of the merchandise in the store is high end and of excellent quality. Customers searching for items of higher quality are often willing to pay a little bit more. Plus, the argument can be made that items of higher quality will last longer, making them a more cost effective purchase in the long run.
Also, the fact that Costco sells the majority of merchandise in bulk means that the actual unit price per item is probably lower. Costco seems to cater to folks in the upper middle class who are out to get a bargain. They do not offer a wide selection of items, but the items they do carry are of the highest quality.
When you buy items that are of higher quality they'll last a lot longer. Pair this with option of buying in bulk for reduced prices and you have what makes Costco so appealing.
Walmart: Lower Quality, Lower Price
Walmart does not cater to those looking to buy in bulk. Walmart is the place where someone goes to buy one can of soda, not the 48 cans of soda you would purchase at Costco. Walmart is also not widely known for carrying high quality items. Walmart offers a huge selection, and their prices are low. Clothing and furniture items are not high quality, though, and will more than likely not last a very long time.
Walmart does not offer a wide variety of organic or high quality foods either, so those looking to buy organic are probably out of luck. While you can buy items fairly inexpensively at Walmart, the lower quality items are probably going to wear out much sooner than an item of higher quality.
So, even though you may find prices that are lower at Walmart than at Costco it's not an apples to apples comparison. When you take into consideration the lifespan of the item you're buying it looks like Costco will be the winner in most cases.
Costco for the Win
All things considered, it seems that the better deal can probably be found at Costco. When you figure in the unit price and factor in that you are purchasing high quality items, it seems that Costco will get you the best deal. It might also be a bonus to shop at the store with the happiest and best-treated employees.