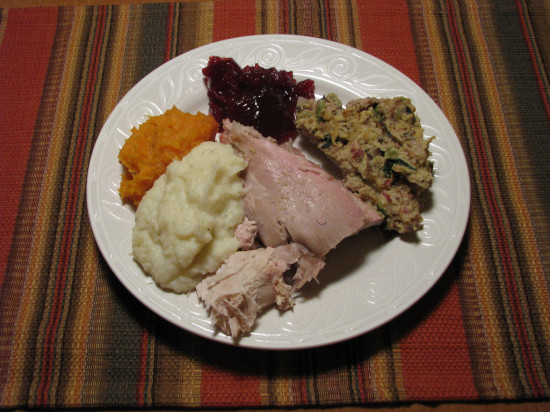 Thanksgiving is a great time of year – friends, family and food…and calories. While we all tend to eat a little more during the holiday season, have you ever wondered exactly how many calories you may be eating as you indulge? While some attack Thanksgiving meals as a once a year phenomena, that is not the case for most of us.
Thanksgiving day and dinner
kicks off a season of eating too much of everything and indulging in extra sweets.
With most Thanksgiving feasts starting at 3000 to 4000 calories alone, it comes as no surprise that we can get extremely exhausted. The Calorie Control Council estimates the average person eats about 4,500 calories on Thanksgiving day, This includes the calories for drinks and the steady stream of snacking that most people forget about throughout the day when calculating their own calorie intake. That comes to well over the 2,000 calories per day recommended for most adults.
It doesn't stop there. Thanksgiving usually kicks off the season of family parties, the endless supply of cookies everywhere you turn, and the fast food eaten due to extra shopping trips throughout the season. So no one should be surprised that the average American can gain between ten to twenty pounds alone from November to December every year.
But the weight gain and inevitable exercise like crazy to prepare for the bathing suit body does not have to become your reality. It does take discipline, but can be done by simply watching your calories.
For starters – don't starve yourself on Thanksgiving morning. A good breakfast is a good start to the day and this goes for everyday. Some people think skipping breakfast allows more room for the stomach or will shrink the stomach so you don't eat as much. Both thoughts are flawed.
Starving your body will cause you to eat more as your body grabs as much as it can. And trying to leave more room has the same effect as starving, causing massive over-eating.
Everything is good but do so in moderation. Choose smaller portions of each dish as opposed to the heaping ones. Fill your plate with a variety of foods on Thanksgiving. When the endless sweets come around afterward, you should be fine having one cookie – not two or more. Try splitting a cookie with a co-worker or making sure everyone gets to try the cookie around the kitchen table.
Method two takes a little more thought – keeping your calories in check. You know sweetened foods have more calories. So, get yourself a semi-heaping helping of whatever you like, but make sure half your plate is plain vegetables and unsweetened foods. The other quarter of your plate should be lean meats.
It sounds simple enough, but it does take forethought and planning. You must make conscientious choices.
The one thing to stress is to keep up your regular exercise routine if you have one. If you don't, try and start one. Don't blow off your routine because you know you will spend an hour walking around stores later. Things happen and plans change. Make sure you continue to do your regular exercise.
Like Saving Advice? Subscribe!
Subscribe to get the latest Saving Advice content via email.