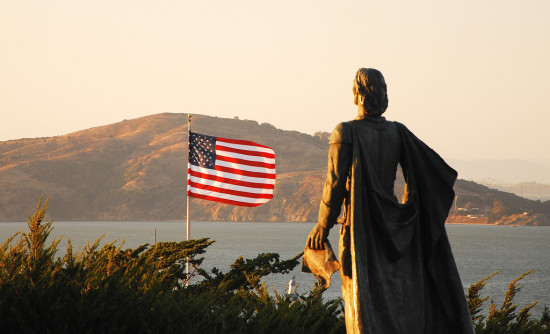 It's a guessing game many of us go through each time a federal holiday is about to be celebrated. Is this business or that business going to be open or not? This can be especially confusing when the federal holiday is celebrated on what would normally be a workday, such as Columbus Day. With the holiday just around the corner, many are beginning to wonder if banks and credit unions will be open on Monday, October 13, 2014. Unlike many federal holidays when almost all banking institutions are closed, there are actually a few major banks which remain open on Columbus day. For those who will need to do some banking in the coming days, it's good to know which banks will be open and which closed for Columbus Day so you don't show up only to find the institution is closed.
One of the confusing aspects of Columbus Day is that it doesn't land on a set date each year. Instead, it's celebrated on the second Monday in October each year. This means that the actual date the holiday is observed changes from year to year. Columbus Day is Monday, October 13 in 2014.
Banks
Are banks open on Columbus Day? Some banks are open on Columbus Day, but most are closed.
While most banks close on federal holidays, and this is the case with Columbus Day as well, there are more banks open on this federal holiday than there are on many others. Below is a list of the bigger banks which are open or closed for the holiday:
Open Banks
Banks with Store Branches Open
Some banks have satellite branches in grocery or other retail outlets besides their normal bank locations. There are a couple which have their main branches closed, but their satellite branches in stores will be open on Columbus Day:
PNC Bank (supermarket branches open)
SunTrust (in-store branches open)
Closed Banks
Bank of America
Capital One
Citibank
HSBC
US Bank
Credit Unions
Are credit unions open on Columbus Day? No, most credit unions are closed on Columbus Day.
Credit Unions are similar to banks when it comes to the days they are open and closed, and most close on federal holidays. While there are a few regional and local credit unions which remain open for Columbus Day, the vast majority of credit unions observe the holiday and remain closed. The ones most likely to remain open are satellite branches located in grocery stores or other retail outlets. If you have any doubts or questions, you should contact your local credit union to confirm whether or not they are open on October 13.
While most banks and credit unions will shut their doors for Columbus Day, it's still possible to do many general banking transactions through an ATM, your mobile phone or on the bank's website. While the bank may be physically closed, ATMs, apps and websites can normally be used 24 hours a day, 7 days a week. It won't be possible to do all banking transactions through one of these means, but you can do many of the basic banking functions.
For those who do use one of these methods to access your account and do some type of banking transaction, don't forget to note that the transactions may not immediately post to the institution's records. For example, if you deposit a check through an ATM or through an mobile app on Columbus Day, the funds may take until the next business day to process, meaning that the funds may not be available right away.
Are Banks and Credit Unions Open the Day before Columbus Day
Since this federal holiday always lands on a Monday, and the vast majority of financial institutions also closed on Sunday (while there are some which remain open, they're exceptions to the rule), those needing to go to the bank should realize it will be closed two days in a row. They will need to either go on Friday or Saturday (if the bank has Saturday hours) or wait until Tuesday, October 14 when the financial institutions will once again be open during their normal weekday business hours.
(Photo courtesy of May Wong)
Jeffrey strain is a freelance author, his work has appeared at The Street.com and seekingalpha.com. In addition to having authored thousands of articles, Jeffrey is a former resident of Japan, former owner of Savingadvice.com and a professional digital nomad.