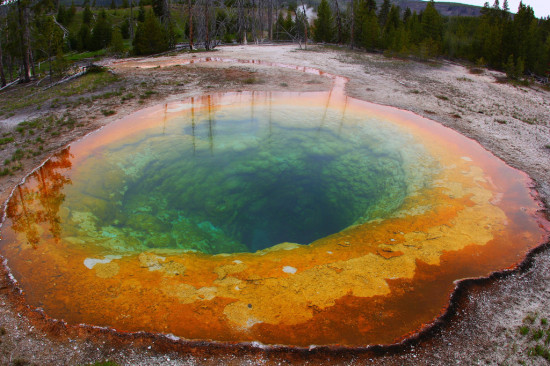 There is a little less to worry about when it comes to the destruction which would result from the eruption of the Yellowstone Supervolcano. A new computer simulation based on recent studies has revealed that the Yellowstone Supervolcano eruption would be less catastrophic than initially predicted. Original studies conducted in the past had assumed an apocalyptic outcome, predicting most of the states would be covered with up to 10 feet of ash. Though Yellowstone is unlikely to erupt any time soon, the resulting ash distribution would be significantly less than originally thought.
The recent study conducted by the United States Geological Survey (USGS) yielded results indicating that ash could be as deep as a meter in a radius of 300 miles. Ash could reach both coasts, but the depths would be at a fraction of an inch. The eruption could disrupt electronic communications and delay air travel, though that should be a given, should such an event occur. The original scenario of an uninhabitable United States has been debunked using the latest of technologies available coupled with the thousands of studies that have been conducted over the years.
Larry Mastin, a USGS hydrologist and lead author of this new paper was quoted in a press release saying, "In essence, the eruption makes its own winds that can overcome the prevailing westerlies, which normally dominate weather patterns in the United States." This further explains how the ash would reach either coast. Mastin had also helped to develop the Ash3D model, which was used to conduct the latest research on the effects of a possible eruption of the Yellowstone Supervolcano.
Though gauging exactly how much ash would be dispersed throughout the United States and North America is hard to estimate, as USGS hydrologist Mastin was also quoted saying, "None of us have ever seen an eruption like Yellowstone. It would be two or three orders of magnitude more ash than we have been able to observe."
It's probably not something we must immediately concern ourselves with, as there is no imminent threat. The last time Yellowstone erupted in such magnitude was, according to scientists, approximately 640,000 years ago. And although occurrences are estimated to happen every 600,000 to 800,000 years, the scientists behind this research say there is no evidence or indication that the volcano is preparing to for any such apocalypse.
The study and details of Larry Mastin's Ash3D model can be found at the Wiley Online Library.
(Photo courtesy of daveynin)