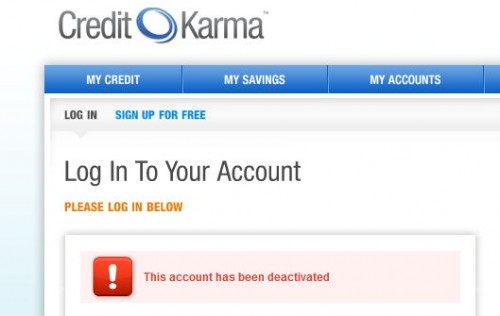 When people first hear about Credit Karma and the free credit scores they provide, the first question that comes to mind is whether or not Credit Karma a scam? They want to know if it's truly legit. Is it really a "free" credit score or is there a catch to it? It's a valid question.
There have been a lot of companies in the past that have touted a "free" credit scores, but you must give your credit card information in order to access it, and then get charged if you don't cancel a promotion before a certain period of time. In this sense, Credit Karma isn't the same as those, but it's important to understand that it isn't necessarily "free" either. There are some definite non financial costs that come with getting your score, mostly in the form of advertising.
Credit Karma is a website that provides financial monitoring and credit tools to help you keep track of your credit score and credit report. There is no cost to use their main services, and they provide a credit score which is generated from the TransUnion credit bureau's data. They appear to make their money from generating advertising offers from the information you provide rather than charge a fee for their credit tools.
One of the best ways to evaluate a company is to look at the complaints that people have had in the past. Credit Karma currently is in good standing with with an A+ rating at the BBB (it now has a B rating), but there have been a number of common complaints about their service in the past. It's also important to note that there are a lot of ways you can access your credit score for free without going through a third-party website like Credit Karma.
Requesting Too Much Personal Information
Some users of Credit Karma have complained about the amount of personal information the website requests when you first sign up. While normal credit report websites like TransUnion or Equifax need a lot of information to pull your credit score and financial reports, Credit Karma is a third party site and shouldn't need most of your personal information. Additionally, because it's a third party, there's more of a chance that your information may be shared with additional websites or organizations.
Fluctuating Scores
Some users of have complained about Credit Karma reporting vastly different credit scores over a short period of time. For instance, stating that a user has a score that is 50 points lower than their previous yearly score. Credit scores don't change that rapidly, and it calls into question how accurate the score you receive from them is to the credit score that businesses see when determining if they will loan you money. If you're looking for an accurate credit score, request a free annual credit report from annual credit report instead.
Not a FICO Score
While Credit Karma provides you with a free credit score, the score it gives you is a FAKO score, not a FICO score. Your FICO score is what non-third party credit report sites like TransUnion or Experian provide, and what most financial institutions or credit companies ask for when you're trying to take out a loan or get a new credit card. The FAKO score is an estimate of what your FICO score is, and because it isn't what your actual FICO score is, it may give you a score that is either above or below your true FICO score. Since this number can be significantly different that what businesses pulling your credit score will see, the score really can't be trusted as accurate when making big financial decisions that rely on your credit score.
Retained Information
Credit Karma has also been criticized for retaining customer information after accounts are deactivated. When a person no longer wants their account to be active, the account is deactivated, but not deleted. In this case the website keeps all its former users' personal information. While many websites retain information after you delete an account, most of those sites don't have access to your credit score or other sensitive financial information. For someone who is wary of allowing a third party access to their information, this may be a good reason not to use Credit Karma's services.
So, is Credit Karma a scam? No. It's a for profit business that takes your information to put advertising in front of you and try to sell you products. It's a trade off. You don't have to pay to see your credit score, but you have to endure advertising instead while giving up your information to a third-party. If you still want to try Credit Karma you can sign up here.