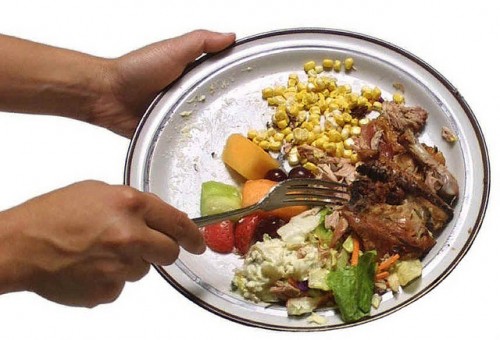 One of the best ways to save money is to reduce the amount of waste within your family. If you are wasting things that still could be used, it's the same as throwing away money. One area where most families end up wasting far to much is with their food. According to the
New York Times
, approximately one-third of all the food produced globally is wasted. You probably throw away more than your fair share of
food and money along with it
, but there are ways to
prevent it
. Many of us are guilty of buying too much food which we inevitably end up tossing into the garbage as soon as it starts to go bad. Here are some of the most common forms of food waste.
Buying Too Much
One easy way to combat this problem is to only buy what you need. If you know you won't eat an entire bag of apples, buy a couple instead. If you buy an entire bag of spinach for salad, plan to eat that salad until it's done instead of throwing it in the trash.
Throwing Out Items Close to Their "Use By" Date
Many food items have either a "use by" or "sell by" date stamped somewhere. A lot of people assume that if the item isn't used by that exact date, then it needs to be thrown out. The truth is that many items can still be used after the date according to the FDA. The best way to test this is by actually opening up the item (if you intend to use it, that is) and seeing whether it's discolored or whether it has a weird smell.
Portion Sizes
Have you ever had dinner at a friend's house and been unable to finish everything on your plate? If so, it's likely that your friend ended up throwing the leftover food from your plate away since they probably didn't want to eat from your plate. Many people end up serving large portions when they dish out meals. People are more likely to eat a smaller portion that has been placed before them and then go back for smaller second portions if they're still hungry. More often than not, large portions mean that people won't finish the entire plate and the remainder will be thrown away.
Leftovers
Sometimes we're just not in the mood to eat leftovers. You might have eaten the same dish for an entire week and just want something different. Except, you pass on the leftovers one day and then the next and before you know it, that plate has been pushed to the back of the fridge and it's started to grow mold. Leftovers are meant to be reheated and eaten. The very purpose of them is to save your food for later but so many people tend to end up throwing away leftovers instead.
Dining Out
While there are a lot of restaurants that give small portions, most of them give large enough portions that you might have something leftover on your plate after you're finished eating. You can probably recall plenty of times where you've gone out to eat and seen people pay for their meal even though half the plate was still full of food. If you ever have leftover food, ask to have it wrapped up to take back home with you. This will prevent you from wasting that food – unless, of course, the food was absolutely terrible.
Storing Food
Sometimes food goes to waste because it's not stored properly. Garlic or tomatoes will spoil quicker if they're stored in the refrigerator while apples will grow soft and mushy if they're left out of a cool space. Knowing the best way to store your food will help you to keep it longer.
Not Using Overripe Produce
Have you ever thrown out a banana just because the peel turned black? Or maybe you had some damaged fruits or vegetables and decided to chuck them into the trash. A lot of overripe produce can be used in various ways such as stews, sauces, smoothies, or desserts. While you won't be able to use all your overripe produce, there are usually alternatives to throwing it out. Those overripe bananas could turn into delicious banana bread, for instance.
Freezing Food
We already covered the issue of wasting leftovers, but a lot of people tend to forget that if you make a dish that's too big for you to eat by yourself you can freeze the food instead of throwing it out. You might also be able to freeze certain types of fresh produce if you accidentally bought too many items.
Not Sharing Dishes
Have you ever gone out to eat with a friend, ordered separate entrees, and then realized that you could have split a dish? You might not be able to share a dish with everyone you dine out with, but if the occasion arises you should take advantage of it. Better to share one dish and eat everything than to buy two separate dishes and waste half of each.
Buying Food When You Don't Need To
Sure, everyone has those days where they want to eat something other than what they have in their cupboards or refrigerator. But if you're trying to prevent food waste it's probably a good idea to eat all perishable items before you go out and buy new food items.
(Photo courtesy of jbloom)