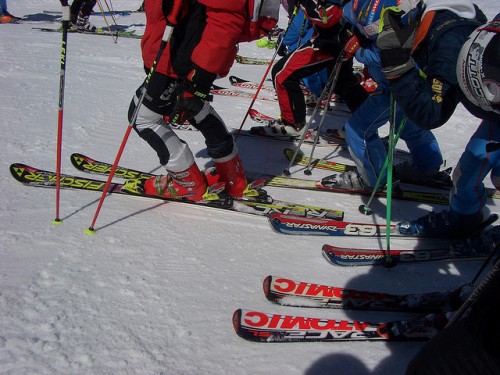 Do you enjoy skiing? Maybe it's one of your favorite pastimes or maybe it's something you only indulge in occasionally. Or maybe you've always wanted to learn how to ski but were worried about how expensive equipment and lessons could be so opted for less expensive winter fun. There are always ways to save money on ski equipment.
Rent Equipment
For instance, if you're someone who is just starting out – or even someone who skis once or twice a season – why not rent equipment? There's no point in buying equipment if you're not going to use it all the time or if you think you might grow bored with skiing. Renting will save you some money until you decide you truly do want to purchase ski equipment.
Buy Used
Plenty of people end up selling their old or unused ski equipment for decent prices each year. Sites such as Craigslist have a lot of people trying to get rid of their old equipment. You might even be able to pick up some items for free on FreeCycle. Of course, you want to make sure the used equipment is in a decent condition so you're not being scammed. If you're lucky, you might end up finding equipment that is practically new for half the price that you would have paid in a store.
Join a Ski Club
If you're in a popular area for skiing, you should think about seeing if there's a ski club close by. Ski clubs are a great way to meet other skiing enthusiasts, and sometimes, you'll join a club that gives out special promotions, deals, or coupons. Some stores even offer discounts to people who have memberships to certain groups, so make sure to look into that when you're looking for ski clubs to join.
Swaps
Another great thing about joining a ski club or enthusiast group is that you can arrange for ski equipment swaps. Do you have children who are constantly growing out of their ski equipment? Maybe someone in the club has the same problem. Maybe you bought ski boots that ended up being a bit too large, but someone else has a pair that's too small. You might be able to swap instead of going out to buy a new pair.
Borrow
If you have friends or other family members who enjoy skiing, see if they'll let you borrow their equipment. This will help cut the costs of buying new or replacement equipment. Though it's important to remember to treat that equipment as if it's yours instead of borrowed. Just remember the old adage, "you break it, you buy it." You don't want to have to end up paying to replace borrowed equipment.
Barter
Many people are coming up with creative ways to save money, but one of the best is still bartering services. Websites such as BarterQuest allow you to barter your services in exchange for something you need. Want to get some new ski equipment but don't have the money? Maybe you have something someone else wants – a spare TV you've never used or landscaping services, for instance. Bartering is a great alternative to paying for equipment.
Buy Clearance
At the end of each season, a lot of stores or manufacturers have clearance sales with equipment sometimes marked up to 90% off. Of course, the discount you receive depends on the store and how much inventory they're trying to get rid of, but you should still be able to find some good deals. Since all the popular items might be sold out or hard to find, you might have to spend longer hunting for the specific equipment you want. But if you think about the money you're spending, the extra time should be worth it.
Coupons
Site such as SkiCoupons.com often promote sales or coupons for ski equipment manufacturers or stores. As with many purchases, coupons are never something you should ignore. Even if it's something as simple as 10% off, it's 10% more in your bank account! Before you go to a store or buy from an online retailer, make sure you know what coupons are available.
Buy Last Season Products
Many retailers and equipment manufacturers release new products each season in the hope of enticing skiers to buy the new, hot product on the market. However, the newer models are usually pretty similar to the older models. The colors or styling might be different, but chances are the product is the same underneath. When you decide you do need a new piece of equipment, see if you can still buy last season's model instead. It's probably going to be much cheaper.
Only Buy What You Need
Some people like to go all out when they buy new equipment. They'll buy a ton of accessories, designer apparel, and overpriced equipment that they won't end up using. Before the ski season starts, you should take stock of what you own and what you need or want to replace. This will help you cut down on buying unnecessary items.
(Photo courtesy of robert.feldman)