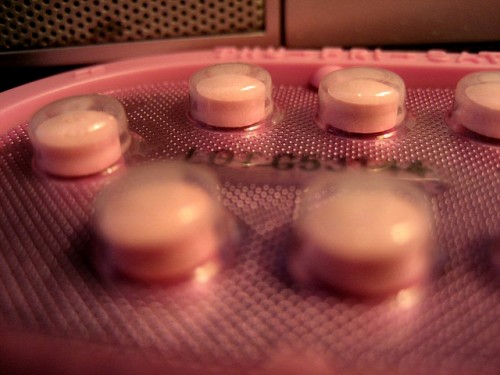 Anyone who uses birth control knows that while it's such a great thing to have, certain brands can get expensive, especially if you don't have health insurance that covers it. For instance, Ortho Tri-Cyclen costs around $50 a month. That's $600 for an entire year's worth of prescriptions! Birth control costs can range from $100 to $1000+ a year.
Use a Generic Option
If you're worried about paying, ask your doctor if there's a generic brand you can use instead. Most generic brands are at least 50% cheaper and contain the same components as the brand name. There's no reason not to switch to a generic brand if it's the same type of birth control that was originally prescribed. It's the generic brands that fall into the lower cost side of the spectrum.
Fill Your Prescription Through the Mail
You don't always have to go to the pharmacy to fill your prescription. Some online companies, such as Express Scripts, offer mail order prescriptions. If you have health insurance through your employer, see if you have a mail order pharmacy plan. Mail order prescriptions are usually cheaper than filling through the pharmacy since they usually lower the cost of your co-pay.
Invest in a Health Savings Account
You should look into whether or not your employer offers a health savings account. If so, consider signing up for one if you know you're going to be spending a lot of money on health issues such as birth control. A portion of your paycheck will be put into the account before taxes are taken out. You'll be able to access this money for health related purposes only. If it's a feasible option for you, you'll hopefully have enough money for your birth control each month without having to worry about pulling money from your bank account.
Talk with Your Doctor
Talking with your doctor is one of the best things you can do as they can help decide what prescription is the most cost effective for your lifestyle. Sharing your financial concerns with your doctor will help them determine what type of birth control to prescribe. They might also be able to offer alternate birth control methods that weren't originally addressed.
Long-Term Methods
If you're worried about spending money on birth control each month, maybe you should consider some long term options such as an IUD (intrauterine device). While an IUD is expensive at first, it is actually one of the most cost effective birth control methods. It's a long-term birth control method that can last up to ten years. The average IUD costs about $300 or $400. If you spend about $15 a month on birth control, it will take you about three years for your costs to even out. Of course, before deciding to have an IUD, talk with your doctor to figure out if this method is the best option for your health.
90 Day Prescriptions
Some prescription plans allow you to order a 90 day supply of birth control for a cheaper co-pay. For instance, if your regular 30 day refill costs $20, but a 90 day supply costs $50, you're saving $10! When your doctor writes you a new prescription for birth control, ask her or him about a 90 day option or if they know about any programs that offer 90 day refills.
Pharmacy Prescription Programs
Some pharmacies also offer prescription programs. For instance, Walmart has a program that offers to fill birth control prescriptions for a cheaper rate than competing pharmacies or doctors. Walgreens has a similar option. However, it should be noted that both of these are programs that require an upfront fee, usually of around $20. So, you'll pay a $20 fee for the year, and instead of paying an additional $20 each time you refill your prescription, you might only pay $10.
Planned Parenthood
While Planned Parenthood offers many great health services, they also offer cheap or free birth control to qualifying women. If you don't have health insurance or are considered low-income, you most likely qualify to receive birth control from Planned Parenthood.
Coupons or Rebates
Didn't think that there were coupons or rebates out there for birth control? Lately, a lot of manufacturers have thrown their support behind birth control and have offered rebates or coupons to cut the cost of birth control like they do to reduce the cost of many prescription drugs. These are easily searchable online and it doesn't hurt to ask your doctor or pharmacist if they know of any rebates.
Shop Around
If you have a prescription you like, shop around before you commit to getting it from one place. Your closest pharmacy might not have as great of a deal as one across town or one online. There are plenty of places you can order prescriptions from, so it won't hurt you to look them up. If you're concerned about money, this is probably one of the best options. You never know who might have a better deal.
(Photo courtesy of brains the head)