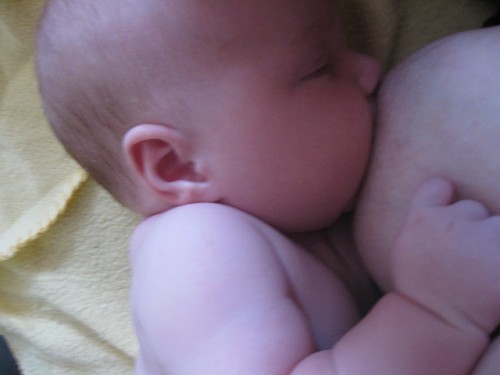 Babies are expensive
. Not just expensive, but
really
expensive. It doesn't take long for most couples to determine that they need to save money wherever they can, and many probably wish they knew before hand what
nonessential baby items
they could have not wasted their money on. When it comes to stretching your hard earned money with a new baby, breastfeeding can be a great way for women to save. While breastfeeding is a personal choice and one that not every woman is able to make and still go for
British baby formula
, those who do choose to breastfeed will have the opportunity to save money in a number of different ways.
Don't Have To Buy Formula
Mothers that breast feed end up saving a ton of money on formula. Baby formula can be pretty expensive and it's estimated that one year of formula can range between $1,500 to $3,000. That's quite a lot of money. By breastfeeding, you can cut out at least $1,500 in a year by not buying formula.
Don't Have To Buy Bottles
If you're not buying formula, you also don't have to buy any baby bottles. Bottles themselves might not be expensive, but you often also have to buy bottle nipples, disposable liners, and a bottle brush and nipple brush. And chances are, you're not going to be buying one or two bottles, but at least a dozen, if not more. You'll have to replace the bottle and its accessories, and those costs will add up over time. By breastfeeding, you can avoid all those costs.
Bottle and Formula Accessories
Not every new parent is going to go out and buy a bottle sterilizer, bottle drying rack, or powder measurer. Many of these items are useless kitchen gadgets that take up space, but there are still quite a few people who will spend the money on them. Those that breastfeed won't need to worry about spending money on any of these items. Any additional bottle or formula gadgets won't fall under your necessities.
Breastfeeding Equipment is Tax Deductible
The government just recently ruled that breastfeeding equipment is tax-deductible. Breast pumps and breastfeeding equipment can be somewhat expensive, so it's great news that you can now claim this equipment on your taxes. If you have a flexible spending account through your employer, you can also use your pre-tax medical money to buy your equipment. So if you decide to breastfeed and are worried about the cost of the equipment, just remember that the IRS has approved it as tax-deductible.
Insurance Companies Cover Breastfeeding Equipment
Additionally, some insurance companies will cover the cost of your breastfeeding equipment. Not all insurance companies will do this, and it might even depend on the type of plan you choose, but it's definitely worth investigating. If your insurance companies does cover the cost of breastfeeding equipment, that's money you don't have to worry about spending. Why would you pass up that opportunity?
Breastfeeding Helps Women Lose Weight
After having a baby, many women will try to shed those extra pounds they put on while they were pregnant. Sometimes this involves buying a membership to a gym and sometimes it involves buying exercise equipment for your apartment. However, breastfeeding can help women lose around 500 calories per day. So not only are you saving money on formula and bottles, but you're also saving money you might have otherwise spent to work-out.
Save Money on Clothing and Laundry
Newborns who are fed formula are more likely to spit up, ruining both their clothing as well as yours. Some of these stains you won't be able to get out, and you'll have to throw the outfit out instead of sending it to be cleaned. More spit-ups also means more laundry, and whether you have your own washer or have to go to the laundromat, the cost will start to add up. Buying detergent is a small cost until you're buying double or triple the amount. And laundromats are already expensive, so why rack up those additional costs?
Health Benefits for Babies
Babies who are breastfed tend to have stronger immune systems as breast milk carries many positive antibodies that boosts that immune system. Babies who are breastfed are also at less risk for certain respiratory illnesses and other newborn diseases. As a new parent, you're going to want to do everything you can to make sure your child is healthy and strong. A healthy child means less money spent on medications and further precautions so that they don't become even sicker.
Save on Doctor's Visits
To go along with the previous point, since breastfed babies tend to be healthier, you're saving money on doctor's visits. Even better, you're not only saving for their newborn years, but their entire childhood and teenage years. Kids with healthier immune systems are less likely to catch the bug that all the other kids are getting in school and so on. Therefore, you can end up saving a ton of money on doctor's visits.
Health Benefits for Women
Breastfeeding doesn't only provide health benefits for babies. It also provides a bunch of health benefits to mothers. Women are less likely to develop diabetes or certain types of cancer (ovarian and breast, mainly). Not only is this great health news, but it means you're also saving yourself money because any disease requires a big life (and fiscal) change.
Time
While the saying often goes that time is money, this can especially be true with a baby when time seems to be at a premium. It takes time preparing and warming up formula, packing bottles for day trips and making extra trips to the store when formula accidentally runs low. Not having to prepare food for the baby can save a significant amount of time for mothers of babies.
Energy Costs
Using formula instead of breastfeeding comes with a number of additional energy costs. While these costs may not seem like much on an individual level, they can add up to thousands of dollars over the years. These include the above mentioned extra washing cycles, extra trips to the store to buy formula and even the energy cost of warming the formula.
Environmental Cost
While environmental costs may not save you money directly, they can be important to those trying to be environmentally conscious. Women that breastfeed create less waste than those that feed babies with formula since there is no need for all the extra packaging that comes with formula and the equipment needed for the formula.
Want to Know More?
In the end, there are huge advantages (both health and financial) to breast feeding which should make it the preferred choice when possible. If you would like to know more about caring for your child, consider checking the childrearing classic Dr. Spock's Baby and Child Care
. The book was first written in the 1946 and has undergone nine revisions since the 1940. Inn other words, its a great book which been popular for decades. Get a copy
if you don't have one already.
(Photo courtesy of sdminor81)