We sometimes get younger visitors here on the forums, and I've been seeing a lot of posters from younger investors in Facebook who are in the stock market for the first time.
Most of the time younger investors don't have much capital - and they're pretty excited to make some fast cash.
So, here is the message for all the younger investors out there.
1) The stock market is not a place to gamble. Risk bets on penny stocks or companies that have poor earnings or are on the verge of bankruptcy are not good ways to make money, regardless of how you feel about them. Most of the time this is gambling and 99% of you will lose money.
2) Instead, be patient. Buy stocks with a good investment thesis behind it (e.g. new products, strong balance sheet, good management, lots of interest from institutional investors, etc.) Most people spent a ton of time thinking about what kind of clothes to buy or when to get the latest smartphone. Why not put as much thought, if not more, into stocks that you might be investing hundreds of dollars in?
3) Keep buying, and buy often. Consider some sort of regular investing habit - like investing $50 every month on the 15th or automatically deducting some money from your paycheck and diverting it into an investing account. Put this into high quality blue chips or mutual/index funds. Small amounts of money add up to big returns over time. In 10 or 15 years you won't believe what your wealth looks like.
For example, if you started with zero bucks, but invested $50 dollars a month at 7% return, you'd have $8,654.24 at the end of ten years.
Here is a handy chart from the SEC showing what the returns look like.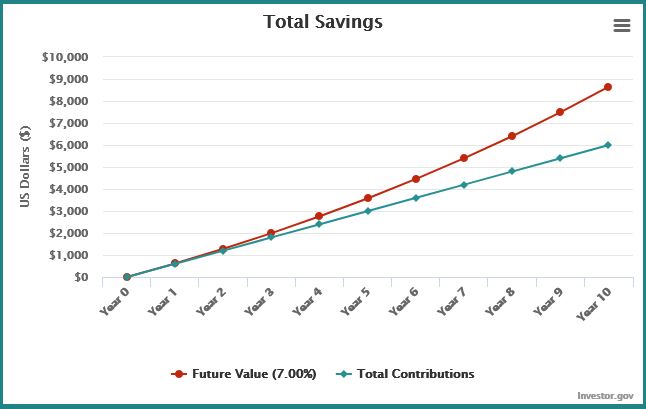 So, young investors, don't gamble. Think about where you're putting your money, invest frequently over time and you'll be well rewarded.