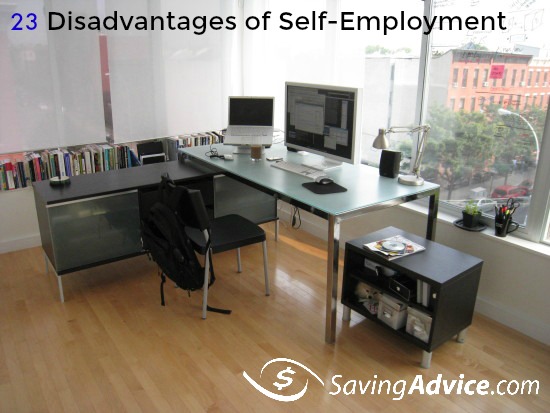 Countless employees dream of leaving behind a demanding boss, working from home, and earning a limitless income. Self-employment, however, is not the same as a life of leisure. Before you quit your day job, consider these 23 disadvantages of self-employment.
23 Disadvantages of Self-Employment
1. Small business owners pay more taxes than employees. Even if only employ yourself, you'll likely find your tax bill increasing. In addition to regular income taxes, you will have to pay both the employee and the employer portions of the social security taxes and extra local business/mercantile taxes (some in the form of licenses). You will likely pay quarterly estimated taxes, and if you sell something, you're responsible for filing sales tax forms. Those last two requirements might not add up to more money, but they will add up to more time spent calculating earnings and filling out forms.
2. When you work for someone else, not only does your employer cover half of social security, but the company might also offer other financial benefits, such as a company match for a 401(k) plan or opportunities to purchase company stock at a discount. When you work for yourself, you lose these opportunities to increase your salary. Any money saved for retirement plans or invested in the stock market comes directly from your own earnings.
3. The self-employed also miss out on paid days off. When you wake up with the flu, you lose out on the earnings for that day. Not only do you have no paid sick days, you also have no paid vacations – and you may miss out on vacations entirely. As Amy pointed out, running a small business is hard work. To make enough money to live on, you will have to put in many, many hours, especially when you first start.
4. Also on the line of benefits, you will have to pay for your own health insurance. Many would-be entrepreneurs continue to work for someone else simply because they can't afford to buy health insurance and they don't want to risk debilitating medical bills.
5. Not only do you go without certain personal benefits, but you also miss out on some of the benefits longstanding businesses enjoy. For instance, you will not have an established inventory or client list. Even if you bring some clients with you from your previous employment, you will have to spend time and money building assets and a customer base.
6. Unless your business is a franchise, you will have little or no name recognition when you start, and you will have to work hard to build the company's reputation as you build a customer base.
7. While building your business reputation, you'll likely be competing with bigger, more established businesses. These big businesses have more resources and are better able to offer a greater variety of services and/or better prices than you will be.
8. If you cannot afford to hire others right away, you will need to do multiple jobs. In addition to doing the work that actually makes you money, you will spend time in marketing, accounting, and billing among other things.
9. You may have expected to spend more time with your family, but that benefit of self-employment usually occurs several years past the start of the business – if ever. People employed in nine-to-five jobs often have more time for their families than full-time self-employed people.
10. You have to dedicate time to a new business, but you also have to dedicate money. Some self-employment opportunities (such as freelance writing) have very low start-up costs, but others (retail stores, restaurants) require entrepreneurs to commit a lot of upfront money to the business. Depending on the structure of the business, entrepreneurs may need to risk their existing assets to gain the advantages of self-employment.
11. Not only do small businesses have start-up costs, but they also have ongoing costs for which business owners are responsible. For example, you need to maintain (and likely upgrade) any equipment required to do business. As in personal life, unexpected repair bills can come at any time.
12. When you are the boss, you are also financially responsible for any mistakes you make. While big enough screw-ups can get you fired from an employer, even small errors – miscounted change, misprinted advertisements – can cost business owners.
13. Likewise, non-paying clients are more likely to be financially detrimental to you personally when you are self-employed than when you work for someone else. Unless the deadbeat customers bring in enough business to create layoffs in a larger company, employees are still paid for their work; self-employed people lose income (and often expenses, as well).
14. While the self-employed have the advantage of multiple streams of income, they also need to keep track of multiple clients and contacts. You might think you work for yourself, but really, you are accountable to many people. To maintain a good reputation, you have to meet deadlines and exceed expectations for several – usually unrelated – customers, suppliers and creditors all at the same time.
15. Based on the previous disadvantages on this list, you probably have figured out that in order to be self-employed, you need a lot of self-discipline. Having the flexibility to make your own schedule is nice, but the temptation to do something more fun is always there, and if you slack off too much, you won't succeed in your new business.
16. Even if you are self-disciplined, most small businesses have limited work or business opportunities. For example, Tupperware parties are far less common than they were a few decades ago, probably because everyone who wants Tupperware has already bought it or inherited it from their parents.
17. When you aren't employed by someone else, you are often ineligible for unemployment insurance when the work slows down (though under certain conditions you can get Disaster Unemployment Insurance from the Department of Labor).
18. With limited work opportunities comes unsteady pay. Forget about knowing to the penny how much will be on your paycheck and when, exactly, you will receive it. You might be busy at one time of the year and have no work at another time; national economic conditions might have a strong effect on your business. The lack of a regular paycheck requires self-employed people to be better-than-average money managers.
19. While you can work in your pajamas when you work from home, you also never leave work. If your business requires you to leave home, you have to find and pay for the work site, adding a second mortgage or rent payment to your existing bills.
20. If you run your business from home, you also need to set aside some physical space in your house or apartment to do business. Even if your business does not have a physical inventory, you still need to have an area to file business-related paperwork and store any equipment you use for work.
21. In addition, skipping the commute is often cited as a benefit to self-employment. Working from home does save time, gas, and money, but it also eliminates the time a commute provides to shift thinking from business matters to personal matters. Whether you spend your commute listening to music, reading on the train, surfing the Internet, or making business calls, the time spent in transport offers a physical action to accompany the mental gear-shifting that takes place during that time. Without a commute, you may find it more difficult to maintain a balance between work life and home life.
22. You may also miss the social contact you get from working outside the home. Though you might not want to deal with office politics, going to work every day offers opportunities to build friendships and reduce isolation. Self-employment that offers frequent contact with customers or clients may eliminate some feelings of isolation, but it does not provide the same level of camaraderie as working alongside others over an extended period of time.
23. While you are working long hours, taking financial risks, and dealing with the mental challenges of self-employment, you may also have to fight negative labels from those who think you should "get a real job." Whether from jealousy or misperceptions, many people think self employment means "self-gratification. They often imagine self-employed people  spending a lot of time pursuing leisure activities, working only when necessary.
Helpful Self Employment Resources
If you're considering becoming self employed, preparation and education will pay off. Consider getting a copy of Go It Alone: The Streetwise Secrets of Self Employment
. The author is a guy named Geoff Birch, who is a British adverting Executive, artist and entrepreneur. You should also get a copy of James Altucher's Choose Yourself!
Altucher has made – and lost – several fortunes, so he is well worth reading. Both books retail for under $20 dollars on Amazon.com
No Pain No Gain
Self-employment is not all bad; if it were, far fewer people would even try to work for themselves. Those with persistence, intelligence, marketable skills and an entrepreneurial spirit will find that the positives outweigh the negatives. Self-employment is more likely than salaried work to reward those who work hard and have innovative ideas.
Though hours are long for the self-employed, they are flexible enough to attend special events (such as children's sporting events). Perhaps the best advantage is that those who are self-employed get to make a living doing something they enjoy. That advantage alone might make the disadvantages bearable.
Are you self employed? Share your tips with us in the comments below.
Read More
100 Ways to Make an Extra $100 This Month
What is the LuLaRoe Business Model?
7 Ways to Grow Your Business in Spite of Hostile Competitors
(Photo credit: mkoslut)