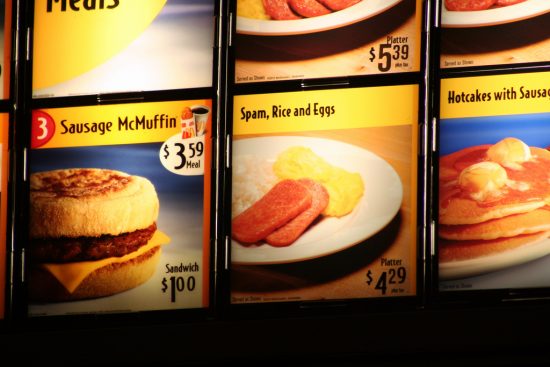 It might come as a surprise to many people that McDonalds menus are actually a bit different all over the world. For those of you who have traveled extensively and eaten McDonalds in a country that's new to you, you've already tread in the murky waters of navigating McDonalds menus that are just a little bit different from what you were initially expecting.
On a trip to Italy I had the best salad of my trip at a local McDonalds. It was an insalata mixta con calamari or mixed salad greens with calamari and a vinaigrette dressing.
This menu variance also is true for the McDonalds located north of the U.S. border in Canada. Many Americans are probably wondering how different could a Canadian McDonalds be compared to their U.S. counterparts? Aren't we pretty similar? Well on the surface it seems that way, but there are some differences that start before the food even arrives at a local Canadian McDonalds.
Every country has different food regulations. Canada is no different. There are certain additives that are not found in Canadian beef that could potentially be found in American McDonalds burgers.
There are different regional specialties that each country shares with its clientele. This summer Canada rolled out 5 different meals that represented each Canadian province. Those meals were as follows:
• The McLobster
• Cottage Country Chicken
• Maple and Bacon Poutine-Poutine is a delicious dish that includes fries, usually gravy, and cheese curds (which are similar to cheese crumbles)
• Western BBQ Burger
• Chocolate Nanaiona Sunday
There also are different items to be found on the regular Canadian menu. Some items that can be found that typically aren't found in the U.S. include the following:
• The Chicken Bacon and Onion burger or The CBO
• Mediterranean Veggie Wrap
• Sweet Chili Wrap
• Poutine
• Egg lettuce tomato sandwiches