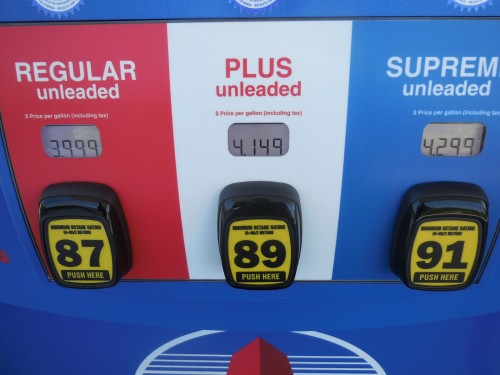 Gas prices continue to increase, gaining an average of three cents nationwide to $3.70 a gallon over the last week according to AAA's Fuel Gauge Report. This is an increase of $0.16 compared to last month, and is $0.19 more than it was at the same time last year. While the $3.70 a gallon average is high, it's much worse in some areas of the country. Those living in California are now dealing with an average gas price of $4.25 a gallon, although they are the only state in the lower 48 which is currently paying more than $4.00 a gallon. The highest price anywhere is in Hawaii where the average price is $4.36 a gallon. Those living in Montana currently have the lowest average gas price at $3.37 a gallon.
Some experts were predicting that gas prices would stabilize last week, but that stabilization forecast came with the caveat that there were't any major geopolitical conflicts to keep oil prices rising. This week's continued increase is being blamed mostly on the continued conflict and tension between Ukraine and Russia. While there hasn't been a large spike that could come with a major escalation of tension in the region, the continued uncertainty has oil prices remaining high.
As the average price across the US continues to inch its way toward $4.00, it's important to make sure you're not needlessly wasting gas, and you look for ways to save that you may not have thought about in the past. It's important to note that there are a lot of ways that people try to save money on fuel that actually ends up costing them money, and to avoid these. Here are a couple of ways that you can possibly chop off as much as $0.20 a gallon.
Grocery Store Promotions
Many grocery stores, in conjunction with local gas stations, have found that gasoline discount programs are quite popular. If you happen to be living in an area where a grocery store is offering discounts at local gas stations by shopping at that store, it can be worthwhile to look into the program to see if it makes financial sense. The way these programs usually work is that you receive a point when you purchase a certain amount of groceries. These points can be converted into discounts at the gas station which is participating in the program. There is usually a limit on the amount of the discount that can be claimed, and a limit to the number of gallons of gasoline that can claim this discounted price. In many areas, it can reduce the cost of gasoline by $0.20 a gallon.
There are a few things that you need to make sure of when using this type of program. You still need to look at what the prices are at other gas stations in the area. If the gas at the station participating in the program is significantly higher than other gas stations in the area, the discount may not be nearly as big as it first appears. It's also important that if you have been shopping at a different grocery store, you compare prices of the food between the two stores. You're not really getting a discount if you end up spending more on the food you're buying by switching to a grocery store that offers this type of gas discount.
Costco Gas
A lot of people end up not getting gas at Costco because even though it dispenses quality gasoline that's less expensive than many other gas stations in their area, there is a $55 fee to become a member. Even with this yearly fee, you could end up saving quite a bit of money even after paying for membership. Here is an easy gas calculator to determine whether this might be a good financial move. Those who have bigger vehicles, those who drive a lot, and those who have multiple vehicles in their family could significantly benefit by making this switch if they have a Costco warehouse near them.