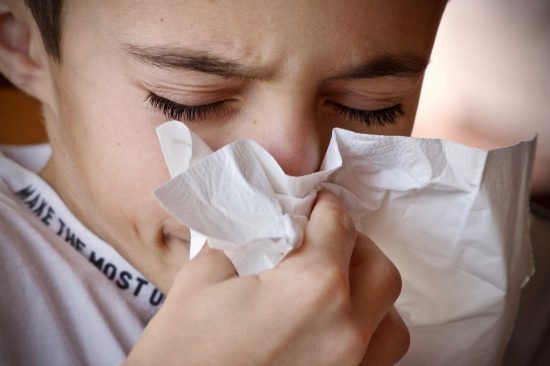 Everyone's mother yelled after them to put on a coat, blow dry their hair, and take their vitamin C to stay healthy, but how likely are those factors to contribute to staying healthy? From vitamins to bundling up, here are the best ways to prevent kids' colds.
How to Prevent Kids' Colds
This time of year, it is difficult to avoid sniffles and coughing, especially if you have kids. On average, kids get between six and 10 colds per year, leading to about 22 million missed school days. More than half of parents have tried methods of preventing the common cold that have little-to-no scientific evidence behind them.
To get an idea of how much parents know about cold prevention, researchers took a survey of 1,100 parents in the United States. A shocking 71 percent of parents surveyed said they use "folklore" or non-evidence based prevention strategies.
"The positive news is that the majority of parents do follow evidence-based recommendations to avoid catching or spreading the common cold and other illnesses," Dr. Gary Freed, co-director of the poll, said in a statement.
What Really Works?
When it comes down to it, 99 percent of parents say strong personal hygiene is their number one defense against the common cold. Researchers look to this as a positive sign that many parents are on the right track because good hygiene is one of the best ways to prevent kids' colds.
Sickness is spread through mucous droplets from a person's nose or mouth. When those droplets enter another person's body through direct contact or the air, it can cause you (or your child) to get sick. Good hygiene can help kill those germs. Frequent and proper hand-washing is the best thing you can do to keep from getting sick.
If you can, avoiding contact with individuals who are sick can also lessen the likelihood of falling ill yourself. Additionally, cleaning surfaces like doorknobs, countertops, toys, and other frequently-touched items can help prevent the common cold. You should also encourage your kids to keep their hands away from their face/mouth and discourage them from sharing utensils and drinks with others.
What Really DOESN'T Work
Although many parents are practicing the prevention methods above, many are still placing too much stock in old wives' tales.
Fifty-one percent of parents surveyed said they give their children some kind of over-the-counter vitamin or supplement to prevent colds. However, there is no scientific evidence that this actually helps. In fact, these over-the-counter products aren't even required to provide any proof they are effective to be sold. For the most part, healthy children don't need vitamins at all.
Around 71 percent follow old wives' tales like "don't allow your child to go out with wet hair" and "stay indoors when it is cold." Typically, these thoughts have been passed down from your mother and grandmother. Like other "folklore," there is no evidence to support using these as your only preventative measure.
Researchers hope these findings will encourage parents to focus on proven methods instead. "The best strategy is for parents to focus their preventive efforts on decreasing the spread of the cold viruses through strong attention to hand washing and avoiding direct contact of people with colds," the report concluded.
Readers, have you placed faith in any old wives' tales? Do you think they helped keep you healthy?
Read More