Most jobs offer better compensation than what you might make from starting a YouTube channel. Pay comparisons of different careers coming right up — along with sourcing and a few qualifications.
For starters, the average American pulls in $47,693.36 a year, according to the latest wage data from the U.S. Bureau of Labor Statistics.
All but the top 3% of YouTube channels earn less than $16,800 annually from advertising — and note that some channels pull in additional income from sponsorships, which unfortunately aren't included in the statistic above. More importantly, that figure isn't an average like the data from BLS, and it doesn't come from the same source either.
The YouTube pay figure comes from an analysis that Mathias Bärtl, a professor at Offenburg University of Applied Sciences in Germany, who analyzed YouTube channels for Bloomberg News.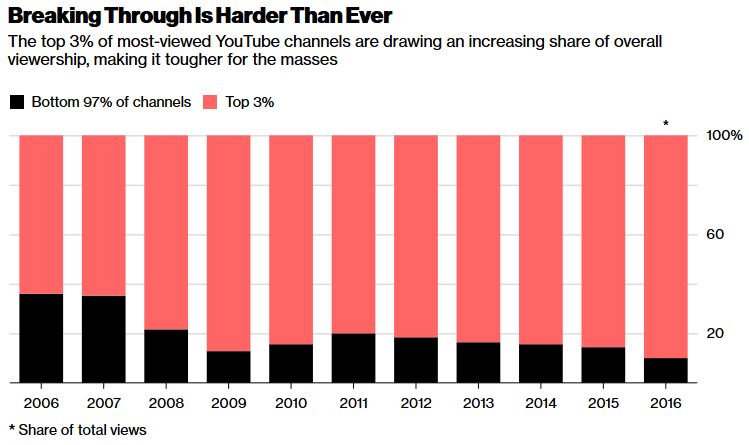 Another important thing that might not make this comparing apples-to-apples: the data on YouTube pay doesn't include how many hours per week of work that involves — and many people who run YouTube channels do it as a side hustle.
The wage data from the BLS also comes with a tally of how many hours per week the average American works: 34.3 hours. Now, that figure suggests less than a full schedule, although some people who receive pay on an hourly basis might have unpaid lunch breaks. Although there are ways to buy subscribers through sites like socialboss.org/, many YouTubers don't opt to purchase followers. Instead, they put serious time into establishing a fan base.
We've yet to find any official wage statistics that break out side hustles from primary jobs, so that's another thing to keep in mind before we dive into a comparison of pay rates for all of the career possibilities that may pay better than a YouTube channel.
More Lucrative Than YouTube Channel Pay
INDUSTRY
(see BLS website for definitions)
AVERAGE
ANNUAL
PAY
Goods producing
$50,437.92
Mining and logging
$67,727.92
Construction
$55,845.4
Manufacturing
$46,208.76
Durable goods
$48,775.48
Wood products
$38,634.96
Paper products
$48.649.12
Nonmetallic mineral products
$45,698.12
Primary metals
$53,305.2
Fabricated metal products
$43,829.24
Machinery
$50,550.76
Computer and electronic products
$53,515.28
Electrical equipment and appliances
$45,669.52
Transportation equipment
$59,603.96
Furniture and related products
$35,143.68
Misc. durable goods manufacturing
$38,613.12
Nondurable goods
$42,252.6
Food manufacturing
$37,293.36
Textile mills
$34,041.80
Textile product mills
$31,512.52
Apparel
$28,273.44
Printing and related support activities
$37,594.96
Petroleum and coal products
$94,931.20
Chemicals
$55,557.32
Plastics and rubber products
$38,770.68
Misc. nondurable goods manufacturing
$37,960
Privately contracted services
$37,200.28
Trade, transportation, and utilities
$34,361.08
Wholesale trade
$50,306.88
Retail trade
$24,374.48
Transportation and warehousing
$43,005.56
Utilities
$80,766.4
Information, publishing
$57,064.8
Financial services
$51,328.16
Professional and business services
$48,094.28
Education and health services
$39,197.6
Health care and social assistance
N/A
Leisure and hospitality
$17,622.28
Other services
$32,523.92
Total private sector
$39,032.24
Public sector
N/A
Every single industry in the public sector has a higher average annual pay than the figure noted above for YouTube — again, it's not an average but a quick estimation fills in some important gaps.
BLS data indicates the average annual earnings for the entire private sector — except for supervisors — amounts to $39,032.24. If supervisors were included that figure would be much higher.
This figure leaves out the public sector, which includes government along with certain types of health care professionals, but remember that BLS is part of the government and thus has a vested interest in not publicly disclosing dollar figures for pay rates.  Quite possibly part or all of the public sector has higher average salaries than what private industry types make.
Note also that healthcare is missing from the BLS statistics, but you probably already knew that industry pulls in the big bucks.
Now let's go back to that 97% of YouTubers earn less than $16,800 annually in ad sponsorships.  Even if the top 1% is entirely six and seven digit figures in pay, averaging out the annual pay would still come in in at less than what the BLS indicates is the average annual earnings for the entire private sector, $39,032.24. Even the lowest-paying of these industries, leisure and hospitality, pays better than a YouTube channel, at $17,622.28.
Note that each of the industry categories in this table comes directly from BLS — to see what's included within each, along with how many people are employed in the sector as of this January, just click here.
Readers, how does your income compare to the averages shown in the table to the right?