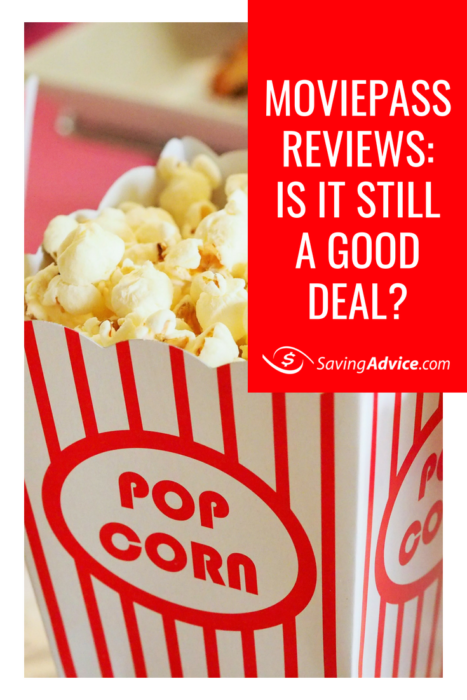 Two weeks ago MoviePass announced changes to its $9.99 a month subscription plan. Now, it has been revealed that the company may, in fact, be renewing canceled memberships without the consent of the customer. I have been a fan of MoviePass in recent months, however, I'm wondering if similar MoviePass reviews hold true in light of the news and price change.
Is MoviePass Failing?
First, you need to know that MoviePass is a startup company that received funding to get off the ground. The service, which is provided through a smartphone app, allows individuals to pay a flat monthly fee to attend local movie theaters (an unlimited number of times, at first). However, signs are pointing in the direction of a huge flop.
The company started announcing changes in late June, initially saying it would be charging its users an additional $2 for any movie deemed to be popular or was playing at a certain time (peak hours). At this time the company also announced it would add a "bring-a-friend" option for its users. This would allow you to buy a ticket (at regular price) ahead of time on your MoviePass app. IMAX and 3D will also be available for MoviePass users in August for an additional charge of $2-$6.
In addition to the added charges, MoviePass has also had an increasing number of outages on the app and service in general. Some theaters were not able to accept MoviePass cards for a few days in June. Then, in late July, there were technical difficulties with the app where no movie times were appearing (something I encountered myself). According to Engadget, when asked whether or not these problems came from issues with funding, the company did not reply.
MoviePass has resorted to debt and equity sales, a reverse stock split, and bond sales to keep the business going. So, is MoviePass really worth it and are there any alternatives?
New MoviePass Pricing
Currently, MoviePass has two plans available on its website. The most popular plan, $9.95 per month, allows you to view a movie every day of the month and gives you the option to cancel anytime. The $7.95 option provides users with the chance to go to three movies each month.
However, if you have opened the app recently, you know there have been changes to that pricing. Now, MoviePass is offering three movies per month for $9.95. It also states that additional tickets may be purchased at a discounted price. This pricing change will take affect August 15, 2018.
Here's the screenshot from my MoviePass app of the notification being sent to users. You will have to accept the changes before using the app again.
Is MoviePass Still a Good Deal?
The latest news about MoviePass left me personally a bit unsettled. It has been reported that the company has reactivated canceled accounts and begun charging customers again. Users have also reported trying to cancel the service themselves and are unable.
That being said, MoviePass is still a great deal for users – and most MoviePass reviews will back that up. You really can't beat $9.99 a month to attend more than one film. But, the company is undoubtedly failing and seems to be grasping at straws to stay afloat.
MoviePass Alternatives
Once MoviePass launched its app, other similar services have begun to surface. After reading some of the most recent MoviePass reviews, you may want to consider one of these alternatives.
Sinemia was one of the first companies to launch a program similar to MoviePass. First, it launched a service "for two" that costs $8.99 per month and provides one movie day per month for two people (or two tickets a month). However, Sinemia has rolled out a number of plans for users to choose from, depending on their needs.
Plans for two:
$8.99 – As mentioned above, you will get one movie day for two each month.
$14.99 – An extra $6 will get you two movie days for two (four tickets).
$19.99 – This is the same as the $14.99 option but with 3D and IMAX options available.
$29.99 – Six tickets per month, including 3D and IMAX (three movie days for two).
Families of four:
$19.99 – One movie day for four.
$34.99 – Get eight total tickets or two movie days for four.
$39.99 – For an additional $5, you can add IMAX and 3D to the plan directly above.
$59.99 – Get three movie days for four people each month, including IMAX and 3D.
Plans for five:
$24.99 – Get five tickets or one movie day for five people.
$44.99 – Get two movie days for five people.
$49.99 – $5 more will get you the ability to see films in IMAX and 3D (two movie days for five).
$74.99 – Go to the movie three days during the month with your family of five, including IMAX and 3D viewings.
Plans for groups of six:
$29.99 – Users receive six tickets per month or one movie day for six.
$54.99 – Get two movie days for six people each month.
$59.99 – For $5 more you can get access to 3D and IMAX viewings as well.
$89.99 – The company's largest plan gives 12 tickets per month (three movie days for six), including IMAX and 3D.
American Multi-Cinema (AMC) has launched its own movie subscription service as well, though it is not as developed as Sinemia's. For $19.95 you can go to the movies three times each week. And, yes, you can even go three times in one day if you wanted to.
Lastly, Alamo Drafthouse, a theater that provides a dine-in eating experience during your film, is working on launching a subscription service as well. There are no details about it yet but you can go ahead and sign up for the wait list now.
The Future of Subscription Services
One thing the flop of MoviePass may tell us about what we can expect to see in the future of subscription services. For instance, small food delivery companies like Blue Apron and HelloFresh have been put under pressure by giants like Walmart offering similar services.
This isn't to say that MoviePass will fail completely. In fact, it is more likely that it will be bought, along with its users, by a larger company (like AMC). This is because larger companies can afford lower prices for users that small startups simply cannot provide.
Readers, what do you think? Is MoviePass on its way out? 
Read More
If you enjoy reading our blog posts and would like to try your hand at blogging, we have good news for you; you can do exactly that on Saving Advice. Just click here to get started. If you want to be able to customize your blog on your own domain and need hosting service, we recommend trying BlueHost. They offer powerful hosting services for $3.95/month!