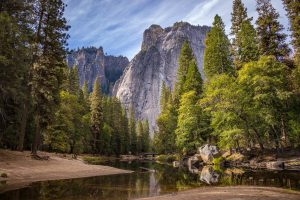 There are over 400 national parks spread across the US. A few times a year, the National Park Service waves the traditional entry fees, allowing visitors to enjoy these wonderful locations at no cost.
September's national park day coincides with National Public Lands Day, an annual event that falls on the fourth Saturday of September each year. In 2018, National Public Lands Day falls on September 22.
Plus, 2018 is a special year, making it a great time to head to the park. Not only is it the 25th anniversary of National Public Lands Day, but it's also the National Wild & Scenic Rivers System and National Trails System 50th anniversary year.
The History of National Public Lands Day
Originally established in 1994, National Public Lands Day is a celebration of the connection between magnificent green spaces and their communities. It's filled with volunteer opportunities, leading it to become the largest single-day volunteer effort in the nation.
Each year has a different focus. For 2018, volunteer work will concentrate on resilience and restoration of public lands, including national parks.
The National Environmental Education Foundation coordinates the volunteer effort in cooperation and partnership with other agencies, including:
National Park Service
US Forest Service
Department of Agriculture
Bureau of Land Management
Department of the Army
US Army Corps of Engineers
Department of the Interior
Bureau of Reclamation
US Fish and Wildlife Service
Specific events are held on and around National Public Lands Day, creating opportunities to either volunteer or enjoy some family fun.
Free Entrance on National Park Day
The biggest freebie on National Park Day is the ability to enter national parks that usually charge an entrance fee for free. Fee-free days help everyone enjoy what the areas have to offer, making a trip to a national park more affordable.
It's important to note that not every location participates in the program. Parks that are part of the National Park Service will be free, but destinations operated by other entities may still charge for entrance. Additionally, some parks are always free, so the fee-free day doesn't provide an additional benefit.
Further, the freebie only applies to the usual entrance charge. Other activities and amenities, such as boat launches, camping sites, and tours, may still come with a cost.
Free Volunteer Opportunities and Voucher
National Public Lands Day is the biggest volunteering days in the country. You can take part in a volunteering initiative and even receive no-cost training at some locations to ensure you are ready to participate. For example, Stones River National Battlefield is training volunteers on the removal of invasive plant species ahead of and on National Park Day.
Many sites are also hosting trail and river clean-up events, allowing volunteers to do their part to keep the parks in tip-top shape. What training and volunteer opportunities are available varies by location, so you'll need to check for events at your chosen destination.
Everyone who participates in a volunteering event will also get a voucher for a fee-free day that they can use in the future. This allows them to make a difference at the park and then return to enjoy a recreational day without having to pay an entrance fee.
In some parks, there may even be a volunteer-only camping area, allowing you to stay at the park overnight on the Friday before National Park Day. By volunteering, you may be able to camp at one of these locations, including with children, for no-cost. However, this isn't available at every destination.
Free Family Fun Events
Some parks are even hosting family fun days. For instance, Thomas Edison National Historical Park will have a variety of special family-friendly activities for four hours on National Public Lands Day at Glenmont. There will be obstacle races, watercolor painting, Victorian board games, a paper airplane building contest, and more.
Not every location hosts family fun events. However, being able to enter the park for free is fun in its own right. You can take a hike, have a picnic, and explore a variety of sites throughout the area.
What About State Parks?
Many state parks also recognize National Public Lands Day. But, they aren't guaranteed to have free entry.
However, many locations coordinate volunteer activities where participants do get freebies. For example, they may provide snacks, drinks, or even a free lunch to those who lend a hand.
If you want to head to a state park on National Public Lands Day, make sure to check out the location's website. They may have information about free events and volunteering opportunities on their site, letting you plan your trip more effectively.
Are There Any Other National Park Days in 2018?
After National Public Lands Day, there is one other free entrance day in 2018. It is scheduled for Sunday, November 11, in recognition of Veterans Day.
However, the National Park Service tends to offer four chances to go to the park for free each year. While the dates for 2019 aren't officially set, the first in 2019 will likely coincide with Martin Luther King, Jr.'s birthday in January.
After that, there will be a day in April that aligns with the first day of National Park Week. The next will be on National Public Lands Day in 2019, falling on September 28, 2019. Lastly, there will be another fee-free day on Veterans Day in November.
What If You Want to Go to the Park on Another Day?
If you can't head to a national park for National Public Lands Day, you can always go on any other day the park is open. If you have an annual pass, which costs up to $80, you can visit any participating park for no additional cost while your pass is valid.
Shorter passes are also available, though the cost can vary by location and how you enter. Typically, walk-ins and bike-ins are around $15 per person. Vehicle entrance fees are generally $25 to $30 per car and motorcycles are usually about $20 to $25.
If you intend to go to a National Park on a day that has an entrance fee, it is wise to review the prices in advance. This ensures you are able to cover the cost when you arrive.
Do you volunteer on National Park Day? Tell us about your experience in the comments below.
Looking for more great articles about the National Parks? Give these a try:
If you enjoy reading our blog posts and would like to try your hand at blogging, we have good news for you; you can do exactly that on Saving Advice. Just click here to get started.