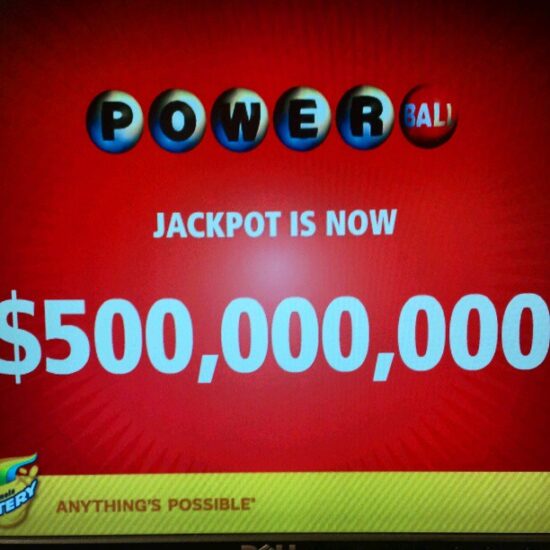 With the announcement that there was no winning ticket for the
$380 million Powerball jackpot
on February 7, 2015, the next drawing instantly became one of the top five biggest lottery jackpots in US history. The
current estimated jackpot
for the drawing to be held on Wednesday, February 11, is $450 million, but that is sure to grow even higher. When jackpots reach this level, many people who don't usually play the lottery decide to take a chance and spend a couple of dollars for a ticket. This usually pushes the winning jackpot higher than the first estimates.
While the jackpot is a huge amount of money, and the biggest lottery prize since December 2013, it still ranks below four other jackpots. This includes two Mega Million jackpots ($656 million and $648 million) and two PowerBall jackpots ($590.5 million and $587.5 million). While this prize may approach the third and fourth place spots, it's not likely to surpass them. It wouldn't be a surprise, however, if it surpasses the half billion dollar mark.
The PowerBall lottery jackpot can increase in size quickly due to the number of places where tickets can be purchased across the US. Forty-four states and the District of Columbia sell the tickets, as well as Puerto Rico and the US Virgin Islands. With nearly the entire US having access to purchase tickets, the winning prize quickly increases when large jackpots accumulate. The big prizes also garner a lot of press, which further drives more people to participate.
The way these lotteries work is if nobody has a winning ticket, the pot will roll over and the next drawing. In this case, that would be on Valentine's Day. If this were to happen, it could very well be the biggest lottery jackpot ever in the US, and it would certainly make a wonderful Valentine's Gift to anyone who held a winning ticket.
Before you spend all your savings on tickets, remember that the odds of winning are astronomical, and it's one of the reasons jackpots can accumulate to this size. At odds of 175 million to one, you are far more likely (14,500 times more likely) to be hit by lightning than to win. With that in mind, feel free to use a bit of your entertainment money to play the game for fun, but don't waste your money buying more than a few tickets.
Below you'll find the largest US lottery jackpots over the years:
Biggest Lottery Jackpots in US History
1. $656 million: Mega Millions (March 30, 2012)
2. $648 million: Mega Millions (December 17, 2013)
3. $590.5 million: Powerball (May 18, 2013)
4. $587.5 million: Powerball (November 28, 2012)
5. $564 million: Powerball (February 11, 2015)
6. $448 million: Powerball (August 7, 2013)
7. $425.3 million: Powerball (February 19, 2014)
8. $414 million: Mega Millions (March 18, 2014)
9. $399.4 million: Powerball (September 18, 2013)
10. $390 million: Mega Millions (March 6, 2007)
11. $380 million: Mega Millions (January 4, 2011)
12. $365 million: Powerball (February 18, 2006)
13. $363 million: The Big Game (May 9, 2000)
14. $340 million: Powerball (October 19, 2005)
15. $338 million: Powerball (March 23, 2013)
16. $337 million: Powerball (August 15, 2012)
17. $336 million: Powerball (February 11, 2012)
18. $333 million: Mega Millions (August 28, 2009)
19. $331 million: The Big Game (April 16, 2002)
20. $330 million: Mega Millions (August 31, 2007)
(Photo courtesy of Taric Alani)