I decided as part of my vacation guide responsibilities that instead of heading to the well known national parks in the area like Zion and Bryce Canyon on the first day, I would instead take them on a slot canyon hike. Neither have ever done slot canyon hiking before and it's pretty unforgettable the first time you do it. There are a lot of great slot canyons to hike in the area. One of my favorites is the Wire Pass trail which leads into Buckskin Gulch which is located in Vermilion Cliffs national monument. It's a wonderful slot canyon hike because of the beautiful colors of the canyon walls and there are no need for ropes to do the hike (although there are some sections where you have to scramble up and down boulders). Here are a few photos from the hike: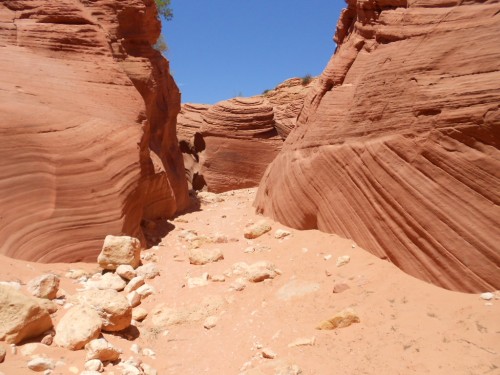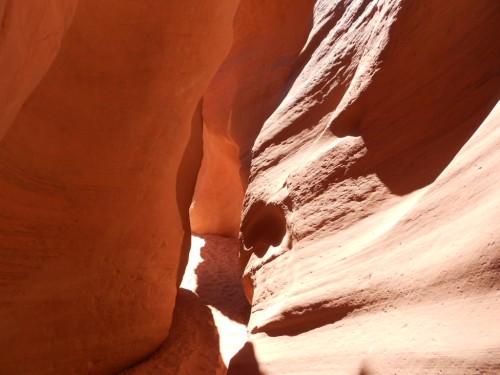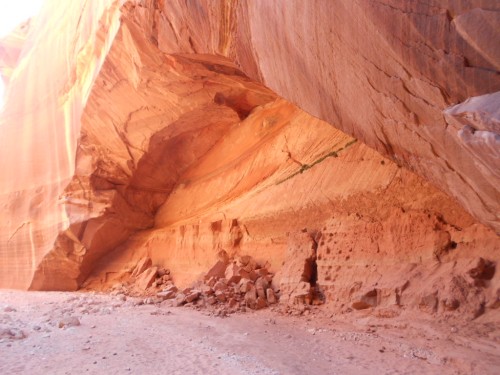 Here is a short video of what it's like hiking through the slot canyon:
It was definitely a wonderful day to hike the canyon since it was rather hot outside and the shade of the canyons kept us cool even during the hottest part of the day.
As for the financial aspects of the day, I had another tipping quandary to address today. The hotel we stayed at in Las Vegas didn't come with a free breakfast, so we stopped and ate a meal while we were driving. The hotel we're staying at in Kanab comes with a free breakfast each morning. I usually leave $2 for the breakfast workers who stock the food and keep the self-serve food area clean. Being on the minimum wage challenge, the question is should I be spending this money when it's not necessary that I leave a tip?
Part of me says that being on a tight budget, I should be watching every penny and not spending any money where I don't have to, but another part wants me to continue to do the things I have been doing in the past no matter what my financial situation. I find it much easier to deny myself than to take away small amounts that I usually budget for others knowing that even though they may be small amounts, they can have a large impact on the person who receives those tips. For much the same reasons that I decided to leave the $5 tip for the maids, I have decided to continue this tipping that I have done in the past to the free breakfast servers.
I also think that it's currently easier for me to default in giving these tips since I'm not paying for the hotel rooms. If I was spending $65 a night for the hotel room and that was coming out of my budget each day, I think it would be more difficult to part with another $7 on top of that. It should be interesting to see what I decide to do when I take a trip and I'm paying for the hotel rooms as well for an extended period of time. What is your opinion on tipping the breakfast servers when you stay at a hotel which offers free breakfast as part of the hotel room price?
Today's Spending
Food: $2.00
Car: $0.00
Lodging: $5.00
Travel: $0.00
Health: $0.00
Misc: $0.00
Total: $7.00
Total Spending
Food: $307.93
Car: $597.00
Lodging: $156.31
Travel: $408.26
Health: $2042.65
Misc: $72.59
Total: $3584.94