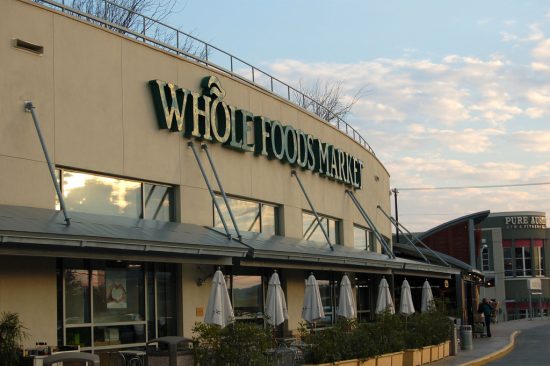 It seems like just about everyone is concerned with health foods and going to the "trendy" supermarkets seems to be important. Places like Publix, Trader Joes and Whole Foods grew in popularity, but they seem to be losing their time in the spotlight because of their pricing. Basically, people realized "Whole Foods" is a place where you will spend your
"Whole Paycheck"
on groceries. Is it really worth it?
Not really. Stock prices for the company are reflecting that Whole Foods is losing popularity — and quickly. Stock prices fell 5 percent on Monday and has already fallen 15 percent this year already.
Kelly Bania from BMO Capital Markets took survey results from 1,000 Whole Foods customers. The results of the surveys have not faired well for the company. Seventy percent of those 1,000 that took the survey told Bania that they haven't noticed any changes in pricing at Whole Foods. This is after the company said that they'd be lowering their prices to better compete with other grocers that sold like products.
Here's the real kicker though. Only 24 percent of Whole Foods customers said that the Whole Foods produce was fresher than other supermarkets. So, you can likely get the same quality produce at Wal-Mart for much less. That being said, 54 percent of the customers surveyed said that the Whole Foods produce was "sometimes" better than other places and 22 percent said it was not fresher or better than other grocers whatsoever.
This poses a pretty big problem for Whole Foods. If their customers realize they are paying larger prices for the same or lesser quality foods, why will they continue to shop there? Whole Foods depends on loyal neighborhood shoppers, not "drop-ins."
Since the end of 2013, Whole Foods has lost half of its stock market value, and with customer opinions like these, there is no sign of them improving any time soon unless they change some core items such as pricing or quality.
In 2015, the company was accused of overpricing previously weighed items in New York City. Of course, that hurt Whole Foods' reputation desperately. In a place like New York, where there are many single people (Whole Foods' target customers), they really couldn't afford to mess up, but they did. It seems they are still paying for that mistake. Many of the same-store sales in NYC are still on the low-side, affecting the company's overall performance.
Whole Foods CEO John Mackey said that he felt that it was wrong to single the company out for something many other places also do. However, they agreed to pay out hundreds of thousands of dollars to the city but stated that they were doing so to "put the issue behind them." Both the company's defiant stance as well as the loss of trust of its customers is greatly affecting Whole Foods.
It seems most consumers are more willing to support places like Trader Joe's, Korger, Costco and Wal-Mart instead of throwing money out of the window at Whole Foods. Who can blame them? Unless they change something, it is likely Whole Foods will be faded out.
Photo: Flickr: That Other Paper