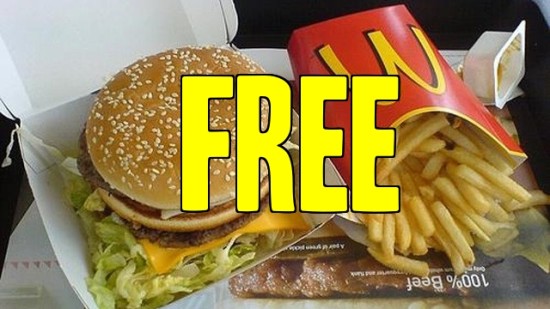 Update! Today only (July 31st)! Win tons of other prizes with Chiquita's just for playing online games!
For the month of July, McDonald's is hosting Minion Mania. It's a join partnership between Universal and McDonald's to promote the new kid's film, Minions. The game is going on now in the United States, Guam, and Saipan (an island near Guam). The game runs for the entire month of July. Right now, there are approximately 30 million prizes yet to be claimed.
The prizes are quite good – ranging from free food to quarter-million dollar weekly giveaways. To play (without hacking the system) just go to McDonald's and order one of the following menu items:
Premium Salad
Big Mac
Egg McMuffin
Sausage McMuffin with Egg
10 or 20-piece Chicken McNuggets
Large or Medium Fries (your best choice if you want lots of chances to win)
Egg White Delight McMuffin
Large McCafé Frozen Beverage
When handed the food, look for a game code of the packaging. Use that game code to see if you've won one of the many available prizes. Here are the top 5 prizes you're likely to win. Odds of winning are pretty good, actually. One out of six customers who buy a qualifying item will win. Read this post for more in-depth information about how to play Minion Mania.
At this point in the article, you know how to play the game. It's pretty simple. However, as with any game, there are ways to improve your odds of winning. The internet likes to refer to these as 'hacks'.
When playing Minion Mania, there don't seem to be many hacks at first glance. This may cause confusion at first. McDonald's Monopoly is an extremely popular instant win game. Therefore, most people compare that game with Minion Mania. They tend to draw comparisons. "If I was able to hack McDonald's Monopoly, how can I hack Minion Mania?" It's a very good question.
You're not alone. I love hacks. I spent quite a lot of time trying to hack Minion Mania. Here are my findings:
Hack #1
Play using this free code: MINIONMANIA. This makes you eligible to win two drawings for a total of $500,000 – Input code here.
Hack #2
Play without ever buying food – read this post
Hack #3
Find the cheapest menu items and order only those. Here are the menu items in order of least expensive to most expensive. I suggest you find the lowest price menu item you'll be happy ordering and order a few of those:
Medium Fries $2.08
Large Fries $2.34
22 oz. (MD) McCafé Iced Coffee $2.34
22 oz. (LG) Premium Orange Juice or Lemonade $2.74
20 Piece McNugget (two Game Pieces) $6.55 (but with 2 codes, that brings the price per code down to $3.28)
Egg McMuffin $3.65
Egg White Delight McMuffin $3.65
22 0z. (Large) McCafé Shakes, Smoothies, and Frappes $3.92
Sausage McMuffin with Egg $3.92
Big Mac $5.23
10 Piece McNugget $5.88
Premium Salads About $6
How Minion Mania differs from McDonald's Monopoly
These two games aren't too alike. While McDonald's Monopoly was intricate enough to allow room for strategy, Minion Mania leaves far less room for sophisticated play. Yes, you can hack the game but the game was designed as a cute one-month game to promote the Minions movie. It is a kid's movie, after all and the game is a bit like a kid's game. It's simple. Prizes are fun. Everyone has a pretty good chance of winning something. It's kind of like when every kid gets a medal after a baseball game.
However, these are 3 hacks I have found. If I discover any more hacks, I will update the post.
The game is half over. Does anyone know of any hacks I have yet to discover? If so, please share with the class.
Update: Check out this post for free many more free prizes like trips, water bottles, towels, etc!