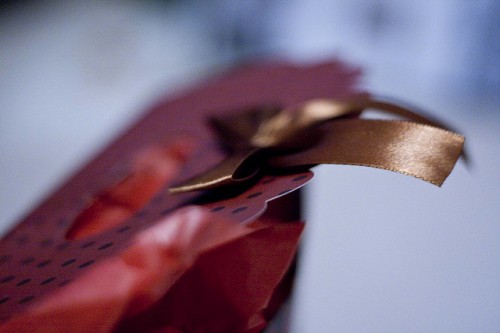 Do you have any unused, unwanted gifts in the back of your closet? Have you considered regifting them to save a little money this holiday season? Regifting is not completely taboo. If you do it well, regifting can be a rather useful way to save money and clean out your house at the same time. Think of it as gift recycling. Just follow these important regifting tips to save yourself from embarrassment.
Don't Regift Junk
This really should go without saying. but if the gift you received is junk, then it should never be regifted. part of the image problem that regifting has is because many people believe it is OK to regift their junk to others. This is absolutely not the case. If you consider the item that you are considering regifting to be junk in any way, it should never be regifted. Regifts should always be quality items that others would enjoy, but just happen not to be right for you.
Please, Remove The Card
You absolutely have to remove every trace that your present has been repurposed. That means checking those little tags that hang off the handles of gift bags, and also any "to and from" stickers that have been stuck on the box. Completely replace any trace of re-gifting by attaching a heartfelt card with the new recipient's name in it. If you're still feeling a bit guilty for re-gifting, include a $10 or $15 gift card inside the new card.
Always Re-Wrap
That brings us to the next point; part of removing any trace of regifting is re-wrapping the present. Leaving a present wrapped in its original wrapping paper can be extremely dangerous when it comes to regifting. You are never sure if the original gift giver placed something personalized under the wrapping paper which could look very bad if the person you are regifting the present to saw.
You might be able to get away with using the same gift bag if it hasn't been wrinkled or faded with age (just remember to dust it), but you'll usually need to rewrap the present in new, shiny paper that is wrinkle free. It's also important to make sure that it's not outdated or out of season so that the gift looks as if it has been recently purchased.
Evaluate The Regift
You need to notice whether the items you intend to regift are in good shape before you wrap them. If the original box is a little dinged up, maybe you could replace the box. Otherwise, try to retain all the original packaging. If those wine glasses have become a little dusty, give them a rinse and pat dry before packing. Double check that the original gift giver covered or removed the price. Make sure everything is in good shape and looks brand new.
Take Note of Who Gave The Gift
As soon as you realize that a gift you've received doesn't suit you very well, make a note as to who gave the gift. You don't want to accidentally gift it back to the giver or someone in their family. Be sure to write this note someplace where you won't forget to take it off before re-wrapping and never directly on the packaging. Perhaps keeping a running list of re-gifts in the filing cabinet would work for you if you get a lot of unwanted gifts every year.
Hide Regift Gifts
The last thing you want is for your regift recipient to recognize the gift from somewhere in your house. This means, of course, that you can not use or display the gift and then decide later to give it away. You should also take care not to leave the unwanted gift sitting out on your bedroom bureau or somewhere in your office. Just tuck it neatly into a closet and cover it with a sheet which will protect it from prying eyes as well as dust and fading.
Avoid Regifting Certain Gifts
Some gifts were never meant to be regifted — or even gifted in the first place. if it is something that you absolutely hate there is a good chance that the next recipient would feel a similar emotion upon receiving it. Regifts should be quality items that just don't happen to be something that you need or fir your current style. That unsightly sweaters, company giveaway gifts, or odd old appliances should go where they belong, not passed on to another of your friends or acquaintances. Perhaps you could save these items for gag gifts, or give them to Goodwill where they might find some use. Otherwise, put them out of their misery and place them in the trash.
Don't Regift Custom Items
Everyone knows not to regift a necklace that's been engraved with ANGIE (unless you happen to know another Angie). This same principle applies to other custom gifts, even those that don't have personal engravings. Handmade gifts are usually a dead giveaway of regifting, especially if you are not know for having the skill that was needed to make the gift. The recipient will assume that the gift giver is the one who crafted the gift, so unless you want to lie about how you've picked up the hobby of making clay pots, you should just suck it up and put the pot back in the closet.
Wine Is A Great Regift Item
People bring bottles of wine to each other's houses all the time. It's a relatively inexpensive, but classy way to say, "Thank you for the invite to your home." You can do the same thing with some of the bottles of wine that you've collected over time, especially since wine ages well. Take the time to pick out a nice wine bag or tie something around the neck of the bottle to put some thought into the regift.
Regift Cheap Items As Stocking Stuffers
Another good way to regift with respect is to repurpose small, inexpensive items as stocking stuffers. Among the many gifts that you receive, there are likely a lot of small items that aren't enough in themselves to make a quality regift. Some people try to put a number of these smaller items together as a regift, but this is a bad idea as it just looks like a lot of inexpensive items thrown together instead of the intended more expensive gift. A better option is to use these smaller unused gifts as little stocking stuffers. This instantly turns them from an unappreciated cheap gift into a fun and unexpected extra which will have a much better opportunity to be appreciated.
Don't Regift To Those Likely To Receive Many Regifts
Your mailman, for instance, is not a good person to regift to. You may think that giving her or him a regift (that's free for you) is a nice way to say you appreciate their work, but if you don't know them very well, you don't know if the gift will be a good fit. Other people in this category include your hairdresser, your kids' teachers, or your housekeeper. Opt instead to get them a restaurant or a retail gift card.
Regifting is all about maintaining that spirit of giving. A gift is supposed to be thoughtful, useful, and make the recipient feel appreciated. If you're going to treat an unwanted item as a gift, instead of just a giveaway like a garage sale item, then you need to have pride in what you're passing along. Now go ahead and be proud of yourself for saving some money and finding new homes for all of those closet items!
(Photo courtesy of JuditK)