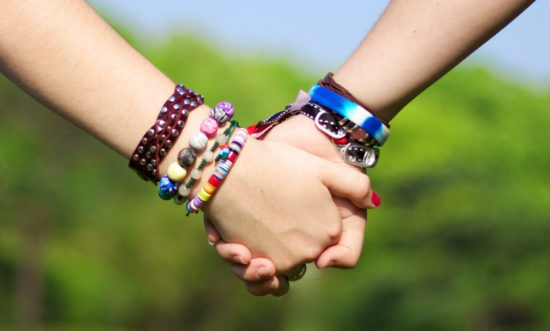 A recent study published in "Child Development" found that teenagers with close friendships are likely to feel happy and excel in other parts of their lives. However, researchers want to find out if these positive effects lasted in individuals into adulthood.
To perform the Rachel K. Narr, Ph.D. and her colleagues took a look at a group of 169 15-year-olds. According to
Medical News Today
, the demographics for the group were as follows: 58 percent Caucasian, 29 percent African American, 8 percent mixed race; median income between $40,000 and $59,999.
Once gathering the study participants, researchers followed the individuals for the next 10 years. Each year they were asked to fill out a questionnaire about the quality of the relationships in their lives. After filling out the questionnaire had an interview with a researcher involved in the study to determine any feelings of anxiety or depression. According to NPR, they were asked about trust in their friendships/relationships, the quality of communication and any feelings of alienation.
Friendships Can Benefit Your Mental Health
What Narr and her colleagues found what that high-quality friendships can lead to lower anxiety in adults. They also found that the more popular kids who didn't put emphasis on one friendship over any other have more social anxiety later in life.
Essentially, Narr and her fellow researchers found that the quality of friendships established during your teenage years may directly impact your mental and emotional health later in life. "High school students with higher-quality best friendships tended to improve in several aspects of mental health over time, while teens who were popular among their peers during high school may be more prone to social anxiety later in life," said Narr.
This is because before 15 or 16, most people don't form strong emotional ties with others. Developmentally, this is the first time in their lives they are able to make a bond that way. The findings don't necessarily mean every popular kid in high school is going to grow up to have high anxiety or depression. But, after conducting the study, researchers have a better an idea of how long-term healthy friendships may positively impact your life.
Whatever the case may be, researchers are excited about the new discovery. "Our study affirms that forming strong close friendships is likely one of the most critical pieces of the teenage social experience," study co-author Joseph Allen said.
Because social media is continuing to become a larger part of our lives, strong friendships are fewer and fewer. Allen said, "Being well-liked by a large group of people cannot take the place of forging deep, supportive friendships."
Popularity may not be as important as it seems. Focusing on strong, supportive friendships with just a few individuals with benefit your overall quality of life in the future.
Wondering if there are more health benefits to strong friendships? Check out the video below:
If you liked this article, check out the Saving Advice forums. 
Photo: The Odyssey Online