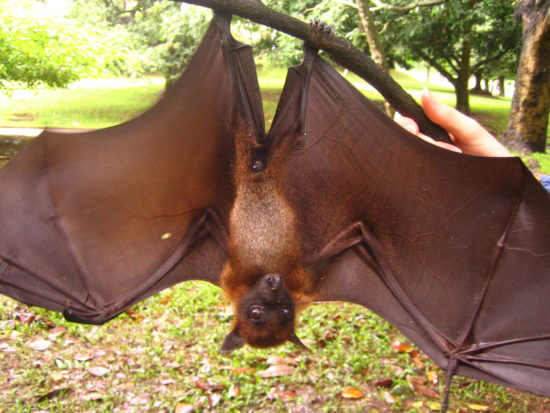 A Florida resident has died of rabies after being bitten by a bat, according to health officials.
The patient died due to non-treatment. They did not report the bite or seek treatment after being bitten. The Florida Department of Health has reported the victim was likely bitten in the Highlands County area, where they lived, but do not know when the bite occurred.

Mara Gambineri expressed the importance of minding some simple health rules. "It is important to avoid direct contact with wildlife," she stated. "If you believe you may have been exposed to rabies, including any physical contact with a bat, contact your health care provider and your county health department right away."
As with many health-related conditions, seeking treatment for rabies can be crucial. As in this case, if you do not seek immediate attention you will die from rabies. Although Florida (and many other states) require pets like cats, dogs, and ferrets to be vaccinated against rabies, most of the wildlife carries the virus.
In Florida, rabies is most commonly found in raccoons and bats. If your domesticated animal is not up-to-date on their vaccination, they can contract the virus as well. As with people, animals will also die from the virus.
Signs of Rabies
Whether you are in the Highlands County area or not, you should be aware of the signs of rabies in an animal and what it may start to feel like if you've contracted the virus.
Rabies in Animals
Rabies will likely first be detected in an animal as an upset stomach. Usually, they will start vomiting. The animal will then become low energy but very aggressive. If you notice these signs in your pet at home, call your vet right away.
Rabies in Humans
Humans don't contract rabies very often. This is because, for the most part, animals are vaccinated. About 40,000 people receive a preventative rabies vaccine each year after coming into contact with an animal with the virus. About 90% of all cases are found in wildlife. For humans, rabies will feel a lot like the flu and can include the following symptoms:
Muscle aches
Dizziness
Fatigue
Fever
Loss of appetite
Fear or hallucinations
Nausea/vomiting
Muscle spasms
Complete paralysis of some muscles
Pins and needles
Sensitivity to light
Aggression/irritability
Health officials would like to remind everyone that if you are bitten by an animal, you need to seek immediate treatment. Even if the animal seems to be okay it could be carrying a disease that can kill you.
If you think you have been exposed to rabies (or think an animal has), please contact your local health department for instructions on how to handle the situation and stay healthy.
Stay safe from food allergies by supporting the Teal Pumpkin Project. 
Photo: Aidan Jones