This might sound a little strange, but I'm finding that if I want to save money and reduce my costs as part of this minimum wage challenge, one of the best ways to do that is to do more than people expect (it's also a great way to get more business and earn more money). The thing is, even a little extra effort can pay of handsomely.
Today was the last day of the current house sitting gig. I normally clean the house because even after a few days, pet hair gets everywhere. The problem was that this time there were no pets and the place was extremely well maintained (this photo is before I did any cleaning).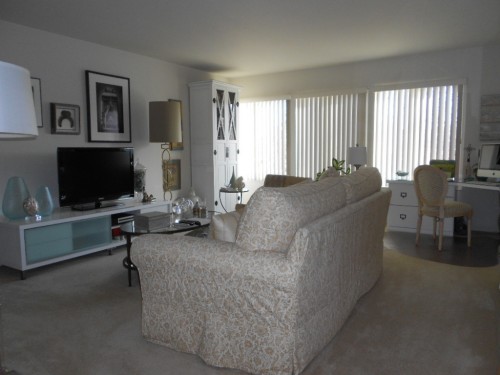 There really wasn't a lot that I could do to clean up the place since it was already clean. At this point, I had two choices. I could leave it as basically as it was with a light cleaning, or I could find something to clean (don't get me wrong, I hate cleaning as much as the next person, but I also have a personal policy to try to leave places in better shape than when I arrived) I decided that since most people aren't fond of cleaning showers, I would go ahead and clean that (it really wasn't that dirty to start with, but I wanted to do something). Apparently, the effort made a good impression. This showed up on her Facebook feed.
My house-sitter got my shower cleaner than I've ever seen it before. Wow! That was one of the best welcome home gifts I could have ever received!
I also immediately received an email from her asking if I could house sit again in late May for about 5 days. I could have easily done nothing extra and I think that the owner still would have been pleased with the job that I'd done, but by doing an hour of extra work, I will likely save several hundred dollars in lodging fees with the extra opportunity to house sit. My guess is that if anyone else is ever looking for someone to house sit, she will recommend me which could potentially enable me to land even more house sitting jobs, and save even more money. I think my willingness to do a bit more than is expected will end up saving me a lot in the long run. I also think that house sitting is a great earning opportunity for a lot of people which they too easily dismiss.
Does doing the extra work pay off every time? No. There have been plenty of times when I have done extra work and it probably wasn't even noticed by the owners (I don't tell the owners what I have done, I just do it. Some people notice while others never do). I don't do it because I expect anything from it, but simply because I know that when people return from a trip, the last thing they want to do is have someone else's mess to clean up. That being said, I think my willingness to clean up and do a bit extra is why I do get a lot of referrals for house sitting jobs.
I usually also buy a bit of fruit and basics when I leave a house sitting job so that the owner doesn't have to go grocery shopping when they get back if they don't want to. I wasn't able to do this as well. The owner has a pretty strict diet that she must follow and my guess is that anything I bought she probably couldn't eat. I felt a bit bad about this, but it would have been stupid to buy food that she couldn't eat. On the bright side, it meant that I had another no spend day.
Today's Spending
Food: $0.00
Car: $0.00
Housing: $0.00
Travel: $0.00
Misc: $0.00
Total: $0.00
Total Spending
Food: $18.52
Car: $0.00
Housing: $0.00
Travel: $0.00
Misc: $17.50
Total: $36.02
Next article: Day 23 & 24: TV Panic